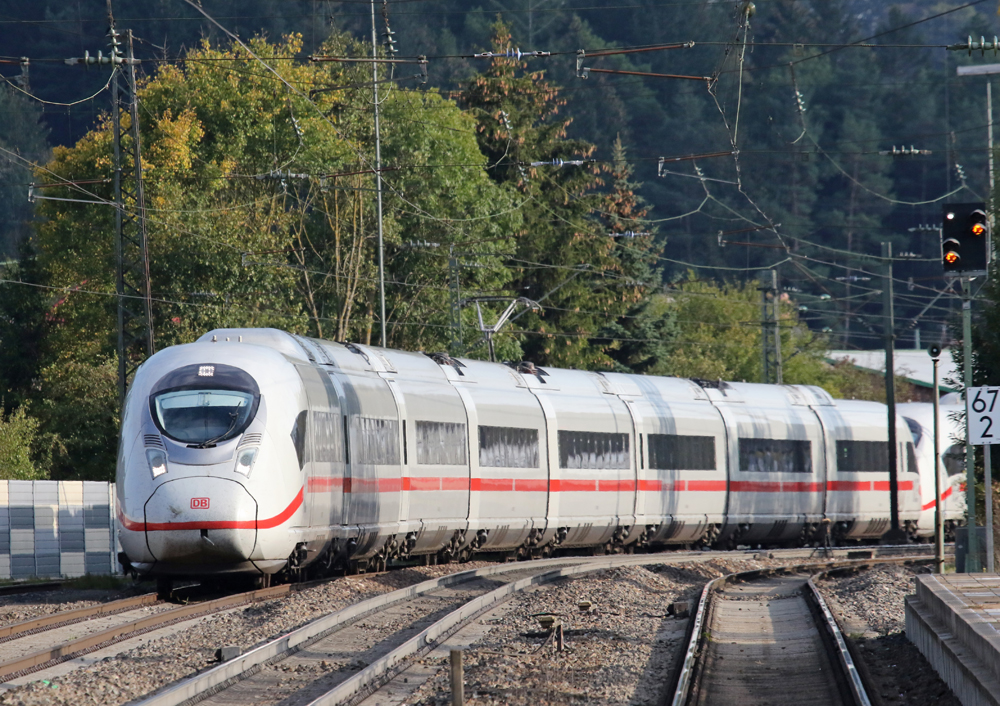 Despite ridership numbers that have fallen dramatically during the coronavirus pandemic — by up to 90% in some countries — Europe's rail operators are showing confidence that better times and passengers will return, ordering billions of dollars of new equipment in recent months.
In contracts worth more than $2.3 billion, Spain national rail company RENFE placed orders for two new commuter rail electric multiple unit fleets in March. The orders were shared between Alstom (152 trains) and Stadler (59 bilevel trains); both firms have factories in Spain which will build the new fleets. The EMU equipment is for commuter rail services around Madrid and Barcelona where the existing fleets are no longer large enough to cope with demand – 510 million passengers were carried on these services in 2019, and many trains are over 30 years old. RENFE has also recently awarded Spanish train builder CAF a $300 million contract to build 37 meter gauge trains (both electric and diesel) for the country's remaining narrow gauge routes.
In France, a massive order for 146 new commuter rail EMUs for use in the region around Paris is the subject of a bitter legal dispute. Originally awarded to Spanish company CAF and Canadian owned Bombardier in 2020, the $3 billion contract — which has been finalized — has been fought over by the losing bidder, Alstom, with multiple legal actions in French courts. The story got even more confused as of January when Alstom bought Bombardier, but is still trying to get the contract cancelled. This is despite previous guarantees by Alstom that it would honor existing Bombardier contracts.  Alstom was the only other bidder for the contract originally and reportedly bid around half a billion dollars more than the winning CAF/Bombardier offer.
In December, just before Alstom took it over, Bombardier won another French contract, worth around $675 million, for 33 part bilevel 'Regio 2N' trains for use around Lille in the north of France; several hundred of these trains have now been supplied to French regional governments who buy the trains and then contract their operation.
France also saw its first order for hydrogen fuel cell powered trains in April when 12 EMU/Hydrogen hybrid regional trains were ordered from Alstom. Alstom has hydrogen fuel cell supply deals with Canada based Hydrogenics (now part of Cummins). Alstom delivered the first of 14 production 'iLINT' hydrogen fuelled trains in Germany in March.
High speed and regional orders in Germany
German national rail company Deutsche Bahn ordered 30 additional Siemen-built, 200-mph 'Velaro' high speed trains in 2020. The $1.2 billion order made in July just after the first wave of the pandemic (Germany is now experiencing its third such wave of infections) is for trains able to operate in neighbouring countries and is part of preparations for the introduction of a national regular interval timetable [see "Germany plans integrated national rail schedule …," Trains News Wire, Dec. 23, 2020].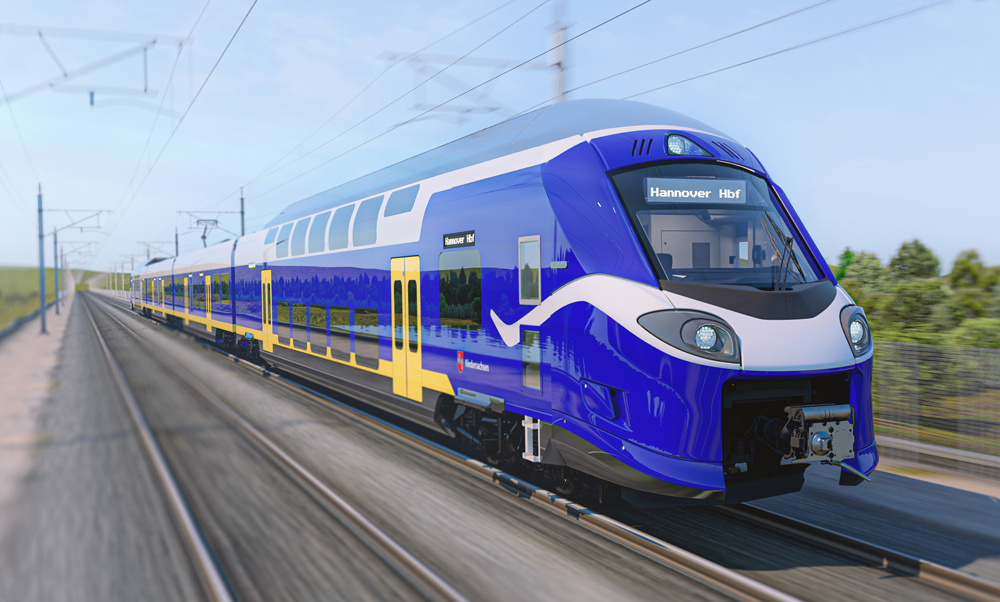 Multiple orders for new regional and commuter rail trains have continued to be placed in Germany. Alstom won a $900 million order (which includes 30 years maintenance) for 34 new part bilevel, part single-deck Coradia Stream EMUs for use for services from Bremen from late 2024.
Part bilevel design EMUs are becoming common in Europe; German state operator DB has ordered 31 regional trains from Siemens for use in Bavaria from Munich; of these 25 are Siemens' new part bilevel Desiro HC (High Capacity) model, plus six smaller Mireo single deck trains. DB has also ordered a faster version of the Desiro HC model for use at 119-mph on high speed lines shared with faster ICE trains; this fleet of 26 trains will enter service in 2023 between Nuremburg and Erfurt.
Trains for the 2026 Winter Olympics
In Italy, the regional government for Lombardy placed a $410 million order for 46 new regional trains in March 2021. The new trains to be built by Hitachi and Alstom in Italy are due for delivery by 2025, and will be used to provide transport for the 2026 Winter Olympics, to be held in Milan and Cortina. These new trains are in addition to a fleet of 176 already on order from Hitachi and Alstom in contracts worth nearly $2 billion for delivery before 2025. In late 2020, the region also ordered six Coradia Stream trains from Alstom powered by hydrogen fuel cells in a deal worth $190 million.
A few diesel trains, too; some introductions delayed

The vast majority of new trains on order are electric, but small numbers of new diesel trains are on their way too. Czech Railways has ordered 33 'Link' two car DMUs from Polish builder Pesa, and in Hungary the state railway MÁV has agreed to develop new DMUs with Chinese firm CRRC; the trains will be assembled in Hungary. In Britain new Civity DMUs are being built by CAF for use in several regions, and Stadler is building bi-mode (diesel and electric) Flirt trains for services in Wales.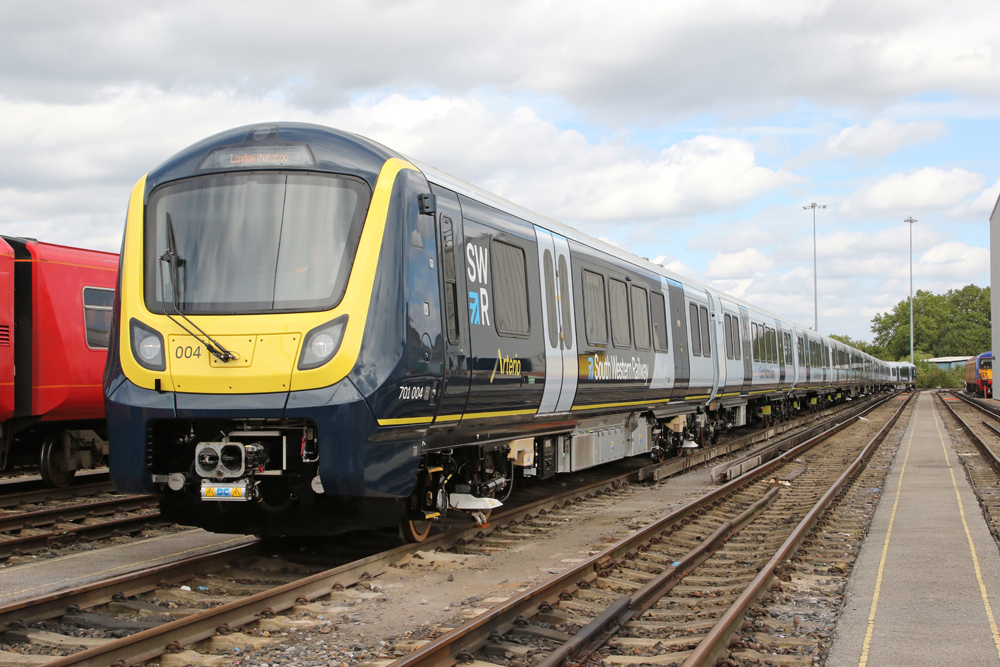 While the pandemic has delayed some new train production and in particular the commissioning and safety approval, there are also large numbers of new trains entering service across Europe to replace older trains. Stadler is delivering its Flirt EMU design to Poland's intercity operator PKP Intercity as well as a bi-mode version for use in Norway. Bombardier (now Alstom) is delivering a fleet of 45 new 125-mph Zefiro Express'EMUs for regional service in southern Sweden.
In the UK, Bombardier had contracts to deliver over 1,500 Aventra EMU cars from its British factory during 2021 for several different operators. Several other new fleets are being delivered in Britain this year, built by CAF (in both Spain and the UK), Hitachi (built in Japan and UK), and Stadler (built in Switzerland and Poland).