The German government, working with rail operators and regional governments, has unveiled ambitious plans to introduce a national rail timetable designed to make journeys faster for both passengers and freight by 2030. The standardized or regular-interval timetable — known in German as a Taktfahrplan, or just "Takt" — will offer intercity rail services between major cities every 30 minutes. It will lead to faster journeys, linking at junction stations with regional and commuter rail services, also running on standardized schedules of one-hour intervals or less. For freight, pre-planned, faster long distance schedules will keep cargo moving without delaying passenger services or being delayed by them.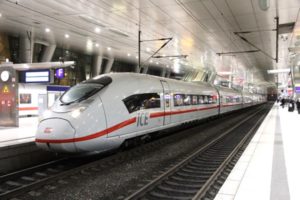 The basic Takt approach has been in use in Switzerland since the 1980s, and on a local level, some German states have adopted it, too. The approach has train departure times pre-set at a constant minutes-past-the-hour basis, every hour, for a given station, massively simplifying timetables for passengers. The new "Deutschland Takt." as the plan has been branded, is being planned in minute detail for full implementation in a decade or more. Full implementation relies on multiple new high speed lines, new underground stations in city centers that do away with terminus stations, and hundreds of new intercity and high speed trains. The price tag will likely be over $200 billion in the next 20 years; around half of this is already committed through 2030.
The German government first announced plans for the national regular-interval timetable in 2018, but it had been discussed for many years before then. The government has set the target of doubling rail passenger numbers from 7 million to 14 million daily, while increasing rail freight's market share from 18% to 25%. Reducing use of private cars, trucks and planes — and the pollution they cause — is a key driver for the plan. Multiple studies have shown that high speed rail largely replaces air travel for trips of up to 3 hours. Recent experience in Germany has demonstrated this, with Berlin-to-Nuremberg flights being removed after the opening of the high speed line connecting the cities via Erfurt in 2017. On the longer (4-hour) Berlin-Munich route there has been significant growth in rail passengers, leading to most flights being cut before the pandemic.
New lines, new trains
To introduce more frequent service, more trains are required. By 2030, service on 17 routes, some spanning the whole country, will operate every 30 minutes; today, they are at best hourly, sometimes less. German state-owned rail operator Deutsche Bahn (DB), likely to remain the main operator, during 2020 has ordered 30 new 200-mph Velaro trainsets from Siemens to add to its fleet at a cost of $1.3 billion, with an option for another 60 trains. That fleet was being expanded anyway, with 137 new 'ICE4' 155-mph trains, also from Siemens. About half of these are now in service. DB had planned to retire its original 'ICE' trains when the ICE4 arrived, but will now retain and rebuild them for another 10 to 20 years of service. DB also has other new 100- to 155-mph intercity trains on order from Bombardier, Talgo, and Stadler.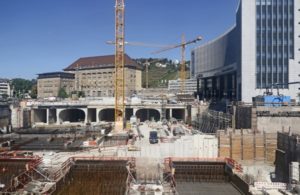 To create faster journeys, a long list of new high speed rail routes has been drawn up. Some are under construction or being planned in detail; some are not yet that advanced. Projects that began up to two decades ago to build a new underground station in Stuttgart, replacing the historic terminus station, along with a series of high speed lines in and east of the city will be completed in 2025. This will offer the first big chance to speed up services since the high speed line north of Nuremberg to Erfurt opened in 2017.
New high speed lines are being planned between major cities where existing routes, often good for 135-mph operation, are now considered either too slow or too busy, with both regional and freight trains. The first to be built will include 188-mph lines from Frankfurt Airport to Mannheim, and from Hannover to Bielefeld, both of which may be open by 2030, and lines to speed up journeys from Frankfurt to Berlin and Munich. A new underground high speed station is planned in Frankfurt. It will be underneath the historic terminus station, which will remain open to cope with the overall increase in train numbers. This station is still on the drawing board, so is unlikely to open for at least 15 years.