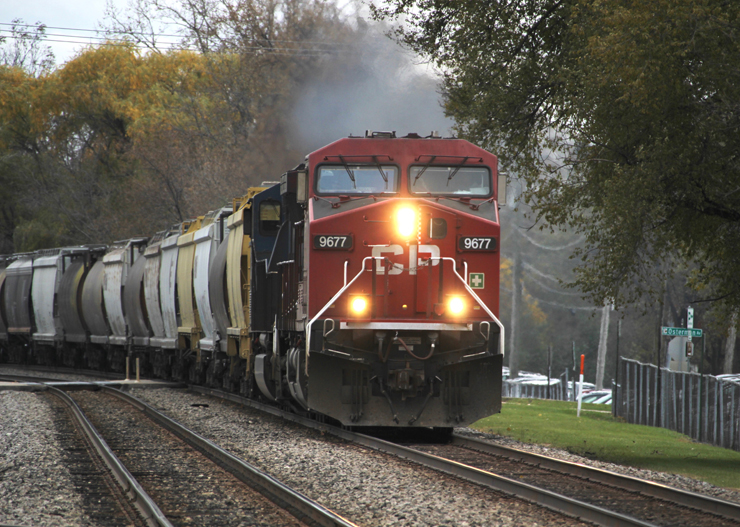 ---
WASHINGTON — The Environmental Protection Agency will consider new, stricter regulations regarding diesel locomotive emissions, the agency said Wednesday.
Reuters reports that the agency said it had formed a team "to evaluate how best to address air pollutant emissions from the locomotive sector. This team will develop a set of options and recommendations for possible EPA regulatory actions addressing new locomotives and new locomotive engines."
The California Air Resource Board had asked the EPA to set more stringent locomotive emissions standards in April 2017, the Reuters report said. And U.S. Sen Alex Padilla (D-Calif.) told the Associated Press he welcomes the EPA efforts, saying workers and those in neighborhoods near ports and rail yards "have been subject to increased air pollution from locomotives for decades, facing higher instances of respiratory illnesses and premature death."
The EPA set its current standards, creating the Tier 4 regulations for locomotive emissions, in 2008. But current operating practices, which see railroads running fewer but longer trains, have led railroads to reduce the size of their locomotive fleets and have meant few new units are being built under those standards. (In 2020, just 94 new road freight locomotives were built for North American Class I railroads, and in 2021, the total was zero.) Most railroads are currently opting to have older locomotives remanufactured; while those units have reduced emissions (as well as greater fuel efficiency), they do not have to meet the more stringent Tier 4 standards.
Meanwhile, railroads and locomotive manufacturers are working on a number of alternative forms of locomotive power, including batteries, battery-diesel hybrids, and hydrogen fuel cells. At a rail industry conference, representatives of four major companies building locomotives in the U.S. agreed the diesel's days as the primary source of locomotive power are numbered, although its replacement or replacements are yet to be determined [see "Locomotive builders seek path to the future," Trains News Wire, Oct. 18, 2022].