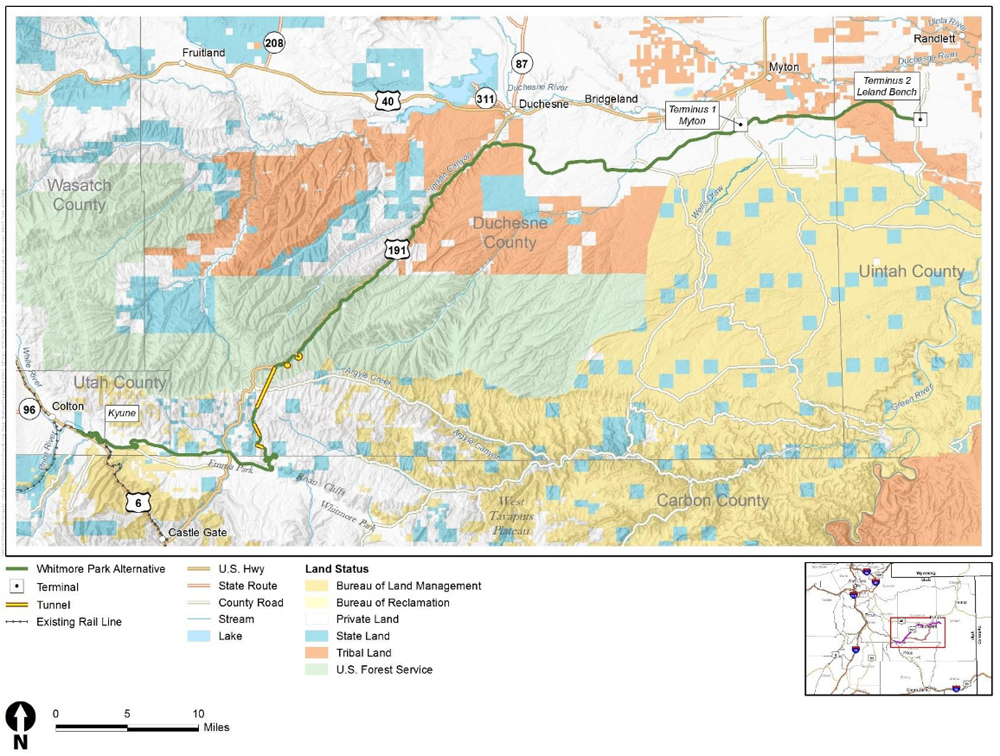 ---
WASHINGTON — A coalition of environmental groups have sued the Surface Transportation Board, the U.S. Fish and Wildlife Service, and federal government over the STB's approval of Utah's Uinta Basin Railway project.
The suit filed Friday in the U.S. Court of Appeals for the District of Columbia by the Center for Biological Diversity and four other groups seeks review of the STB decision, as well as review of what it calls "an arbitrary and capricious biological opinion" by the Fish & Wildlife Service that was cited by the STB.
The groups say the STB ignored the environmental impact of extracting and processing the crude oil — estimated to be up to 350,000 barrels a day — which they say would added 53 million tons of carbon dioxide to the atmosphere annually.
"It's appalling that the board approved this climate-killing project and deeply undermined President Biden's commitment to address the climate emergency," Deeda Seed, senior public lands campaigner at the Center for Biological Diversity, said in a press release. "…The board's action completely ignored the pollution that will directly result from this filthy railway, and that's illegal."
The Sierra Club, Living Rivers, Utah Physicians for a Healthy Environment, and WildEarth Guardians are also plaintiffs in the suit.
"We need a full accounting of the climate cost of fossil fuel infrastructure projects like the Uinta Basin Railway," Dan Mayhew, conservation chair for the Utah Chapter of the Sierra Club, said in the release.
STB spokesman Michael Booth told Reuters that the board "is extremely transparent in its decisions," but declined to comment on the suit.
The STB granted the regulatory exemption allowing construction of the 85-mile line to connect oilfields in Western Utah to the national rail network on Dec. 15 [see "STB clears path for Uinta Basin Railway project," Trains News Wire, Dec. 16, 2021]. Its decision said the project "is likely to produce unavoidable environmental impacts," but that "the transportation merits of the projects outweigh the environmental impacts."