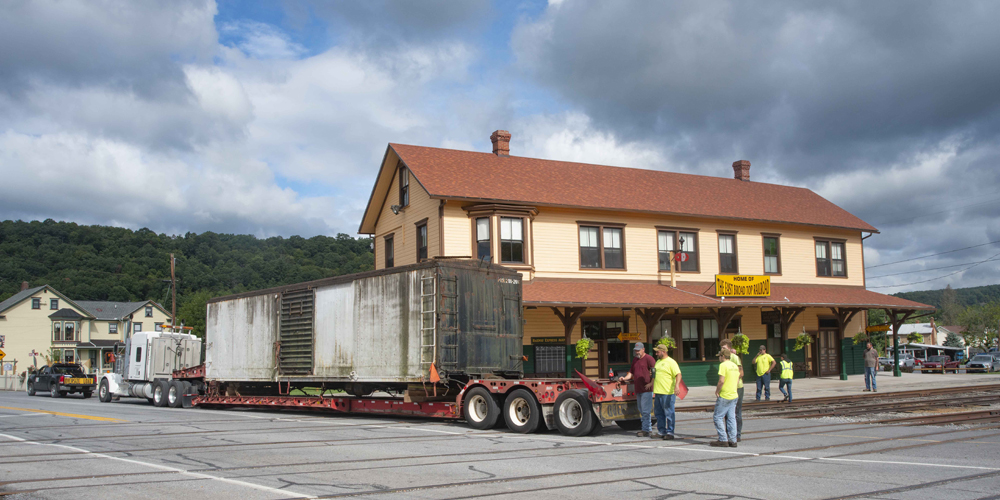 ROCKHILL FURNACE, Pa. – The East Broad Top Railroad reached one of its preservation goals Thursday, Aug. 19, with the arrival of a period standard-gauge, 40-foot steel boxcar to illustrate how the historic common-carrier narrow gauge line once hauled larger cars on interchange trucks.
Loaded on a flatbed trailer on Wednesday at the Kiski Junction Railroad in Schenley, Pa., near Pittsburgh, the ex-Pennsylvania Railroad X29-class car arrived Thursday mid-morning. By noon, it was placed on its standard-gauge trucks on a short piece of dual-gauge track next to EBT's freight station. In addition to EBT and the staffs of two contracted rigging companies, former EBT owner and current EBT Foundation, Inc., board member Joe Kovalchick, watched the proceedings.
The foundation intends to use the X29 to show East Broad Top's creative method of avoiding the costly and time-consuming transfer of freight between standard and three-foot narrow gauge cars [see "East Broad Top Foundation seeks period-specific standard gauge freight cars," Trains News Wire, Jan. 18, 2021]. When fully restored, EBT officials say, the car will be available to couple into narrow gauge trains for photo freights and other such demonstration events.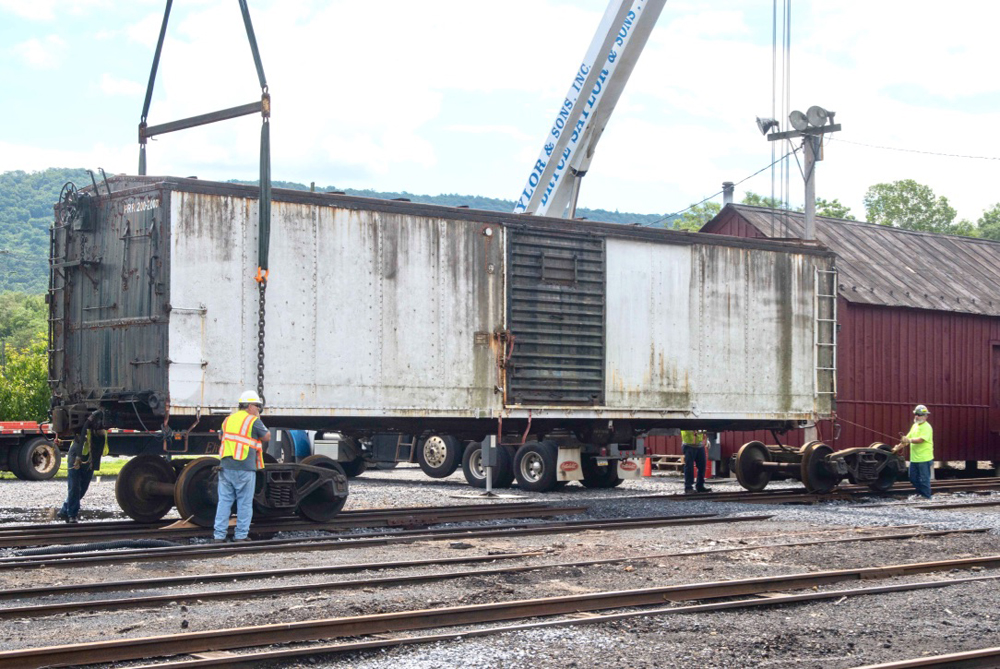 An inability to interchange cars is one of the main reasons narrow gauge lines failed. By using its Timber Transfer crane at Mount Union, Pa., its northern terminus and interchange point with the Pennsylvania Railroad main line, EBT was able to move carloads of telephone poles, lumber, cement, asphalt, and other goods over its lines without the hassle of transshipment. EBT Foundation General Manager Brad Esposito said the railroad would like to acquire one or two more standard-gauge cars, perhaps a covered hopper, gondola, or tank car, examples of all of which traveled on the original EBT.
Although it is one of the smallest of PRR's standard steel boxcar designs, the 1934-built car towers over EBT's own boxcars in the Rockhill Furnace yard. The class was not PRR's first steel boxcar type, but the X29 fleet, by virtue of its sheer size, became the car design that set the standard for the transition from wood or composite to all-steel construction. Between 1924 and 1934, PRR bought and/or built a total of 29,000 such 50-ton capacity-cars. The profile was close, if not identical, to that of the 1923 American Railway Association recommended standard boxcar of that era, and it was copied by many other railroads. They included Boston & Maine, Baltimore & Ohio, Central of New Jersey, Lehigh New England, Nickel Plate Road, and Wheeling & Lake Erie.
Many PRR X29s continued in maintenance-of-way service after their revenue-hauling days were over. This car was one of those, so it received regular maintenance far longer than many others, and is in good condition.
After Kiski Junction lost its freight customers, it went out of business earlier this year. It offered a modest diesel tourist passenger service as well as freight service. The Everett Railroad near Altoona picked up other KJR pieces, including EMD SW900 switcher No. 126, Jersey Central coach No. 1154, and an ex-Pittsburgh & Lake Erie bay-window caboose.