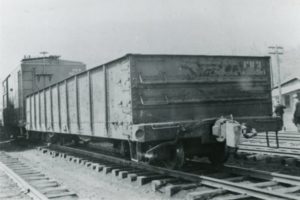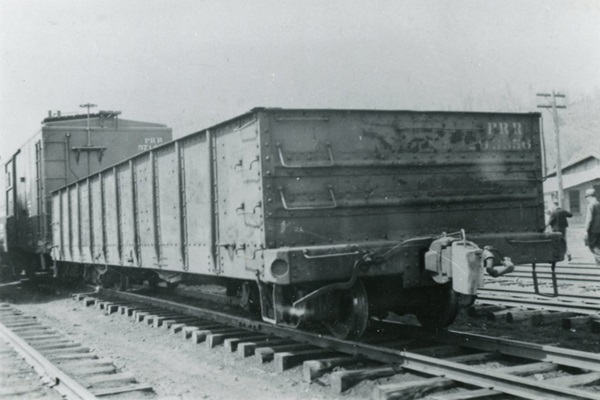 By: Dan Cupper
ROCKHILL FURNACE, Pa. — The non-profit that owns the East Broad Top Railroad in Pennsylvania is looking to acquire a few standard-gauge freight cars, to be used to show how the narrow gauge line handled standard gauge cars using special transfer trucks and cast-aluminum coupler adapters.
"We're looking to replicate the post-World War II era," said Brad Esposito, general manager of EBT Foundation, Inc. "We're searching for cars that are specific to that era."
Photographic evidence suggests that EBT in its common-carrier days was quite prolific in its transfer activities, showing New York Central, Reading, and Pennsylvania Railroad boxcars; Erie, Pennsy, and Baltimore & Ohio gondolas; and particularly to aid in the building of the Pennsylvania Turnpike in 1938-40, Pennsy Class H30 covered hoppers loaded with cement. Gondolas often carried telephone poles as phone service became widespread in rural America. Tank cars loaded with asphalt followed where blacktop roads were replacing muddy dirt roads.
To handle the volume of standard-gauge traffic, EBT had 20 or 30 pairs of transfer trucks of various designs to accommodate different carbody styles. At its dual-gauge yard in Mount Union, Pa., where it connected with the Pennsylvania Railroad main line, EBT operated a tall gantry crane known as the Timber Transfer, which lifted standard-gauge cars while narrow-gauge trucks were rolled under them.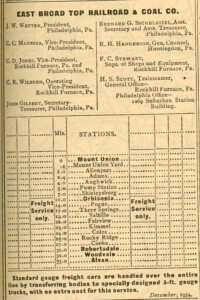 East Broad Top, well aware that transloading costs killed many other narrow gauge lines, advertised that "Standard gauge freight cars are handled over the entire line by transferring bodies to specially designed 3-ft.-gauge trucks, with no extra cost for this service." Because of tunnel clearance issues, some standard gauge cars could not be moved south of Saltillo.
"One of the most common cars was the Pennsy X29 design of boxcar, and we would like to display one," said Esposito. The concept would be to use it in conjunction with the Freight Station, recently straightened and painted by the Friends of the East Broad Top. "Then, a few times a year, for photo freights or charters, get it out and run it up and down the line," he said.
"We've had several leads, but there are so many variables, especially with tank cars. A car might be free, but not free, because of the cost of cleaning and remediation," he said.
The Foundation does have two remaining sets of transfer trucks, but has the original blueprints to modify others if necessary. Of the aluminum coupler adapters, Esposito said, "We have probably seven still on the property." The adapters were necessary because narrow-gauge knuckles were three-quarters the size of their standard-gauge counterparts.
Esposito notes that while the staff is actively pursuing leads, he asks Trains News Wire readers having any knowledge of available and era-specific standard-gauge cars to call the Foundation office at 814-447-3285.