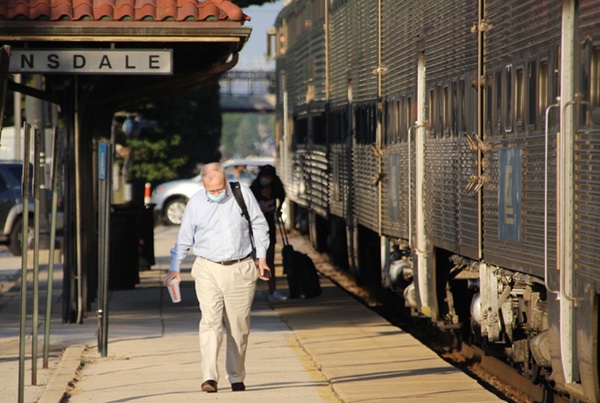 Chicago RTA survey finds 20% of transit users may not return
A survey by the Regional Transportation Authority, parent organization for Metra, the Chicago Transit Authority, and Pace bus service, indicates 20% of passengers who stopped using the Chicago area's transit system during the COVID-19 pandemic may not return. Evanston Now reports the RTA surved more than 5,600 current and lapsed riders (those who previously used the system but now ride transit less than once a week) in November and January. It found that while 80% plan to return eventually, but also found increased telecommuting islikely to continue "with lasting implications for the regional transit system." The agency will use the survey results to plan and change future service; survey responses indicated a greater desire for suburb-to-suburb service, as opposed to focusing on trips to and from downtown.
KCS creates new merger-planning position, names new head of operations
Kansas City Southern has created a new executive position relating to its planned merger with Canadian Pacific and named a new head of operations. Jeffrey M. Songer will become executive vice president-strategy merger planning, while John F. Orr has been named executive vice president-operations. Songer's role will focus on managing the application process for the CP-KCS merger, including development of a joint operating plan, environmental assessment, and plans for safety integration and labor impact. "Jeff is uniquely qualified to fill this critical role in what is arguably the most strategically significant project in our company's 134-year history," KCS president and chief executive officer Patrick J. Ottensmeyer said in a press release. "His 16-year track record of outstanding performance at KCS, and his familiarity with all aspects of our network, business and customer base, make him very well suited for this important role." Orr has more than 20 years of experience at Canadian National and Precision Scheduled Railroading, most recently serving as senior vice presidentand chief transportation officer. "John has integrated extremely well with Sameh Fahmy and the entire PSR implementation team at KCS, and I am confident he will contribute positively to our service focused 'phase three' PSR initiatives," Ottensmeyer said.
Bismarck park board to delay action on request by bridge preservation group for up to six months
Citing unknown financial responsibility that would result, the Bismarck Park Board has delayed for up to sixth month consideration of a request to join a public-private partnership with the group seeking to preserve BNSF's Bismarck-Mandan Rail Bridge. The group Friends of the Rail Bridge wants to preserve the 138-year-old bridge and turn it into a pedestrian crossing, while the railroad seeks to demolish the bridge and replace it with a new structure. The Bismarck Tribune reports an agreement between the railroad and preservation group signed earlier this year gave the group until March 15 to establish a public-private partnership that would eventually take ownership of the bridge, but the first effort to form such a partnership ended earlier this month when the Burleigh County Commission withdrew, citing questions over insurance [see "Digest: NJ Transit begins testing …," Trains News Wire, April 6, 2021]. Members of the park board indicated there were too many financial and other uncertainties involved in the project.