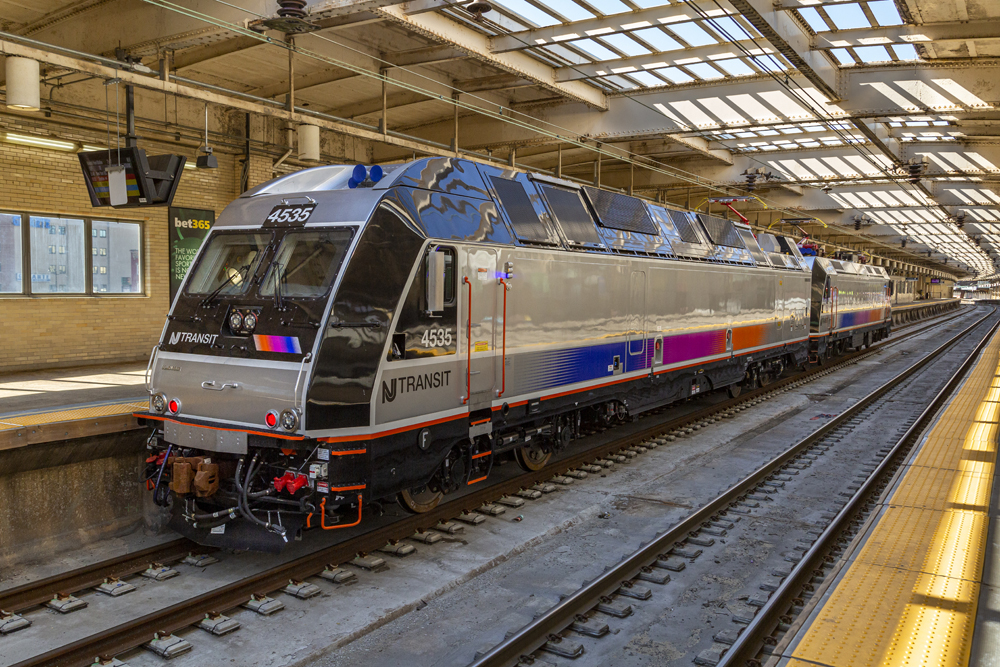 NJ Transit ceremony marks start of testing for first new ALP45
NJ Transit marked the beginning of testing for the first of its 25 new Alstom ALP45 dual-power locomotives with a Tuesday ceremony at Newark Penn Station featuring Gov. Phil Murphy, NJ Transit CEO Kevin Corbett, and other officials. The new locomotives will undergo about six weeks of dynamic qualification and acceptance testing before being placed in service. In a press release, Corbett said the new locomotive "represents the first tangible evidence of a process we started three years ago to renew our entire rail fleet. … In just two years, we begin taking delivery of 113 new self-propelled multilevel rail cars to replace the 40-year-old plus Arrow III cars, and all of these new locomotives and rail cars promise to significantly improve service and reliability for our customers." The new locomotives are compliant with EPA Tier IV emission standards and will offer a significant increase in horsepower, acceleration, and head-end power.
North Dakota commission ends partnership with preservation group, creating uncertain future for bridge effort
North Dakota's Burleigh County Commission has voted to end its partnership with a group seeking to preserve a 138-year-old BNSF Railway bridge across the Missouri River after a state official said information provided by the Friends of the Rail Bridge was "misleading or in error." The Bismarck Tribune reports the decision makes the future uncertain for of the group's effort to preserve the Bismarck-Mandan bridge, since the need for the group to form a public-private partnership by March 15 was part of an agreement between the Friends and the railroad over steps necessary to preserve the bridge. BNSF has sought to demolish the structure and replace it with a new bridge; the Friends want to save the existing bridge and convert to pedestrian use while a new bridge is built nearby. The county commission had agreed to form the partnership to provide additional insurance through the North Dakota Insurance Reserve Fund, but was informed the fund could only cover the county's liability, not the preservation group's.
Eurostar-Thalys merger on hold, may not take place
A proposed merger of European high speed rail companies Eurostar and Thalys has been postponed because of financial impact of the COVID-19 pandemic and may not take place. The website Railtech.com reports Thalys is seeking outside financing for the first time in its history, seeking 100 million Euros from several banks, and carried only 2.5 million passengers in 2020, as opposed to 7.8 million the previous year. Thalys CEO Bertrand Gosselin told Railtech that discussions are ongoing about the prospective merger, but both companies must first get their financing in order. The deal announced in 2019 would have seen the combined company service five countries, operate 112 trains daily, and carry 18.5 million passengers annually [see "Proposed high speed merger …," Trains News Wire, Sept. 30, 2019].