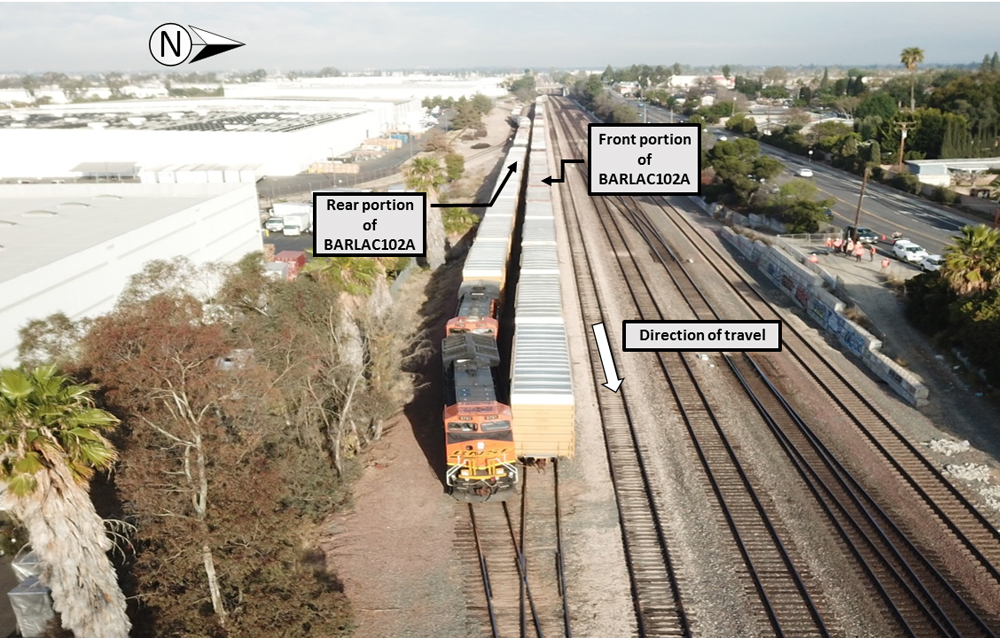 NTSB preliminary report outlines circumstances of March 3 fatal BNSF incident
The National Transportation Safety Board will examine safety rules related to switching, close clearances in rail yards, and the effects of fatigue and medical issues on crew members as it continues its investigation into a fatal accident involving a BNSF Railway employee in Southern California in March. The accident occurred March third at a BNSF yard in La Mirada, Calif. [see "Digest: BNSF train derails …," Trains News Wire, March 4, 2021]. In its preliminary report issued Thursday, the agency outlined the specifics of the incident: the conductor was killed when the car he was riding struck a locomotive on an adjacent track. The cars were being cut out of a train to be left at the La Mirada yard; the locomotives struck by the cut of cars were the rear distributed power units of the same train.
Split vote stalls Santa Cruz rail transit project
The Santa Cruz County (Calif.) Regional Transportation Commission split 6-6 in a Thursday vote on a business plan for a rail transit operation on 32 miles of a former Southern Pacific branch line, at least temporarily halting a project that has sharply divided the area. The website Good Times Santa Cruz reports the rail line, which could be either light rail or commuter rail, has been estimated to cost $465 million to $478 million. The vote came after four hours of discussion on the project, much of which remains unfunded. In another vote, the commission turned down a motion to spend $17.1 million on an environmental review of the project. The commission will further discuss the project at its May meeting and could reconsider the proposal at that time.
Metrolink sets sustainability goals, tests plant-based locomotive fuel
Los Angeles-area commuter rail operator Metrolink has released its first Climate Action Plan, outlining the agency's goal to achieve zero emissions by 2028. In addition to setting goals for improvement over the next decade, Metrolink's sustainability efforts include a current test of plant-based diesel fuel in one Tier 2 locomotive; if that test is successful, the agency will then test the fuel in a Tier 4 locomotive; after that, it could switch its entire fleet to the new fuel, which is chemically similar to petroleum-based fuel but is 100% renewable. "We're in the process of launching exciting pilot programs that could potentially put our entire fleet on a plant-based diet in the near future," Metrolink CEO Stephanie Wiggins said in a press release, "and we'll continue to explore emerging business solutions tied to measurable goals and targets outlined in the plan that strengthen our resiliency and contribute to a healthier tomorrow." The Climate Action Plan is available here; a summary of target goals is here.