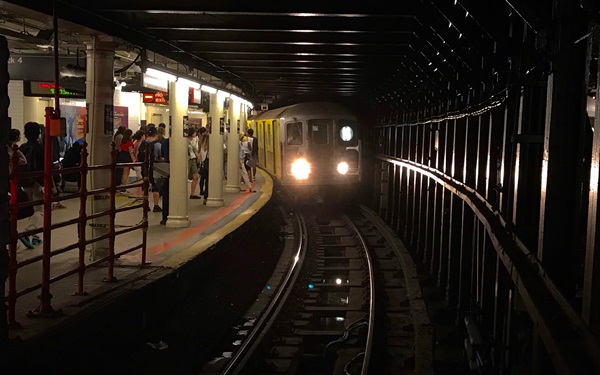 New York subways to resume 24-hour service, more than a year after beginning nightly shutdowns
New York City Transit will resume 24-hour subway service on May 17, Gov. Andrew M. Cuomo announced Monday, reflecting increase subway use as the COVID-19 situation improves. The resumption will come at the same time the governor lifts the state's 12 a.m. food and beverage service curfew, and a little more than a month after single-day travel on the subway surpassed 2 million trips for the first time since the start of the pandemic. The subway ended 24-hour service for the first time on May 6, 2020, closing from 1 a.m. to 5 a.m. nightly to allow for disinfecting of stations and equipment [see "New York subways to end 24-hour service …," Trains News Wire, April 30, 2020]. On Feb. 22 of this year, the closure was cut to two hours nightly, from 2 a.m. to 4 a.m. "Our rigorous disinfecting protocols remain in place, and we expect to see continued high mask usage thanks to the systemwide mask mandate," MTA CEO Patrick J. Foye said in a press release.
Long Island Rail Road conductor charged for allegedly pocketing tickets
A Long Island Rail Road conductor has been arrested for a fraud scheme in which he allegedly collected tickets and pocketed them without punching them, then gave them to friends who used them to ride or cash them in for refunds. The New York Daily News reports Robert Anderson, 61, was arrested for the actions which allegedly went on from April 2019 to September 2020. He was charged Monday with four felony counts of offering a false instrument for filing, eight misdemeanor counts of petit larceny and eight misdemeanor counts of official misconduct. If convicted, he could face up to four years in prison. The conductor has been suspended without pay.
Survey finds strong support for BART-Caltrain merger
Support for a merger of Bay Area Rapid Transit and commuter rail operation Caltrain has received strong support in a survey by the Bay Area Council, a San Francisco-area policy and business advocacy group. The San Francisco Examiner reports the survey 1,000 registered voters in nine Bay Area counties found 83% percent of those responding in favor of the idea. "The Bay Area transportation system has long suffered from balkanization that has created inefficiencies and not always put riders first," Jim Wunderman, president and CEO of the council, said in a statement. "Whether or not merging Caltrain and BART is ultimately the right thing to do, these results send a loud message that we need to do a much better job of connecting and coordinating our many transit systems." Caltrain has indicated in interest in discussing a merger, while BART indicated last month it had not yet explored the idea [see "Digest: Caltrain board will consider merger …," Trains News Wire, April 14, 2021].