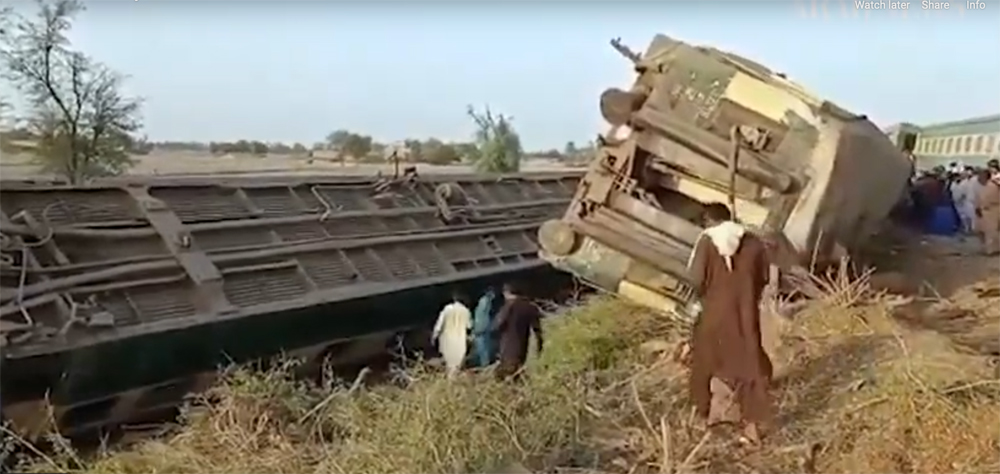 Death toll in Pakistan rail accident at least 56
The death toll in Monday's crash of two passenger trains in Pakistan has risen to at least 56, the Associated Press reports, although some news organizations are reporting a higher figure. Another 23 passengers are still being treated for injuries. The accident occurred when several cars of one train derailed and landed on an adjacent track, where they were hit by a train coming in the opposite direction . [see "Digest: At least 40 reported dead …," Trains News Wire, June 7, 2021]. The two trains were carrying a total of 1,388 passengers.
MBTA board uses federal aid to balance budget, which calls for hiring about 900
The board overseeing the Massachusetts Bay Transportation Authority has passed a $2.4 billion budget for fiscal 2022, but is leaving a decision on a proposal to test income-based fares to its yet-to-be-created successor. CommonWealth Magazine reports the Fiscal and Management Control Board passed a budget that is balanced thanks to $500 million in federal aid, and will call for the agency to hire about 900 people to restore pre-pandemic service levels, as well as replace normal attrition. The board also directed MBTA staff to develop two options for pilot programs on income-based fares to be considered by the new organization. The mandate for the current board is set to expire at the end of June; legislation proposing a new oversight board has not yet passed.
NS names Morris as vice president, labor relations
Norfolk Southern has named Jason Morris as vice president, labor relations. He will replace Scott Weaver, retiring after 32 years. Morris, currently assistant vice president, safety and environmental, will move into the new role on Oct. 1. "Jason is an innovative and collaborative leader who will forge strong partnerships between management and labor in his new role," Annie Adams, executive vice president and chief transformation officer, said in a press release. "As head of our safety and environmental team, he built a track record of bringing management and our craft workforce together to improve safety performance and culture." Weaver, who joined NS in 1989, has served as vice president, labor relations, since 2012.