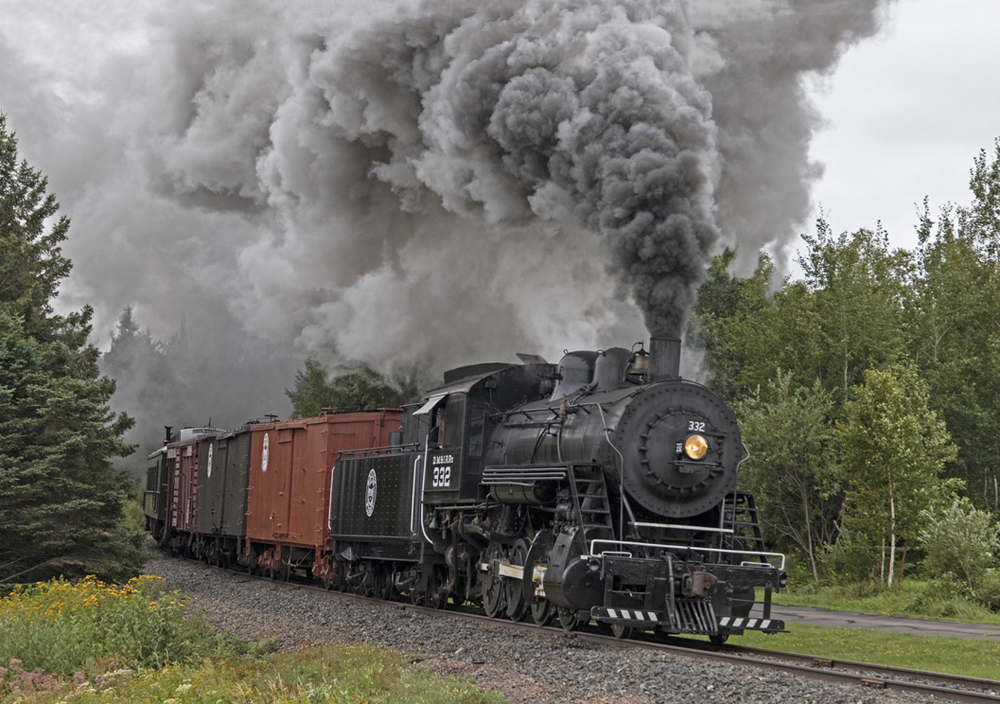 ---
DULUTH, Minn. — After a two-year hiatus, the Lake Superior Railroad Museum's North Shore Scenic Railroad will return Duluth, Missabe & Iron Range 2-8-0 No. 332 to service in September The locomotive will pull trains between Duluth and Two Harbors, Minn. Sept. 10-11 and 24-25. Trains will depart Duluth at 10:00 a.m. each day.
No. 332 last operated in 2019; plans to operate it in 2020 were abandoned due to the COVID-19 pandemic. Inspections to return the locomotive to service in 2021 led to the discovery of cracks near the mud ring in the firebox. Over the years the locomotive operated on the Duluth & Northeastern Railroad (1955-1964), four cracks developed that were repeatedly welded by D&NE mechanics. A Federal Railroad Administration inspection in spring 2021 revealed the cracks had reopened.
An inspection in conjunction with Fraser Shipyards of Superior, Wis., which has years of experience working with steam boilers, revealed the metal around the cracks was metallurgically sound. Fraser proposed the cracks be welded shut and new metal be welded over the cracks, a plan the FRA approved. In the fall of 2021, the welding and patching was completed and the engine passed its hydrostatic boiler test. It was then placed in the museum for display over the winter.
This year, the FRA performed three inspections on the locomotive, including a test under steam [see "FRA approves return to service …," Trains News Wire, June 29, 2022]. With inspections now complete, the stage was set for operations in 2022. In addition to the mud ring cracks, Lake Superior Railroad Museum's Steam Team was able to accomplish a list of projects including rebuilding an air pump, fireman's injector valve and boiler feed water valve. A automatic oiler was professionally rebuilt and extensive work was done on the throttle.
"The locomotive is in the best shape of its life," LSRM Executive Director Ken Buehler said in a news release. "The volunteers who make up the Steam Team did a fabulously professional job and the financial investments made in the engine by the Museum's membership were substantial."
American Locomotive Co.'s Pittsburgh Works built the locomotive in 1906 for the Duluth, Missabe & Northern as No. 332. The 2-8-0 hauled iron ore and freight for the DM&N and successor DM&IR until 1955, when it was sold to the Duluth & Northeastern RR based in Cloquet, Minn. As D&NE No. 28 the locomotive operated until 1964. It was donated to the Lake Superior Railroad Museum in 1974.
In December 2011, the engine was moved back to Cloquet, where Bob Purcell and the Cloquet Terminal Railroad, successor to the DN&E, started a cosmetic restoration. They discovered that the engine was suitable for a complete rebuild and that work was completed at the LSRM shop in Duluth. It re-entered service in June 2017.
Tickets for the steam trips are available at www.duluthtrains.com.