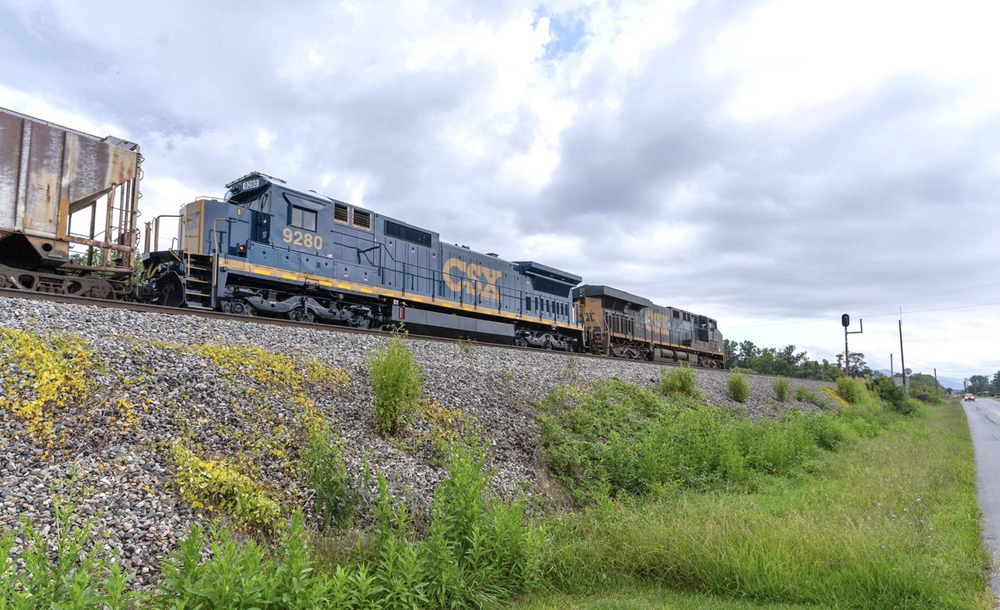 ---
HUNTINGTON, W.Va. — After selling or retiring its roster of more than 100 General Electric C40-8 locomotives, CSX Transportation once again owns the late-1980s era Dash-8 standard cab locomotive through its June 1 acquisition of Pan Am Railways.
The Class I railroad began divesting the 4,000-horsepower six-axle GE several years ago, retiring and selling most of its standard cab Dash-8s back to GE. GE's then new Short Line and Regional Rail division subsequent sold some to Class II regional Pan Am Railways.
Pan Am had accumulated 24 C40-8s, all former CSX units. At both the Class I and regional railroad, the C40-8s wore numbers in the 7400-7600-series and had build dates from the late 1980s into the early 1990s, before GE introduced the wide-nose version of the Dash-8 locomotive that CSX would purchase in its 1990s-era expansion of GE locomotives.
While it's not clear if CSX intends to use the locomotives throughout its network, keep them on the former Pan Am Railways network, or assign them elsewhere, CSX has invested in freshening up at least some of the 30-plus-year-old locomotives. A freshly painted C40-8 recently emerged from the railroad's locomotive shops in Huntington.
CSX C40-8 No. 9280 was spotted trailing on a manifest train in Tennessee, on the former Clinchfield Railroad, sporting fresh CSX blue-and-gold and a new 9200-series number. The former 7400-7600 series numbers have been reutilized for CSX's GE AC4400CW rebuilds, which occupy much of the 7000-series today.
The C40-8 was initially introduced by GE in 1987 and was purchased by five Class I railroads, including Union Pacific (256 units); CSX Transportation (147 units); Chicago & Northwestern (77 units); Norfolk Southern (50 units); and Conrail (25 units).
The situation for CSX is not unlike that of Canadian Pacific, which regained a number of its former locomotives, including SD40-2F cowl units, when it acquired the Central Maine & Quebec, a route previously been spun off by CP. At least two of those SD40-2Fs has been repainted into CP colors; one was on display at an event last week at the Illinois Railway Museum celebrating EMD's 100th anniversary [see "EMD holds 100th anniversary event …," Trains News Wire, Aug. 21, 2022].
— Updated at 9:45 a.m. CDT on Aug. 27 to clarify Pan Am purchased its ex-CSX C40-8s from GE.