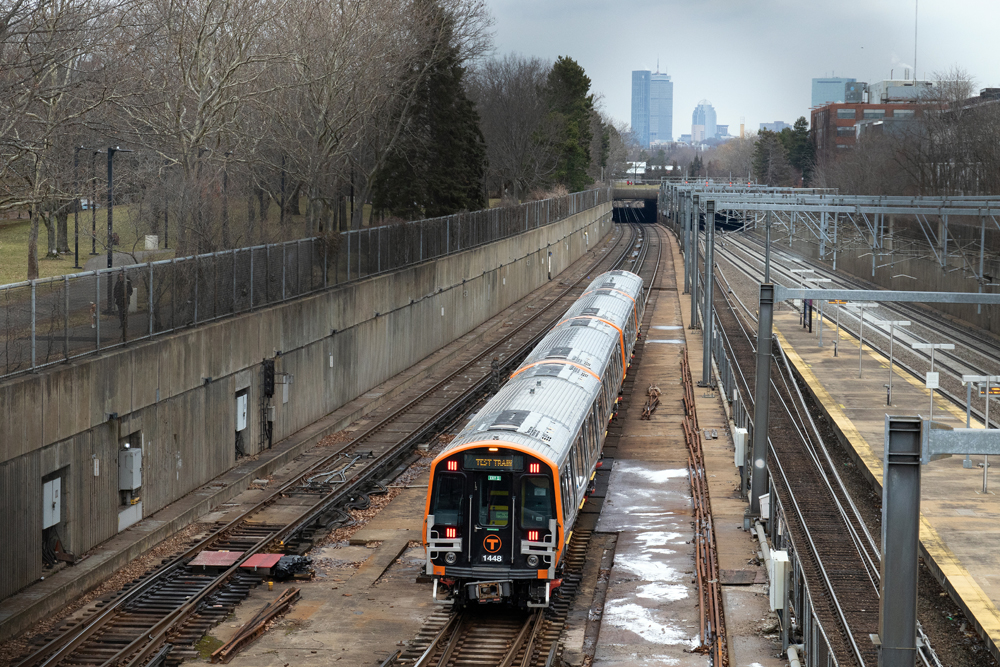 ---
BOSTON — The Massachusetts Bay Transportation Authority hasn't received any new rapid-transit cars from CRRC's Springfield, Mass., factory in seven months, and the company won't meet a new schedule calling for completion of its 404-car order by September 2026, the agency's board of directors was told today (Thursday, Jan. 26).
And the long-term future of that factory looks doubtful, given government restrictions on dealing with the Chinese manufacturer.
The Boston Globe reports the most recent delivery schedule calls for delivery of the 152 Orange Line cars by December 2023 and the 252 Red Line cars by September 2026, but interim MBTA General Manager Jeff Gonneville said CRRC won't meet that schedule — which in itself is three years behind the original completion date of September 2023. He said the agency hopes to have a more accurate schedule next month.
To date, the MBTA has received 78 Orange Line cars and 12 Red Line cars, and not all of those are in service. The Globe detailed massive issues at the factory in a story earlier this month [see "News report describes 'toxic environment …,'" Trains News Wire, Jan. 16, 2023].
Gonneville said the agency "needs to take a step back and take a fresh look at this contract, and really begin evaluating different strategies and using to continue to ensure that the T gets safe and reliable cars both on the Orange Line and Red Line here as quickly as possible." The delayed equipment is supposed to replace 54-year-old Red Line cars that were meant to be retired in 1994, and 42-year-old Orange Line cars slated for replacement in 2006.
Meanwhile, MassLive.com reports that Gonneville also noted the limited prospects for the Springfield factory. Under a 2019 federal law, CRRC can only solicit federally funded business from transit agencies with which it had already established contracts. In addition to the MBTA, those are the Southeastern Pennsylvania Transportation Authority and the LA Metro subway. A separate subsidiary is building cars for the Chicago Transit Authority at a factory in Illinois.
"Essentially, CRRC is limited in future work they can do," he said. No other work is currently scheduled for the Springfield factory once the MBTA contracts are complete.
The MBTA initially contracted with CRRC to build 284 cars for the two transit llines for $566 million in 2014, then ordered another 120 Red Lilne cars in 2016 at a cost of $277 million. Gonneville said Thursday those bids were $200 million lower than competitors Bombardier, Kawasaki, and Hyundai Rotem.