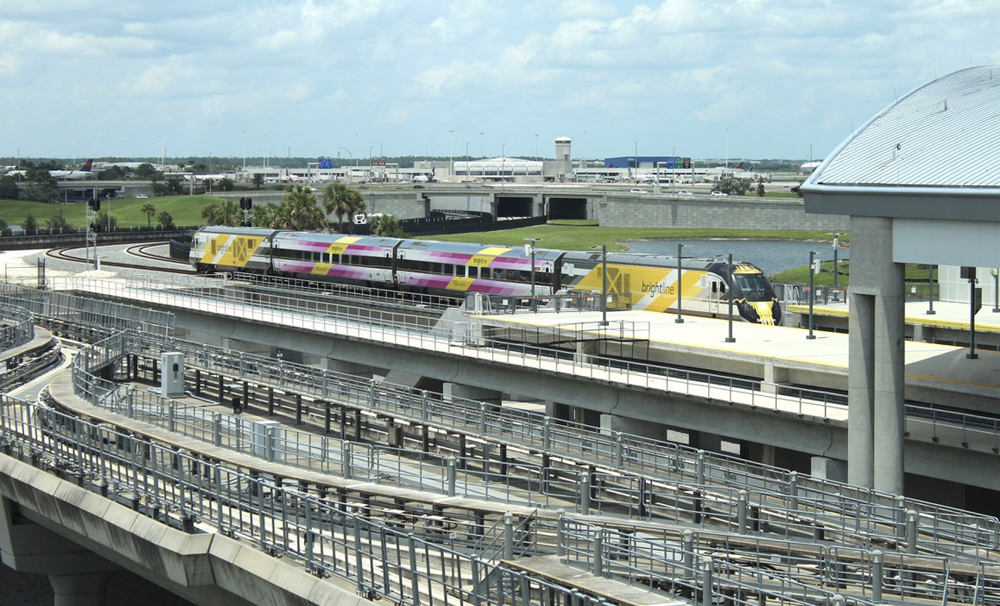 ---
ORLANDO, Fla. — Officials in Florida's Orange County will be asked to approve a special development district to help pay for an 11-mile rail line that would link Brightline and SunRail service to Orlando International Airport, the county's convention center, and theme parks, the Orlando Sentinel reports in a paywalled article.
Universal City Development Partners, which is affiliated with the Universal theme parks in the Orlando area, is asking Orange County commissioners to create the Shingle Creek Transit and Utility Community Development District. The district would cover 719 acres, most of which involves Universal-owned land for an under-construction theme park, Epic Universe. Hilton is the only other property owner in the proposed district.
The board is scheduled to vote on the request Oct. 10 after a public hearing.
Property assessments from the district and the sale of tax-exempt bonds would be used to fund $174 million in public infrastructure. That includes a commitment of $125 million by Universal and other business for the "Sunshine Corridor" rail project [see "Orlando businesses pledge $125 million …," Trains News Wire, May 6, 2022]. The commitment includes land and other support for a station currently estimated to cost $93 million.
A 2022 report from the Florida Department of Transportation said the full project could take 10 years and $6 billion to complete [see "Brightline, SunRail 'Sunshine Corridor' project could cost $6 billion …," Trains News Wire, Sept. 6, 2022]. The corridor is envisioned as a three-phase project: first connecting the airport to SunRail's north-south corridor, then from that connection to the International Drive area including the Orange County Convention Center and theme parks, and finally with a Brightline extension to Tampa, Fla.
Community Development Districts, or CDDs, are allowed under Florida law to cover the costs of growth. They are widely used; the Sentinel reports there are about 935 in the state.