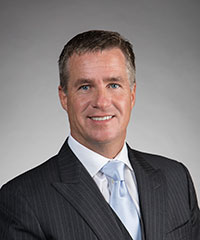 CHICAGO — Canadian Pacific's merger negotiations with Kansas City Southern are progressing in the wake of last week's regulatory decision that dealt a blow to the proposed Canadian National-KCS combination.
"I believe, and I have high hopes, that we will come to a place when we finish these negotiations that we will be deemed superior," CP CEO Keith Creel told the North American Rail Shippers conference today.
After the U.S. Surface Transportation Board last week rejected CN's plans to put KCS into a voting trust as a key first step to their merger, CP gave KCS a Sept. 12 deadline to respond to its Aug. 10 merger bid.
The KCS board on Saturday unanimously determined that CP's bid potentially could be deemed superior to the agreement it reached with Canadian National in May. And it resumed merger talks with CP [see "Kansas City Southern moves toward a merger agreement with Canadian Pacific," Trains News Wire, Sept. 4, 2021]. Under its merger agreement with KCS, CN will have an opportunity to respond to CP's offer to acquire KCS if KCS reaches a merger deal with CP.
Analysts have said it's unlikely CN would seek to raise its bid in light of the STB decision, which cast doubt on a CN-KCS merger clearing the board's tougher 2001 merger review rules. The CP-KCS combination will be judged under the board's less onerous old rules.
If CP and KCS reach a merger deal, Creel says he expects the railways to file a merger application with the STB by mid-October, with approval possible roughly a year later.
"This story's almost like a country-western song — we got together, then we broke up, now we hope to make up," Creel says.
If the railroads ultimately merge, CP will be able to fine-tune Kansas City Southern's operations, Creel says, including making better use of KCS's locomotive fleet and making its shops more efficient.
Creel said he saw how KCS could improve car repairs during a town hall meeting and tour with KCS employees and CEO Pat Ottensmeyer earlier this year. The repair track had a two-day backlog of cars, yet the shop only worked one shift. To clear the backlog, CP would run three shifts and bring the car repair dwell down to a day, which puts customer cars back in service more quickly.
Creel praised KCS's implementation of Precision Scheduled Railroading. But he said the railroad is still relatively early on in the process and would benefit from CP's experience.
"I'm an operating guy, and I'm going to be boots on the ground. I'm going to be smelling the ballast, I'm going to be kicking the tires, I'm going to be out with the team because we will need those good railroaders from Kansas City Southern to partner with us," Creel says.