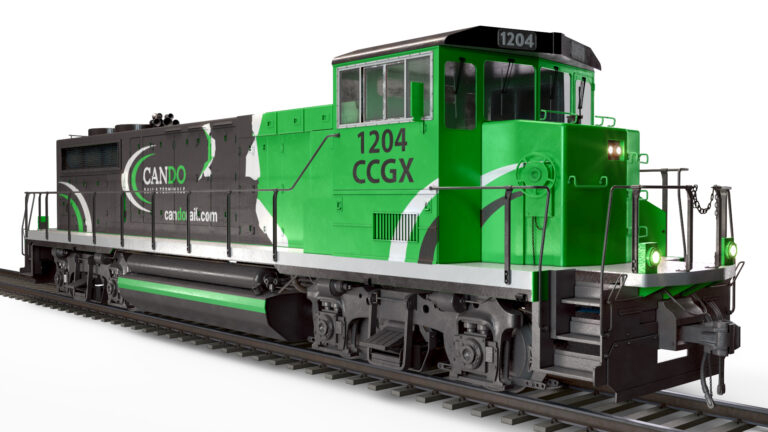 ---
EDMONTON, Alberta — Cando Rail & Terminals — the Canadian company which operates shortlines, terminals and transload facilities, and handles industrial switching, among a wide variety of rail services — will develop a battery-electric switcher.
The company announced Thursday that it plans to retrofit a legacy, non-tier compliant diesel with a lithium-ion propulsion system for use in yard or closed-loop switching. The locomotive will be able to perform work normally handled by a diesel switcher, saving fuel and reducing greenhouse gas emissions. Once the retrofit is complete, the locomotive's performance will be evaluated in service in the Fort Saskatchewan, Alta., area.
The Government of Alberta is committing C$2 million to the C$4 million project through the Emissions Reduction Alberta Industrial Transformation Challenge, the same program that has helped fund CPKC's hydrogen fuel-cell locomotive program [see "CP to build additional hydrogen locomotives …," Trains News Wire, Nov. 1, 2021].
Steve Bromley, chief commercial officer at Cando Rail & Terminals, said in a press release that the government funding "is critical to help Cando Rail & Terminals develop a battery-powered locomotive customized for industrial switching operations. This industry-transforming initiative could drastically reduce greenhouse gas emissions, helping rail service providers and industrial companies moving product by rail meet sustainability goals faster."
The government participation followed an independent review by a team of experts in science, engineering, business development, and other fields, followed by a final decision by the ERA board of directors based on the recommendation of those experts.