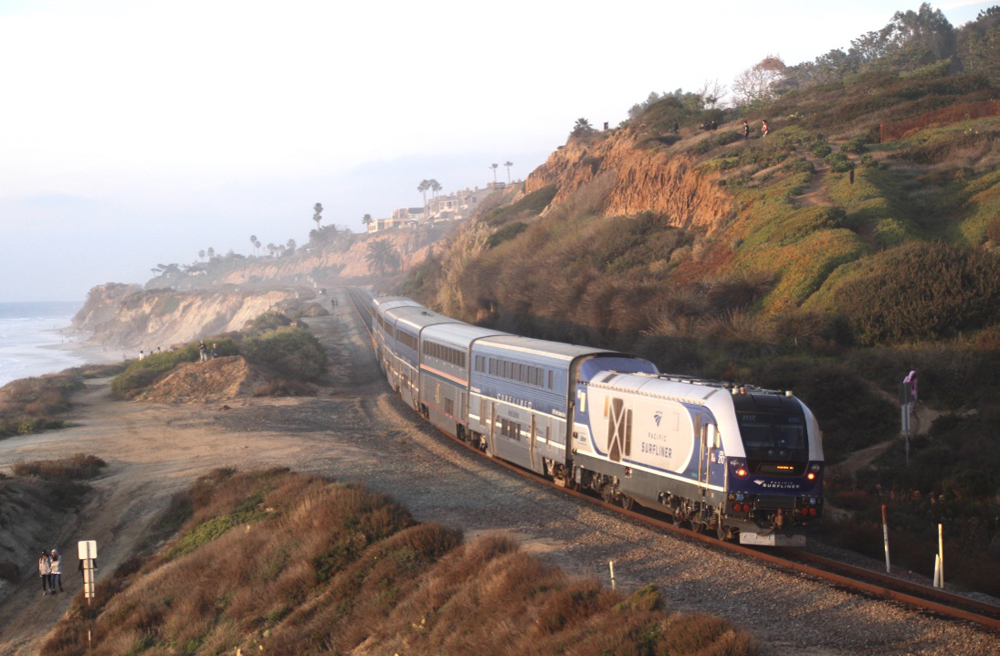 ---
SAN DIEGO — The San Diego area will receive $300 million from the new California state budget for a plan to relocate the Surf Line inland from the Del Mar bluffs, a contribution a regional official called "a critical down payment" on a project estimated to cost $2.5 billion or more.
The San Diego Union-Tribune reports the proposal would move the former Santa Fe rail line inland about a mile, into a tunnel about 80 feet underground. The route is currently owned by the North Country Transit District and used by Coaster commuter trains, Amtrak Pacific Surfliners, and BNSF freight trains. The $300 million will go to the San Diego Association of Governments, the regional group which is the transit district's parent, and will allow it to compete for federal matching funds for the project.
"We have talked for years about moving the rail tracks off the Del Mar Bluffs, and with this funding, we can now do it," SANDAG Executive Director Hansan Ikhrata told the Union-Tribune. He said the project could break ground within three years and be done by the end of the decade, pending environmental review.
More information on the relocation project is included in this PowerPoint presentation.
Erosion of the Del Mar Bluffs remains an ongoing issue for the rail line. A three-year, $68 million plan to use a seawall and pilings to stabilize the bluffs — the latest in a series of stabilization measures — was approved in June [see "Stabilization plan to protect rail line on Del Mar Bluffs is approved," Trains News Wire, June 9, 2022]. And the NCTD has been engaged in a long-running battle with the City of Del Mar and the California Coastal Commission over its plan to install a safety fence along the bluffs to prevent trespassing, a matter currently pending before the Surface Transportation Board.