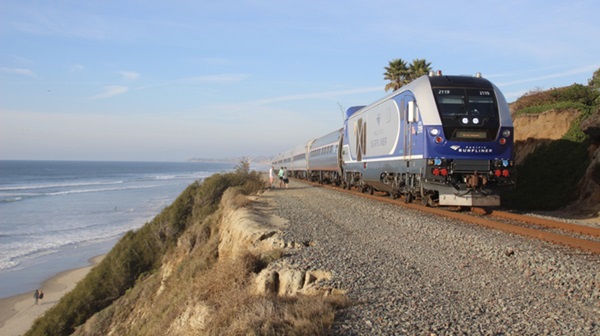 ---
DEL MAR, Calif. — The California Coastal Commission has approved the San Diego Association of Governments' stabilization plans for the Del Mar Bluffs, despite objections to parts of the project from the North County Transit District as well as residents.
The San Diego Union reports that at a Wednesday, June 8, meeting, the commission unanimously approved the three-year, $68 million plan for a seawall, concrete-and-steel piles, and concrete drains to protect the rail line — used by Amtrak, NCTD Coaster commuter trains, and BNSF freight traffic — that sits atop the bluffs.
The City of Del Mar objected to the plan, citing "serious concerns about the adverse effects of seawalls," in a letter approved by the city council earlier in the week [see "Del Mar to ask coastal agency to slow rail-line stabilization plans," Trains News Wire, June 8, 2022].
The transit district objected to the plan because SANDAG, the regional planning agency, has included a mile-long bluff-top trail, pedestrian rail crossing, and beach access by ramp or stairs to the project, at the request of the coastal commission, to offset the loss of public beach because of the seawall project. NCTD Executive Director Matt Tucker told the commission those aspects "impose significant obligations and costs well beyond the safety project" that will take away from transit agency investments elsewhere.
While the commission generally opposes seawalls, commissioners said they had worked with SANDAG to find a solution, with commission member Paloma Aguierre saying, "I cannot fathom thinking about a train full of people falling into the ocean."