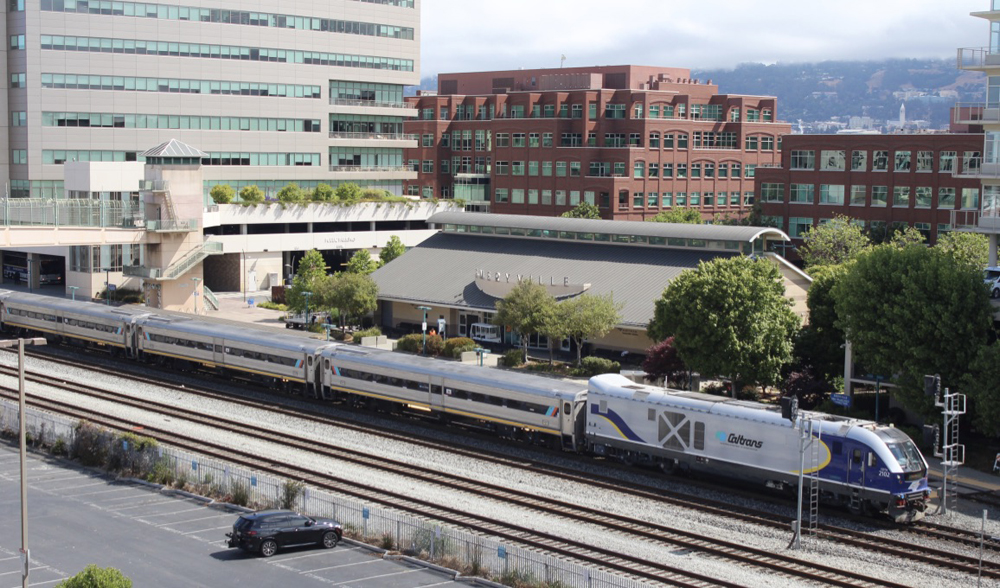 ---
WASHINGTON — Unsatisfied with their individual efforts, California's three entities operating intercity passenger rail corridors announced Wednesday that they have formed a coalition to jointly advocate for their operations.
The agencies operating Amtrak's Capitol Corridor, Pacific Surfliners, and San Joaquin will be linked in an organization known as CIRCLE, an acronym that stands for California's Rail Corridors Linking Everyone.
In an introductory press release, the organization offers what amounts to a mission statement: "The coalition will seek to educate federal policymakers on the unique nature of Amtrak state-supported services, raise awareness of California's growing passenger rail system and proposed capital investments, and build stronger relationships with national intercity rail stakeholders."
Formation of the coalition was likely prompted by an examination of Amtrak's cost accounting practices prescribed in pending Amtrak reauthorization legislation. The States for Passenger Rail Coalition, an existing organization comprised of 23 state DOT rail divisions and regional operating authorities, is leading that effort, but the state's corridor leaders don't want to be lumped together with issues other operators encounter.
California has invested over $3.2 billion in its passenger rail network since the 1980s, but remains at the mercy of equipment and management expenses that Amtrak amalgamates systemwide in a fashion that operators consider opaque [see "California corridors ask Congress to revise Amtrak cost formulas," Trains News Wire, Dec. 11, 2020]. At the same time, state lawmakers who provide the money are demanding more transparency.
"Amtrak gets its money from Congress, but we have to go to state-level funders, so we have to be able to respond to the reasonable questions they ask about costs," Capitol Corridor Joint Powers Authority Managing Director Rob Padgette tells Trains News Wire. "That's why a much higher percentage of costs should be direct."
At the same time, the coalition may help resolve difficulties the three operating authorities have consistently had in creating statewide service coordination, as the California Department of Transportation has systematically relinquished that role over the past decade.
For instance, the recently issued schedule change implemented by LOSSAN on its San Diego-San Luis Obispo, Calif., Pacific Surfliner corridor [see "Two California Amtrak corridors to add trains, adjust schedules," Trains News Wire October 13, 2021] fails to show the Coast Starlight and connecting buses to the San Francisco Bay area.
Increased coordination between intercity trains and adjacent transit systems is the state's eventual goal.
Stacey Mortensen, executive director of the San Joaquin Joint Powers Authority, says the California Integrated Travel Project, Cal-ITP, is exploring the possibility of coordinating payments and discounts for buses and trains throughout California.
She told Trains News Wire in June that travelers should be able to "buy a ticket for anything: Tahoe Transit to the San Joaquins to the Altamont Commuter Express to Caltrain to BART. It will have to be sophisticated because you will need reservations on some segments like the San Joaquins. What we're trying to do is streamline the process." She adds, "We asked Amtrak to help with that and a few years ago they wanted to look at an open architecture ticketing system — then they chose not to. That was unfortunate."
Padgette says in a statement, "I believe CIRCLE will help fill a gap in intercity passenger rail advocacy by ensuring that the voice of the nation's leading state for intercity passenger rail has a seat at the table."