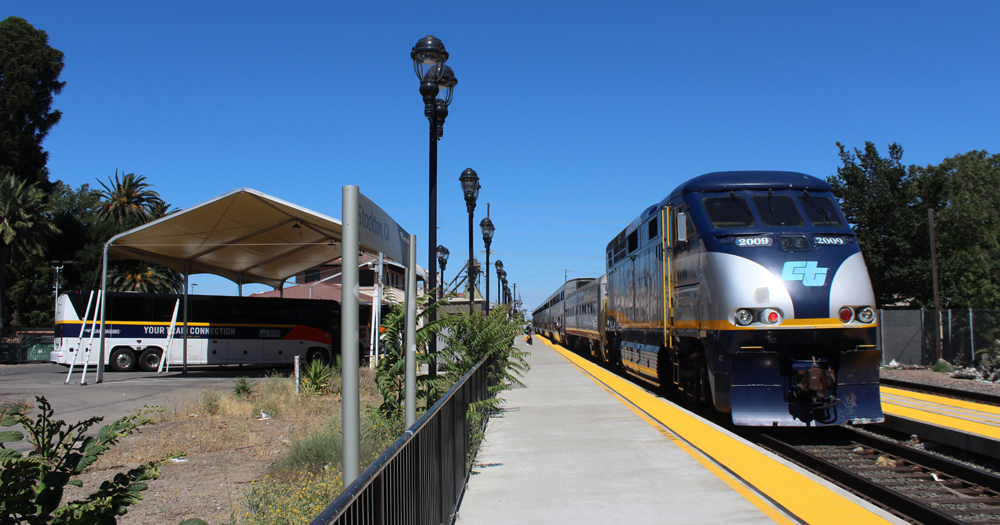 ---
SACRAMENTO, Calif. — Schedule changes are coming later this month for Amtrak San Joaquin and Pacific Surfliner service.
Beginning Monday, Oct. 18, the San Joaquin Joint Powers Authority will again offer direct Amtrak train service between Sacramento, the state capito,l and Bakersfield, Calif., when it adds a sixth San Joaquin round trip south of Stockton, Calif. The other five departures in each direction will continue to originate or terminate at Oakland's Jack London Square station.
The following Monday, Oct. 25, the LOSSAN Rail Corridor agency will add another Pacific Surfliner round trip between San Diego and San Luis Obispo, Calif., while entirely revamping schedules so that departures from each station occur at the same minute in each hour that a tran operates. Weekday and weekend schedules will also be identical, as they currently are on the San Joaquins.
Both operating authorities have restored frequencies periodically since substantial service cuts were made in April 2020 as a result of COVID-19 pandemic travel restrictions. The most recent additions occurred June 28, 2021, with one round trip added on a portion of each corridor.
San Joaquin addition
The new Sacramento-Bakersfield round trip will provide an early morning southbound departure (leaving at 6:26 a.m.) and a late afternoon trip out of Bakersfield (at 6:12 p.m.). In addition to restoring a one-seat ride option, this fills gaps at the beginning and end of the day for Central Valley travelers who connect to and from Los Angeles and other destinations served by California's extensive Amtrak Thruway bus network.
"We are fortunate to be able to offer the new 702 and 703 round-trip without adding another consist," San Joaquin Marketing Manager David Lipari tells Trains News Wire. "Our current consists with an additional rotation through Sacramento can handle the new schedule; we have not leased additional equipment from Amtrak."
Lipari says the San Joaquins are offering cafe fare on most trains, based on equipment type and staffing.
"On trains unable to offer food service, the authority has worked with a vendor to produce a free upgraded snack box, which includes four products from California and bottled water," he says. "The snack boxes have been a welcome addition by our passengers, especially those traveling longer distances."
The new trains take their places on a schedule where departures are spaced throughout the day, either two hours or four hours apart, and clock times during the hour are uniform at each station in each direction.
Pacific Surfliner changes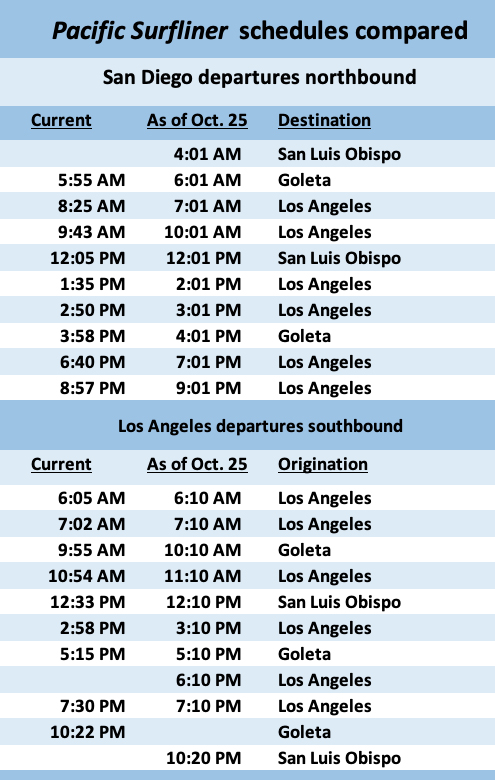 The Oct. 25 Pacific Surfliner change will see slight time adjustments to a "memory" schedule similar to what the San Joaquins have been operating. As shown on the table at right, significant changes include a 4:01 a.m. departure from San Diego, and a new southbound train out of Los Angeles that fills what had been a two-hour afternoon rush-hour gap.
"A pulsed schedule that coordinates with commuter services on our corridor has always been our ultimate service plan," Roger Lopez, LOSSAN's administrative officer, tells Trains News Wire. "The departure times were chosen based on available slots and the necessary spacing/coordination with Metrolink and Amtrak long distance; the drastic service reductions that came as a result of the pandemic made it easier to make such significant adjustments to the schedule."
Both corridor agencies plan to post revised timetables on their respective websites shortly; until then, these links (here for the San Joaquin, and here for the Pacific Surfliner) reflect current timetables.
A spot check of www.Amtrak.com late Tuesday showed that train numbers had not been designated for all of the revised Pacific Surfliner timings, but schedules can be booked in the reservation system.