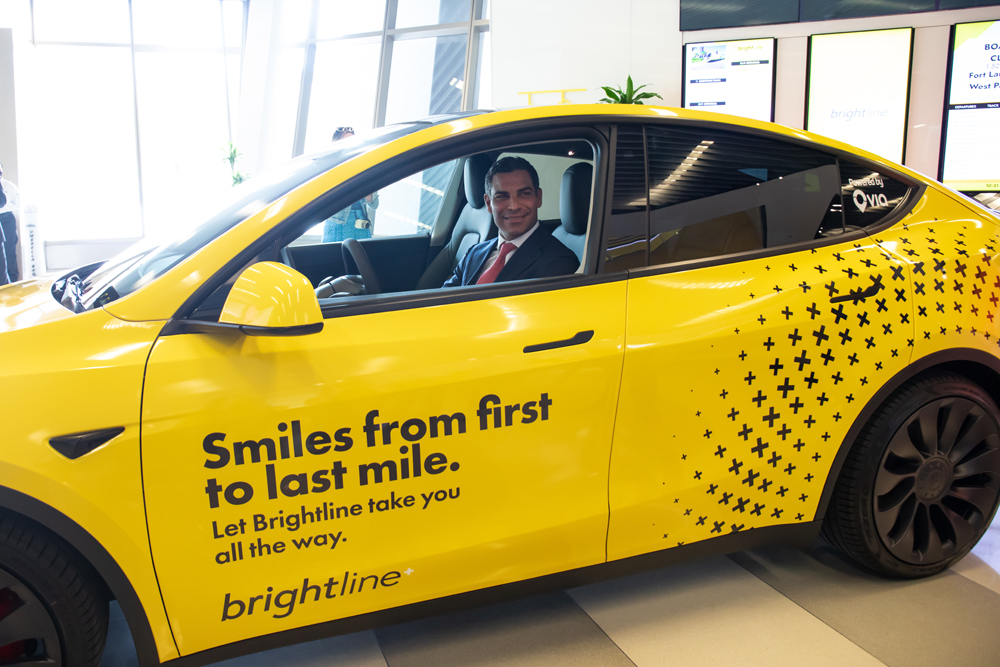 ---
MIAMI — In what company President Patrick Goddard characterizes as "one of the most significant innovations in multimodal mobility," Florida passenger rail operator Brightline is offering travelers the ability to arrange travel from their point of origin to their ultimate destination, not just buy a train ticket.
The first stage of this door-to-door travel will come rail service resumes next month [see "Florida's Brightline set to restart service Nov. 8," Trains News Wire, Oct. 20, 2021]. Passengers using a new "Brightline+" app (available from Google Play and the Apple Store), or making plans via Brightline's website, are able to book a journey from the Miami, Fort Lauderdale, or West Palm Beach stations to a location within 5 miles of their destination station. Beginning Dec. 1, the seamless trip can be ticketed to include travel to the originating station, as well.
"One transaction, one ticket, one payment, one application — seamless," Goddard said during a Tuesday press conference at the company's MiamiCentral station, where he also presented a snappy promotional video, presented at the end of this article.
Through the end of 2021, passengers will have the option of choosing a shared-ride vehicle for free or a private ride for $10 per segment. Brightline+ reservations must be made at least 2 hours in advance. As with ride-share services Uber and Lyft, customers will be provided with a real-time arrival estimate at the time of purchase and journey tracking. An additional feature of the app will allow riders to order food prior to their journey, at the station, or onboard during the ride.
The passenger's final destination address is input in the booking process after the fare class, "Smart" or "Premium,"is chosen, and seats are selected. A $10 Smart class promotional fare is being offered through December. When Trains News Wire downloaded the app and accessed the Brightline website on October 27, only Premium passengers were given the opportunity to reserve a private ride to a specific address, but Smart patrons will be soon be able to do that as well. Shared ride options at each station are not currently listed, but those will also be added.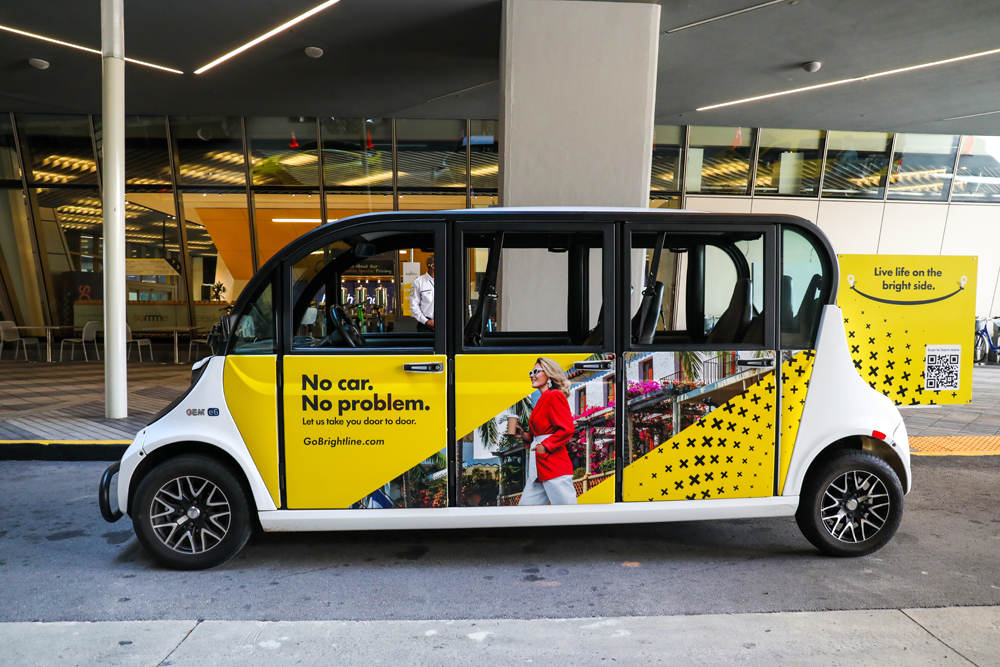 Goddard says there will be a mix of 30 or 40 vehicles "milling around the stations" that are currently about 75% electric. One vendor, Circuit, "will be working with Brightline to provide all-electric first/last mile shuttle service in geo-fenced areas up to 3 miles from the stations with 6-seater GEM electric shuttles," the company says in a statement.
He expects the entire fleet to be all electric by the end of 2022, when service is extended to Orlando International Airport and new stations are open at Boca Raton and Aventura.
Public transportation options added
Carlos Cruz-Casas, Miami-Dade Dept. of Transportation assistant director for strategic planning, appeared at the Brightline+ event with Miami Mayor Francis Suarez. Cruz-Casas says his agency will be the first transit operator to complete payment integration with intercity rail.
"Using the QR code from your Brightline ticket, in 2022 you'll be able to get on and off Metrobus and Metrorail. With transit, that first and last mile becomes 10 to 15 miles throughout Miami-Dade County," Cruz-Casas says, adding, "The iconic yellow trains — a yellow carpet — are an asset to our fast-growing community from the train station to beyond."
Goddard says, "We're going to deploy our own fleet, but we are looking for ways to democratize and integrate seamlessly with other transportation modes. We're already integrated physically with MetroMover (a free downtown people-mover system) and MetroRail at MiamiCentral, and Tri-Rail is coming very soon." Initially, at least, transit connections will be free with the purchase of a Brightline ticket.
"We need to take care of our guests from where they are and where they are going; it's not enough to start at the train station," Goddard says.
— Updated at 5:05 p.m. CDT on Oct. 27 with revisions and additional details on app and door-to-door operations.