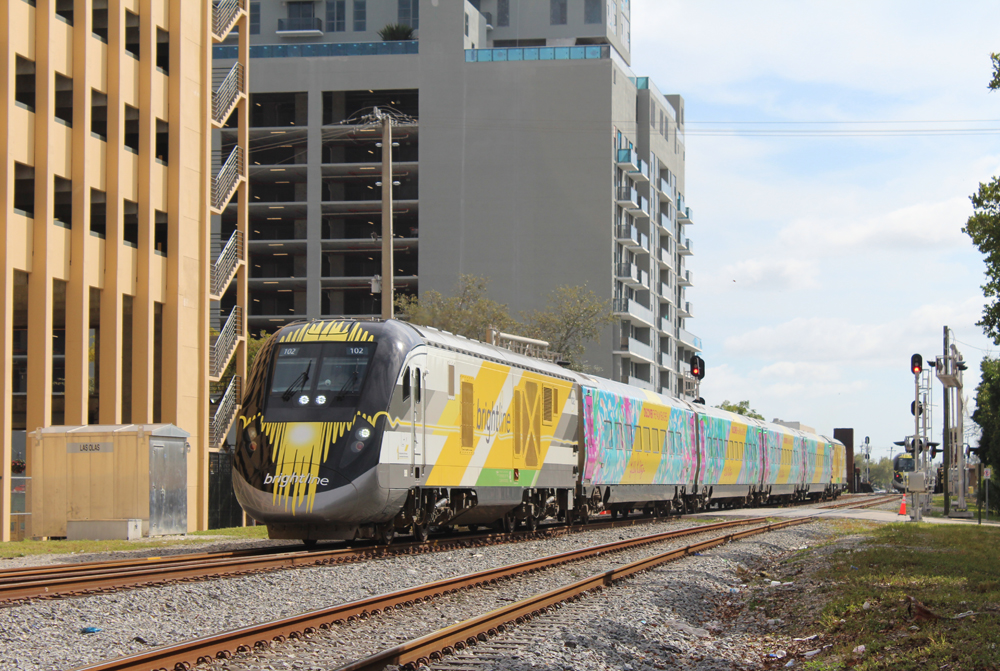 ---
MIAMI — Ending a hiatus that began in March 2020 during the early stages of the COVID-19 pandemic, Brightline is finally restoring its Miami-Fort Lauderdale-West Palm Beach, Fla., service on Nov. 8.
Sixteen weekday round trips and 12 on both weekend days will begin on that date, following essentially the same schedule in effect when the service shut down. With a few early-morning exceptions southbound and skipped departures midday in both directions, trains depart all stations at the same time every hour. The timetable and booking options are posted on the Brightline website.
Though not available until some time in December, travelers will soon be able to reserve "door-to-door" trips to the boarding station and from the arriving station using a new Brightline app.
"This will include a fleet of both private and third-party vendor vehicles supporting point-to-point service beyond the train and making a 'car-optional' lifestyle possible," according to Tuesday press release. The company announced its intention to offer this feature in August [see "Brightline to resume South Florida service in November," Trains News Wire Aug. 10], but still has to work out details. A demonstration of how "D2D" will work is set for Oct. 26.
Meanwhile, the company is offering the first ride free in "Smart" class through November to anyone downloading the new Brightline app, which was scheduled to be available today at Google Play and the Apple Store. The app "will help guests plan trips using public transit, Citibikes, scooters, shuttles, and chauffeured vehicles," according to the release. "Brightline is also working on partnering with local public transportation agencies to integrate connectivity between both transportation modes in the near future."
In a bid to stimulate business, November fares have been set at $10 for "Smart" and $27 for "Premium" class service. The latter has been renamed from its previous "Select" designation, but continues to include 1-2 seating, cold refreshment towels, an onboard snack basket, complementary alcoholic beverages on board and in separate station lounges, unlimited non-alcoholic beverages and a reduced-price menu for purchases, spokeswoman Vanessa Alfonso tells Trains News Wire.
With the service restart, Brightline's flagship MiamiCentral terminal will debut a new fine dining restaurant and five new food vendors in addition to two returning tenants.
Construction continues on infrastructure improvements north of West Palm Beach, where a second main track is being added along the Florida East Coast Railway to Cocoa, Fla., and new right-of-way constructed west to the Orlando International Airport. Brightline says the extension is "on track to be complete by the end of 2022," and new stations at Boca Raton and Aventura, Fla., will also be ready next year.