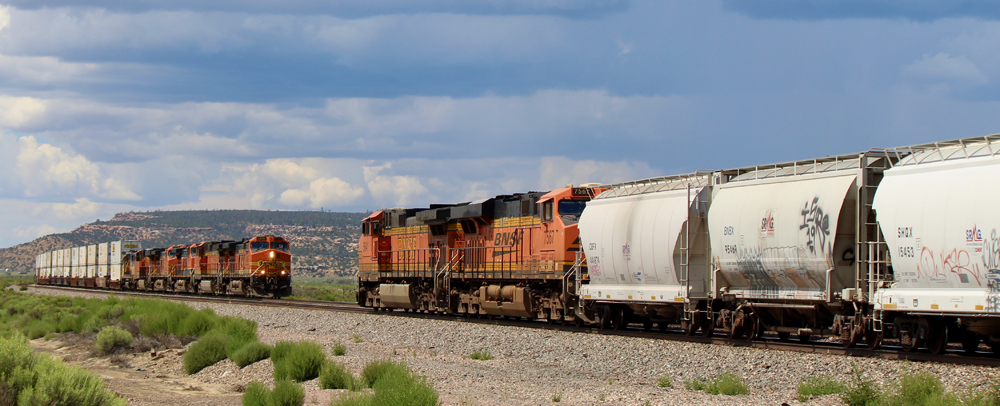 ---
FORT WORTH, Texas – BNSF Railway on Sept. 4 will end its embargo on certain types of carload traffic bound for California, saying that the restrictions enabled the railway to reduce traffic backlogs on its Southern Transcon.
"BNSF is terminating our California permit embargo on Sunday, September 4. As anticipated, our weekly number of permits continued to increase throughout the temporary embargo. Also, as anticipated, the temporary permit embargo enabled BNSF to significantly reduce backlogs and drive greater efficiencies for trains moving both towards and in California, and throughout our network," the railroad said in a customer advisory on Thursday.
"This embargo was one of several actions to improve network fluidity in Southern California," BNSF said. "As a result, we have seen decreased congestion and increased velocity as network conditions are improving."
BNSF initially intended the embargo imposed on automotive, agricultural, and industrial commodities bound for California to run through the end of July [see "Beset by congestion, BNSF to limit carload traffic …," Trains News Wire, June 24, 2022], but on July 27 extended it through August.
BNSF's California and Southwest Divisions have been among the hardest hit by crew shortages and unplanned recrews of trains en route. But the recrew rate, which is normally around 5% when the railroad is running well, has been improving in recent weeks.
Last week 15% of trains on the California Division required more than one crew per crew district, while 13% required a second crew on the Southwest Division across Arizona and New Mexico. In late July about 20% of trains on those divisions required an unplanned recrew.
Dwell at BNSF's Barstow, Calif., classification yard remained elevated last week at 38.7  hours, but that's a significant improvement over the 56-hour average dwell time when the embargo began.