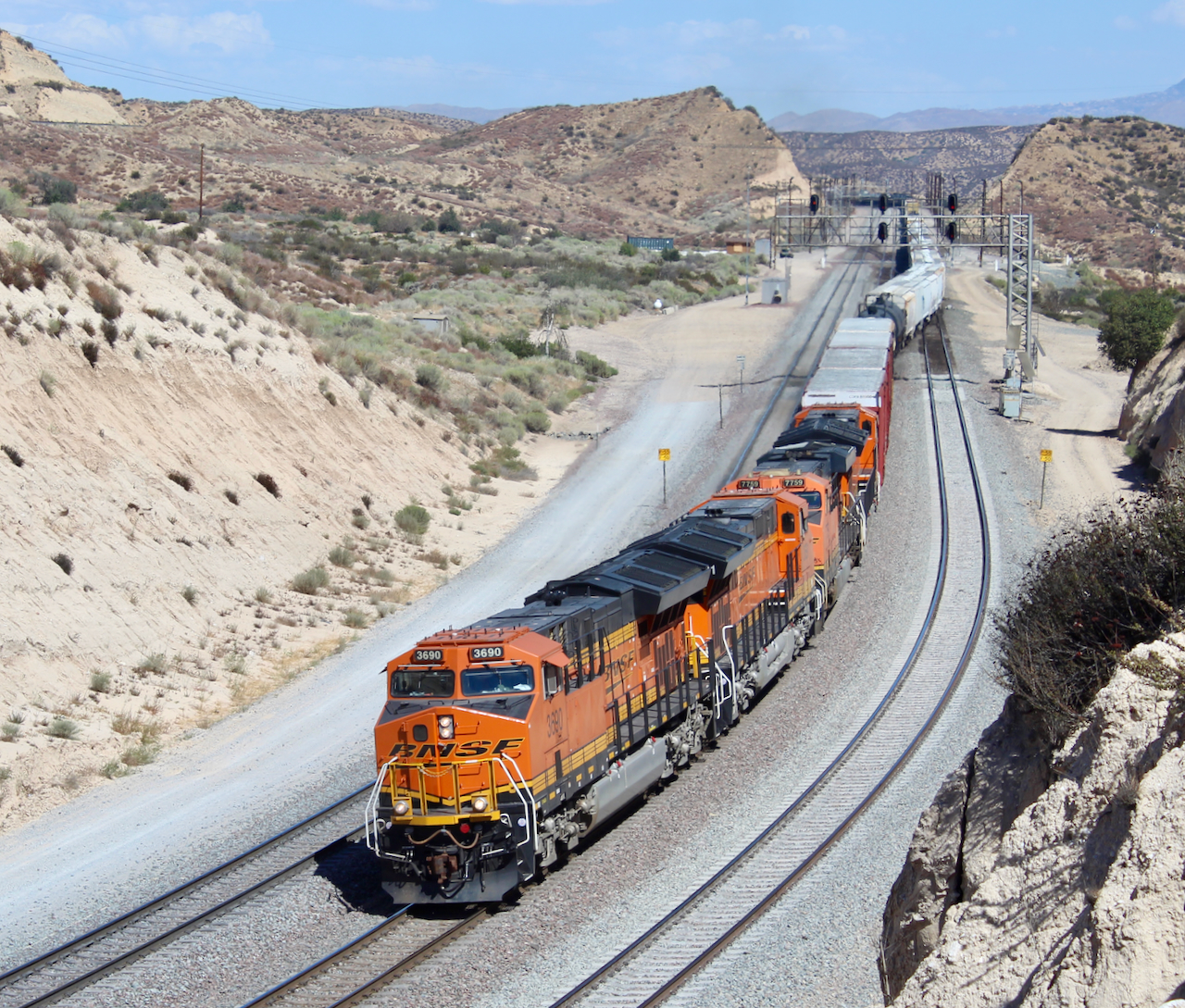 ---
FORT WORTH, Texas — BNSF Railway will limit carload traffic bound for California through the end of July as it struggles to overcome congestion related to crew shortages and bad weather along portions of its Southern Transcon.
The railroad made the permit embargo announcement in a Thursday advisory to customers. It will take effect on June 27 and run through July 31.
"This limited embargo will impact automotive shipments as well as specific agricultural and industrial commodities. Intermodal shipments, which are being managed through alternate means, are not covered by this embargo," BNSF said in its advisory.
BNSF said it was confident the embargoes would help it resolve worsening congestion in Southern California.
"We have experienced a sharp increase in congestion throughout Southern California during the past few weeks due to several high wind events concurrent with the high levels of traffic seeking to move through the region," the railroad said. "In addition, flash flooding from monsoonal rains caused a service outage earlier this week on a portion of our Southern Transcon near Laguna, New Mexico, approximately 70 miles west of Belen. Both main tracks at this location were out of service for several hours. Temporary speed restrictions were implemented while crews restored and inspected affected track, which resulted in additional congestion and reduced fluidity on the Transcon."
BNSF's latest Surface Transportation Board update, filed on Wednesday, showed that 12% of the railroad's road trains experienced unplanned recrews, double the normal rate of 5% to 6% when the railroad is running well.
But the recrew rate was much higher along the Southern Transcon, which across New Mexico, Arizona, and into Southern California carries more than 80 trains per day and is the busiest freight railroad in North America. BNSF recrewed 19.9% of its trains on the California Division and 22.5% on the neighboring Southwest Division.
The congestion spilled eastward to the Red River Division in Texas, where the recrew rate was 18% and the Kansas Division, where it was 16.6%.
Dwell at Barstow Yard in California was 56 hours, up from 44.6 in the week ending June 15. A year ago the dwell at Barstow was 29 hours.
The combination of heavy volume and bad weather "have affected our ability to effectively align resources with freight volumes, particularly the efficient utilization of train crews in the region," BNSF said. "While this embargo action will lead to some additional disruption to our affected customers in the short term, we are confident that this aggressive measure will provide the additional capacity needed to recover velocity and improve cycle times more quickly, as well as assist with resource availability."
This embargo applies to all commodities shipped to destinations in California from the following states in the BNSF network: Alabama, Arkansas, Arizona, Iowa, Illinois, Kansas, Louisiana, Mississippi, Missouri, Nebraska, New Mexico, Oklahoma, Tennessee, and Texas, as well as Eastern interchanges located in those states.
BNSF said it would consider issuing permits that would allow several commodities to continue to flow to California from June 29 through July 5. Among them: military, chemicals, fuels and energy products, and grain shipments.
Beginning July 6, those categories will be exempt from both the embargo and permits, along with petroleum products.