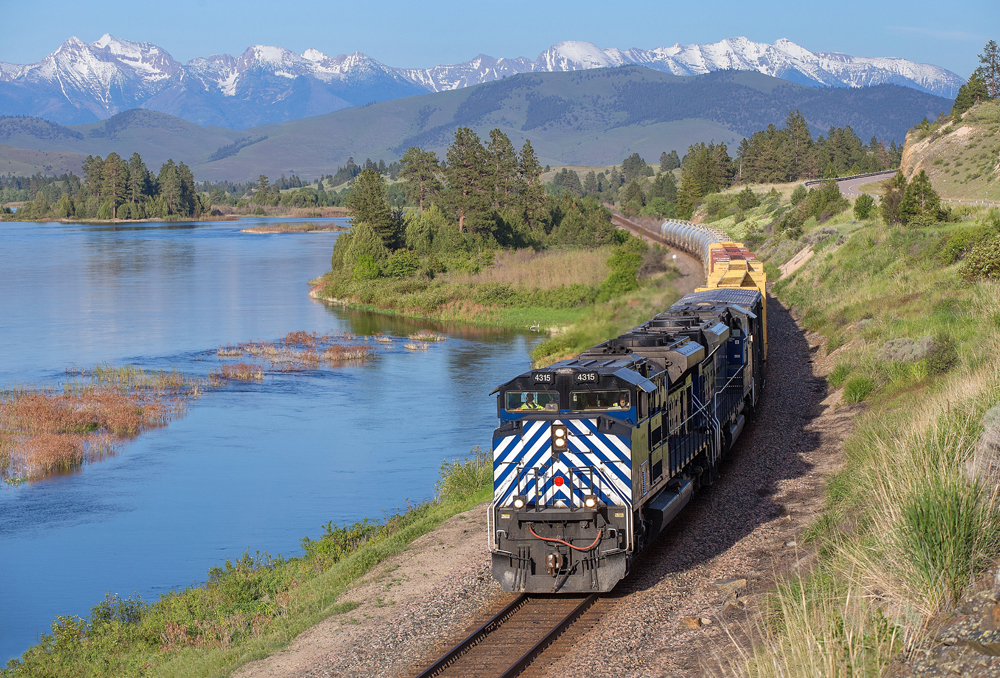 ---
BNSF Railway is taking back Montana Rail Link's lease on the former Northern Pacific main line across Montana and Idaho for one simple reason: To control its own destiny.
In recent years the growth-minded BNSF has made significant capacity investments on its routes to and from the Pacific Northwest.
To the east of MRL, BNSF built new and extended sidings between Fargo, N.D., and the Billings, Mont., area while adding centralized traffic control and positive train control even though it was not mandated to do so. BNSF also expanded its terminals in Forsyth and Glendive, Mont., and Mandan, N.D.
To the west of MRL, BNSF is building a second bridge over Lake Pend Oreille in Sandpoint, Idaho, to eliminate the single-track bottleneck at "The Funnel" where MRL and the Northern Transcon converge. BNSF also has double-tracked from Sandpoint to Spokane, Wash., and installed double track and extended sidings from Spokane to Pasco, Wash.
BNSF can't add more capacity on the former Great Northern Hi Line across Montana's northern tier. There's just no room to double track the Northern Transcon in the confines of the Kootenai River Canyon.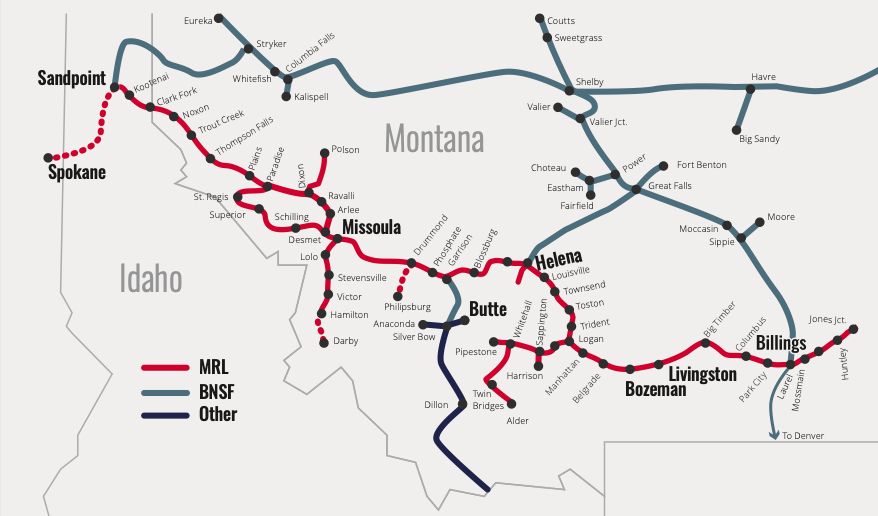 Which brings us to MRL. The unicorn regional railroad was created as a 590-mile bridge route between Burlington Northern at Sandpoint and Jones Junction, near Billings. While MRL has added capacity since its inception in 1987, it has not done so at the same pace as BNSF. The result? BNSF could more than double the traffic carried on its route from Fargo to Jones Junction – if not for Jones Junction-Sandpoint capacity constraints on MRL.
There aren't physical barriers to adding capacity on Montana Rail Link. But because of the way the 60-year lease is structured – with volume guarantees for MRL – the proudly independent regional has little incentive to lay new track or hire more train crews to support BNSF volume growth and seasonal traffic surges.
Twenty five years ago BNSF CEO Rob Krebs sought to undo the lease. But savvy MRL owner The Washington Companies knew a good deal when it saw one and would not budge. Since then BNSF has taken a carrot-and-stick approach. At times it offered MRL more volume in exchange for capacity expansion projects. At other times BNSF diverted traffic off MRL to the Hi Line. But neither approach, or good faith efforts, could get BNSF and MRL on the same page.
Before the pandemic hit, a traffic surge tapped out capacity on the Hi Line. MRL couldn't serve as a relief valve because it didn't have enough crews or sidings. Traffic backed up on BNSF, with congestion raising costs and taking a toll on service. The bottom line? BNSF can't take full advantage of the millions spent on capacity projects unless the MRL constraint is removed.
So BNSF CEO Katie Farmer did what her predecessors could not: Bought out the MRL lease long before it was set to expire in 2047. Assuming federal regulators approve the transfer, BNSF will be back in full control of the former Northern Pacific main line.
This will give BNSF the ability to add capacity at will. Ultimately, BNSF will gain more operational flexibility and be able to send more trains over what's now the MRL.
One of the first things BNSF might do is reopen the long-dormant route over Homestake Pass to set up directional running. Westbound traffic would tackle Mullan Pass via Helena, while eastbound empty grain and coal trains would use Homestake Pass via Butte. This would go a long way to create capacity.
Many at BNSF came to view Burlington Northern's decision to spin off the NP to Montana Rail Link as a costly and shortsighted blunder.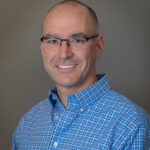 But Darius Gaskins, who was BN's CEO at the time, insists the MRL deal was necessary. BN didn't need two parallel mains across Big Sky country, he explains, and due to high labor costs and union-management animosity the decision was made to favor the GN route and lease the NP to Montana Rail Link. "It scratched a bunch of itches. It was a very successful deal," Gaskins says. "It accomplished what we hoped it would accomplish."
It does make sense to unwind the MRL lease now, Gaskins says. For one thing, BNSF's labor costs are likely on par with MRL's. For another, having full control of the NP and GN will provide BNSF with resilience in the event of a bridge or tunnel calamity. "It gives you a lot of reassurance," he says.
So shed no tears for Montana Rail Link. It served its purpose, outlived its usefulness as an independent railroad, and will be fondly remembered.
You can reach Bill Stephens at bybillstephens@gmail.com and follow him on LinkedIn and Twitter @bybillstephens