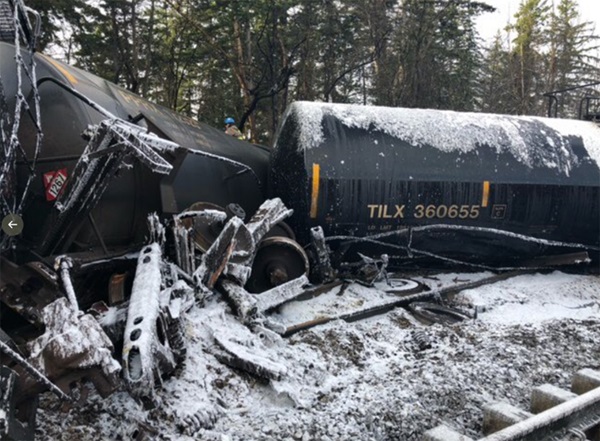 CUSTER, Wash. — BNSF Railway could face fines or other penalties for the December 2020 derailment and fire involving a unit oil train in Custer — even if vandalism or sabotage is the cause.
The Bellingham (Wash.) Herald also reports a Washington state senator is calling for hearings on the derailment, citing the danger from a "new trend in left-wing protests."
A Federal Railroad Administration report issued Sept. 9 said "possible vandalism" could have led to issues with the train's brakes and couplers that caused the train to separate, triggering the derailment [see "FRA report calls possible vandalism a 'contributing factor' …," Trains News Wire, Sept. 10, 2021]. But it also cited BNSF's failure to secure the train during a stop for a crew change, and crews' failure to run a safety check before departing.
An FRA spokesman told the newspaper that penalties for the railroad would be announced later this year.
Meanwhile, state Sen. Doug Ericksen (R-Ferndale, Wash.) called for legislative hearings, citing the FRA report and last week's conviction of a Bellingham woman for using a shunt, which interferes with signaling, to disrupt rail operations. "Activism that turns to sabotage invites tragedy," Ericksen said in a statement citing messages on an anarchist website. "… If this keeps up, it is only a matter of time before someone is hurt or killed."
An FBI investigation into the derailment continues.