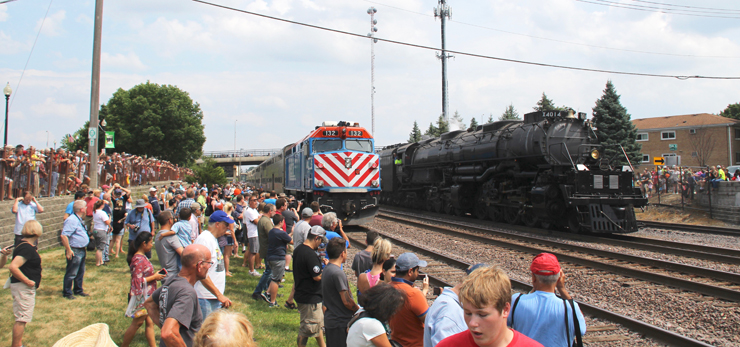 ---
CHEYENNE, Wyo. — The planned Pacific Northwest tour of Union Pacific Big Boy No. 4014 is off for 2022, the railroad announced in a Thursday afternoon email to members of its Steam Club. But the locomotive will make an outing to Denver later this month to pull an excursion benefitting the Union Pacific Museum.
The 4-8-8-4 will travel to Denver on July 28 and be on display there July 29, then pull a July 30 excursion from Denver to Cheyenne, the 2022 Museum Special, to benefit the museum, a 501 (c)(3) non-profit.
Union Pacific Museum patrons will have an opportunity to purchase tickets via a special presale beginning today (Friday, July 1) at noon CDT. Information on becoming a patron is available here. Tickets will go on sale to the general public July 5 at the museum ticketing website.
UP said a full schedule for the Denver trip will be posted at the UP Steam website "in the coming days."
The railroad said the West Coast tour, a loop through Portland, Ore., could not be rescheduled because it continues to "focus on efforts to improve network operations." That tour was announced in April and was originally scheduled to begin June 26, but was postponed just 11 days later as the railroad said it needed to address "supply chain congestion" [see "Union Pacific postpones Big Boy tour …," Trains News Wire, April 22, 2022]. At the time, the railroad had held out hope for holding the trip later this year.