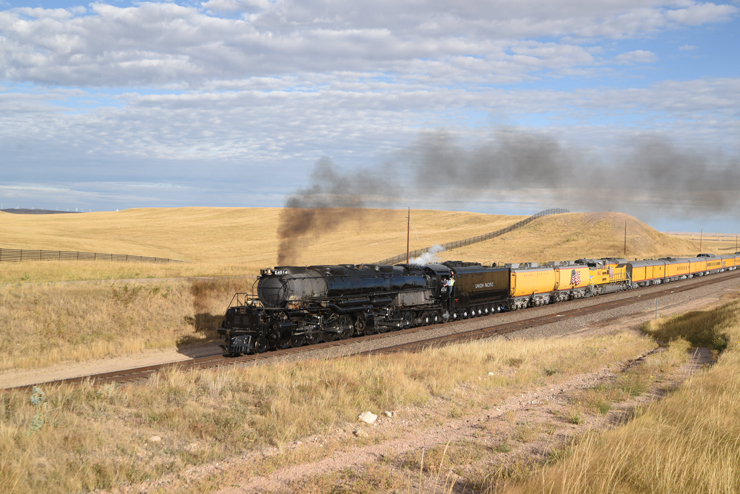 ---
CHEYENNE, Wyo. — Union Pacific has postponed its planned tour this summer for Big Boy No. 4014, citing a need to "focus on efforts to ease supply chain congestion."
The trip to the Pacific Northwest via Northern California had been scheduled to begin June 26. The railroad said it would announce updated plans once service performance levels return to normal.
"We know many rail enthusiasts make travel plans and communities prepare to act as host, which is why we made this decision now," Scott Moore, senior vice president-corporate relations, and chief administrative officer, said in an email to members of Union Pacific's Steam Club. "We have a duty to continue our efforts to reduce supply chain congestion and provide customers the service they deserve; given the impact of a steam tour on our operations that focus must be our priority."
During a quarterly earnings call with investors and analysts on Thursday, Union Pacific CEO Lance Fritz said improving service "has our full and undivided attention" after a quarter that saw trip plan compliance for intermodal and carload traffic fall by 6%, while car velocity fell 5% [see "Union Pacific earnings improve despite congestion …," Trains News Wire, April 21, 2022]. The railroad has also announced a move to decrease the number of privately owned cars operating on its system in an effort to address congestion [see "Union Pacific to begin metering traffic …," News Wire, April 12, 2022].
"We are at an inflection point, and more critical action is needed," Executive Vice President of Operations Eric Gehringer said during Thursday's call.
UP is also one of four railroads ordered to appear before the Surface Transportation Board for a hearing on service issues among Class I railroads [see "Federal regulators to hold hearings …," News Wire, April 7, 2022]. That hearing is scheduled for Tuesday, April 26, and Wednesday, April 27.