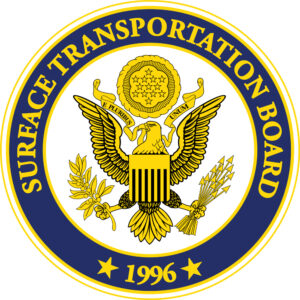 WASHINGTON – President Joe Biden signed an executive order Friday afternoon that encourages the Surface Transportation Board to adopt rail regulatory reforms that shippers have long sought to promote competition.
Among the potential changes sure to rile freight railroads: Rules that would permit reciprocal switching for captive shippers and removal of so-called bottleneck restrictions that limit shippers' ability to select routes involving more than one railroad.
The order also urged the  STB to "vigorously enforce" host railroad Amtrak on-time performance standards that went into effect this month "to ensure that passenger rail service is not subject to unwarranted delays and interruptions in service."
And, as part of merger reviews, the Biden administration urged the board to consider freight railroads' treatment of Amtrak trains.
The STB, an independent agency, has been weighing various competitive remedies, including reciprocal switching, for years. Board Chairman Martin J. Oberman said he agreed with the order and shared the administration's concerns about both freight and passenger service.
"While underscoring that the STB is an independent agency and that maintaining its independence is vital, I welcome the nationwide policy contained in this new executive order," he said in a statement. "The president's emphasis on improving the competitive landscape across the entire economy fits well with my view of the Board's mission in the current rail environment."
The sweeping measure, which affects many sectors of the economy, is designed to reduce corporate consolidation and increase competition as a way to help American consumers, workers, farmers, and small businesses, the administration said. The order directs more than a dozen federal agencies to take up 72 initiatives aimed at limiting the dominance of large corporations, including railroads.
"In 1980, there were 33 Class I freight railroads, compared to just seven today, and four major rail companies now dominate their respective geographic regions," the White House said in a fact sheet touting the executive order. "Freight railroads that own the tracks can privilege their own freight traffic — making it harder for passenger trains to have on-time service—and can overcharge other companies' freight cars."
The administration "encourages the Surface Transportation Board to require railroad track owners to provide rights of way to passenger rail and to strengthen their obligations to treat other freight companies fairly."
Amtrak did not immediately provide a statement reacting to the order from President Biden, long an ally of the passenger railroad. But the Southern Rail Commission, which aims to launch Amtrak service between Mobile, Ala., and New Orleans, welcomed the president's executive order. "This has significant implications for the Gulf Coast route between New Orleans and Mobile which Amtrak hopes to operate in early 2022," the group said. "Biden's executive order reinforces a law has always been on the books and we couldn't be any more excited about his stated support for enforcing it."
Most of the executive order has nothing to do with railroads. Anthony B. Hatch, an independent rail analyst, says railroads merely got caught up in the White House effort to rein in the power of companies that dominate technology, healthcare, and agriculture.
Hatch also downplayed the potential impact of the executive order, noting that Oberman recently said the Class I railroads are monopolistic companies that are in the pocket of Wall Street and are focused too much on costs and stock buybacks. So the Biden administration's order, Hatch says, merely reflects the thinking that was already in place at the agency.
"It's not good to have the government think of you as monopolistic," Hatch says. "But the executive order doesn't do anything."
The timing of the executive order, which comes as the STB is considering Canadian National's request to put Kansas City Southern in a voting trust as part of their proposed merger, is completely coincidental, Hatch says.
The mood in Washington against big business, however, may have some impact on how the STB views the CN-KCS merger, which would be the first among Class I systems in two decades. The executive order may diminish the odds that the STB approves the CN-KCS merger, Credit Suisse analyst Allison Landry wrote in a note to clients.
Canadian Pacific, which sought to acquire KCS, applauded the executive order, noting that it has received an "A" rating from Amtrak while rival CN has a history of delaying Amtrak trains on the former Illinois Central south of Chicago.
Hatch doubted calls for reciprocal switching – something the STB has been considering since 2016 – would be detrimental to the U.S. Class I railroads. "I don't think it would be fatal and it would be years away," he says.
The Canadian railroads have been successful despite having interswitching regulations in place in Canada for years, Hatch notes. Reciprocal switching allows shippers who are captive to one railroad to gain access to a second railroad, which shippers say increases competition and reduces rates.
The rail industry strongly opposes proposals for reciprocal switching, arguing that such arrangements raise costs, create congestion, and are a disincentive to make capital investments in their track.
"Competition remains fierce across freight providers, and any proposal mandating forced switching would put railroads – an environmentally friendly option that invests $25 billion annually in infrastructure – at an untold disadvantage," the Association of American Railroads said in a statement. "Such a rule would roll back the foundational market-driven principle that keeps the industry viable, reduce network fluidity, and ultimately undermine railroads ability to serve customers at a time when freight demands have dramatically increased."
AAR CEO Ian Jefferies said the executive order was misguided. "Competition is alive and well in the rapidly changing freight transportation market, with nearly three quarters of all U.S. freight shipments moving by a mode of transportation besides rail," he said. "With the logistics chain already challenged by the recovery from COVID, this executive order throws an unnecessary wrench into freight rail's critical role in providing the service that American families and businesses rely on every day."
Union Pacific was critical of the executive order as well.
"Union Pacific competes vigorously across all modes of transportation to provide customers with safe, reliable and efficient rail transportation services. We invest billions of dollars in rail infrastructure every year to remain competitive, while reducing greenhouse gas emissions up to 75% compared to trucks," the largest U.S. Class I railroad said in a statement today. "Since Congress passed the Staggers Act, inflation-adjusted freight rates are 44% lower than they were in 1981. Proposals to impose new regulations on the freight rail industry risk taking America backward and impair economic growth."
The AAR may mount a legal challenge to the order. "We … remain certain the industry will fight it in court," Cowen & Co. analyst Jason Seidl said in a note to clients.
The executive order covering transportation – including airlines, ocean shipping lines, and railroads – may be a response to a shipper backlash over rising rates in all modes amid exceptionally strong freight demand. Ocean rates for containers have tripled or quadrupled this year, while trucking rates are 50% above last year, Seidl wrote. Railroads, in comparison, have increased rates at 3.5% to 4% in contract renewals this year, which is roughly in line with normal levels.
News of the executive order, first reported in the Wall Street Journal yesterday, prompted a sharp decline in railroad stocks on Thursday. Their share prices had regained some ground by midday.