WASHINGTON — The chairman of the Surface Transportation Board says he's concerned that pressure from Wall Street is undermining railroad service and questioned the need for major railroad mergers.
"Our mandate as an agency … is to ensure and protect a strong national rail network. That's why we exist. And everything we do should be aimed at that outcome," STB Chairman Martin Oberman told an investor webcast this week.
The influence of Wall Street — including the push for ever-lower operating ratios and aggressive share buyback programs — conflicts with the board's mandate, he says.
"There's been a huge decrease in the level of the workforce over the last few years, I think something like 25%. I am concerned it has left the Class I's with too little cushion to respond to a major crisis like the pandemic or the [polar] vortex, which is more likely to keep coming around. So we are keeping a close watch on the situation," Oberman told an investor conference last week.
Following up on that pledge, Oberman today sent letters to the chief executives of all seven Class I railroads, outlining his concerns about rail service. The railroads were asked to update the board on their hiring plans for the next two years as well as their ability to meet freight demand, including crew and locomotive availability.
The big publicly traded U.S. Class I railroads, all of which have adopted Precision Scheduled Railroading operating models since 2017, have been cutting costs as part of their efforts to reduce their operating ratios and boost profitability.
From February 2017, the month before CSX Transportation adopted PSR, through December 2020 U.S. Class I rail employment fell 21% overall, but by an average of 26% at CSX, Norfolk Southern, and Union Pacific, according to STB data.
"We're seeing, I believe, some impact from that on the service side. Missed switches, crew shortages," Oberman says. "A lot of this stems from furloughs and quarantines from COVID, but I think it's also related to the fact that the whole workforce has been greatly reduced over the last few years, I think largely in response to pressures from Wall Street. And I am beginning to get concerned that this could start impacting capital expenditures as well."
CSX, NS, and UP have scaled back their capital budgets over the past few years. That's partly a result of winding down spending on positive train control implementation as well as halting the purchase of new locomotives, big-ticket items which are not needed as the railroads move tonnage on fewer but longer trains.
Oberman questioned railroads' stock buyback programs, which in some cases have been funded by borrowing. Like most large companies, railroads have been repurchasing their shares in recent years as a way to boost earnings per share and stock prices. UP, for example, plans to spend $6 billion on share repurchases this year, or about twice as much as it will spend to maintain and expand its network and systems.
"Those forces are of concern to me in terms of what they mean for the long-term health of the freight industry and whether we're going to have an industry staffed enough to fully serve and with enough incentive … to keep spending money on greatly needed capital improvements," Oberman says.
"It's not our job to come in and micromanage and tell them how to run their companies, but it is our job to keep an eye on the ball so things don't get too far out of whack," he says.
UP defends its corporate strategy and notes that this year's $2.9 billion capital budget is up slightly from last year.
"Union Pacific already demonstrated our track record with PSR and our ability to grow. Last year, volumes dropped dramatically — the most we've seen — due to the COVID-19 pandemic, and just as quickly they climbed when the nation began to recover," spokeswoman Kristen South says. "We went from 120,000 seven-day carloads to 160,000 at the end of the year, all while maintaining our service metrics. We have the network and the ability to layer in the crews and locomotives to handle these fluctuations long-term."
Recall rates for train crews and other employees that have been furloughed are consistent with prior years, UP says.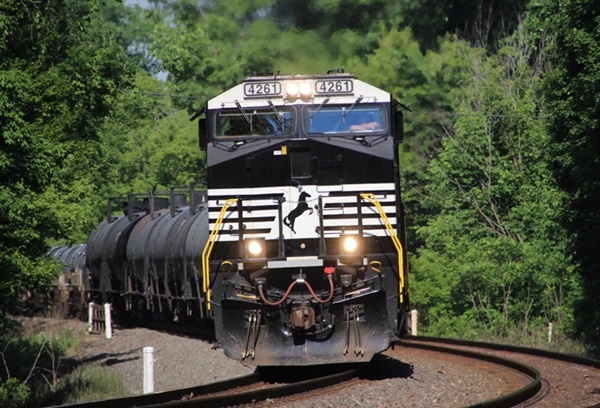 NS says PSR has improved its service while making the railroad safer.
"Norfolk Southern runs a safe and efficient railroad. Our use of precision scheduled railroading principles allows us to better serve our customers and positions us for long-term success. And since implementation of PSR in 2018, our rate of accidents per million miles caused by mechanical failure has dropped by 27%," spokesman Jeff DeGraff says. "Efficiency improvements and economic conditions have affected our staffing levels. In areas where volumes have returned, we look to increase employee count by either recalling furloughed workers or with new hires. Improvements to our training programs are preparing employees to work safely and getting them on the job faster."
Likewise, CSX says it's working to ensure it has the resources to match traffic demand.
"We are committed to providing our customers with an industry-leading service product. This includes having the right resources in place to serve our customers well, and investing in our network to ensure the safety and reliability of our operations," spokeswoman Cindy Schild says.
CSX also says it's hiring conductors in anticipation of volume growth this year. As a result, total employment at the railroad will increase this year. And it says it's getting more bang for its capital budget buck.
"CSX's strong financial profile allowed us to maintain investment throughout the downturn in volumes last year," Schild says. "In 2021, CSX is targeting $1.7 billion to $1.8 billion investments in capital expenditures, which represents an increase in our core rail infrastructure as compared to the last few years, and our improved efficiency is allowing us to complete significantly more infrastructure work each year. In total CSX has increased core infrastructure work completed (e.g. number of ties replaced/miles of track repaired, etc.) compared to historical levels and continues to prioritize investments that provide safe and reliable train operations."
Canadian National said in a statement that it "puts a very high priority on the resilience and reliability of our own network, and we agree with the STB on the importance of ensuring the smooth workings of the broader rail system for customers and the economy. We look forward to working with the STB to fulfill their request for information on this important topic."
Independent rail analyst Anthony B. Hatch says railroads spend far more of their revenue on capital expenditures than most other industries and that railroads' financial strength is what enables them to keep their physical plants in top shape.
The STB chairman also questioned the rationale for railroad mergers as well as the substantial premiums Canadian Pacific and Canadian National were willing to pay to acquire Kansas City Southern.
"I am all for promoting much more competition in the freight world, particularly among railroads and particularly with railroads getting more freight off the highways and onto the rails," Oberman says. "But consolidating railroads even more than they have been, I don't see the argument about why that would help them get more freight off the highways."
What's needed, Oberman says, is more rail competition, not less.
"The thing that's impressed me most since I've come to the board is the lack of competition for most shippers in most parts of the country," Oberman says. Many shippers are captive simply because they are located on a single rail line with no opportunity for service from a distant second railroad, he explains.
Oberman downplayed the threat autonomous trucks pose to railroads, saying deployment of self-driving trucks is far off in the future. He praised BNSF Railway's efforts on moving block technology, which received a patent earlier this year and could help the railroad handle more traffic without having to add track capacity.
"That kind of technological development is where I think railroads should be spending their efforts, rather than looking at mergers," Oberman says.
— Updated at 5 p.m. CDT with comments from Norfolk Southern, CSX. Updated on June 2 with comment from Canadian National.