WASHINGTON — Amtrak and Siemens Mobility have reached agreement on contracts for 73 to 83 new trainsets to replace Amfleet I and related equipment on Northeast Corridor and state-supported services.
A press release from Siemens characterizes the deal as worth $3.4 billion, while Amtrak says the agreement is for $7.3 billion, including a long term parts and service agreement, facilities upgrades and other related expenses. The deal also includes options for up to 140 additional trainsets and related maintenance agreements.
The contract is the largest North American order in Siemens history. Amtrak had announced in April that it had chosen Siemens to build replacements for current Amfleet I equipment, but declined to offer additional details until contracts were finalized [see "Digest: Amtrak selects Siemens to build new intercity trainsets," Trains News Wire, April 21, 2021].
"These new trains will reshape the future of rail travel by replacing our aging 40-to-50-year old fleet with state-of-the-art, American-made equipment," Amtrak CEO Bill Flynn said in a press release. "This investment is essential to preserving Northeast Regional and state-supported services for the future and will allow our customers to travel comfortably and safely, while reducing carbon emissions."
The equipment will operate on the Northeast Corridor, the New York-Savannah, Ga., Palmetto, and state-supported routes, including the Adirondack, Carolinian, Amtrak Cascades, Downeaster, Empire Service, Ethan Allen Express, Keystone Service, Maple Leaf, Hartford Line and Valley Flyer, Pennsylvanian, Vermonter and Virginia services. It will replace Amfleet I cars, Metroliners, and various state-owned equipment, such as North Carolina's car fleet.
The equipment order will include dual-power and battery hybrid trains, which should eliminate the need for engine changes on regional trains at Washington D.C., and the Vermonter at New Haven, as well as the dual-mode locomotives currently used on Empire Corridor trains into New York's Penn Station. Still to be specified is how much of the order is for dual-mode or hybrid equipment, and details of the makeup of the trainsets.
"These new trains, some of which will be our first hybrid battery operations in the United States, will transform the way Americans travel," Siemens Mobility President Michael Cahill said. "…Over the past decade, we've worked closely with Amtrak and its state partners to develop and deliver trains that meet the needs of America's travelers, these next generation trainsets build on that experience and offer much more."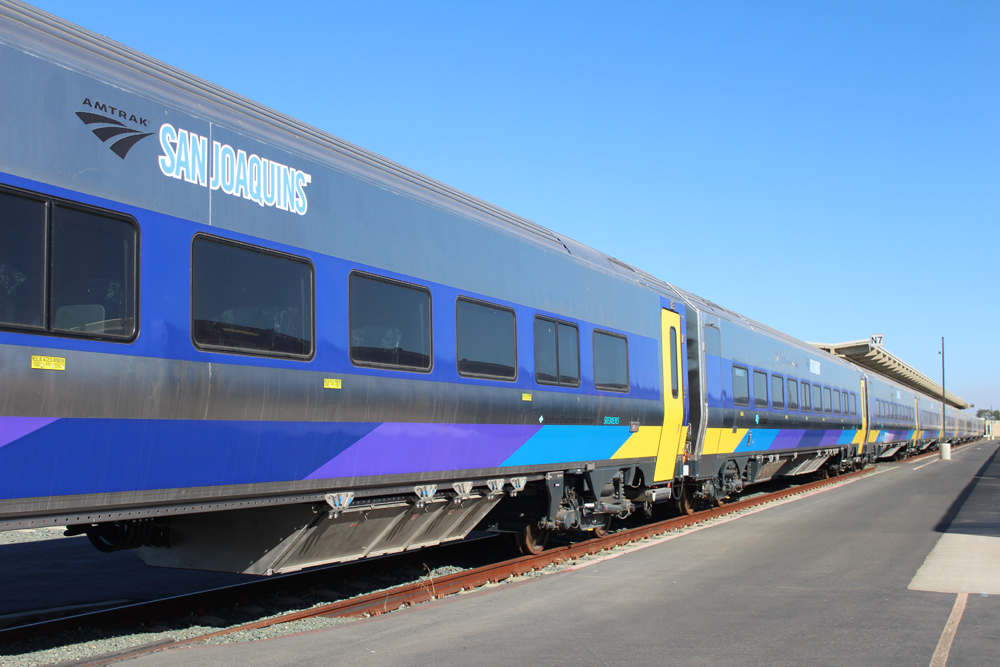 The new equipment will be built at Siemens' plant in Sacramento, Calif. It will feature predictive maintenance technology and real-time digital monitoring. For riders, trains will include features such as individual power outlets and USB ports, onboard WiFi, a digital seat reservation system, and trip information and digital navigation displays. They will have accessible restrooms, vestibules, and food service cars, wheelchair lifts, and inductive hearing loops.
The first equipment is slated to be delivered in 2024 with the first Venture Hybrid trainsets arriving in 2025. Deliveries will continue through 2030.
Siemens is currently in the midst of building a 137-car order of Venture cars for use on state-supported trains in California and the Midwest. Various issues have delayed the introduction of those cars in service, although an Amtrak official said in June that the cars could begin operation as early as late this month.
— Updated at 1:25 p.m. CDT with additional information from Amtrak. Watch Trains News Wire for further details and additional analysis.