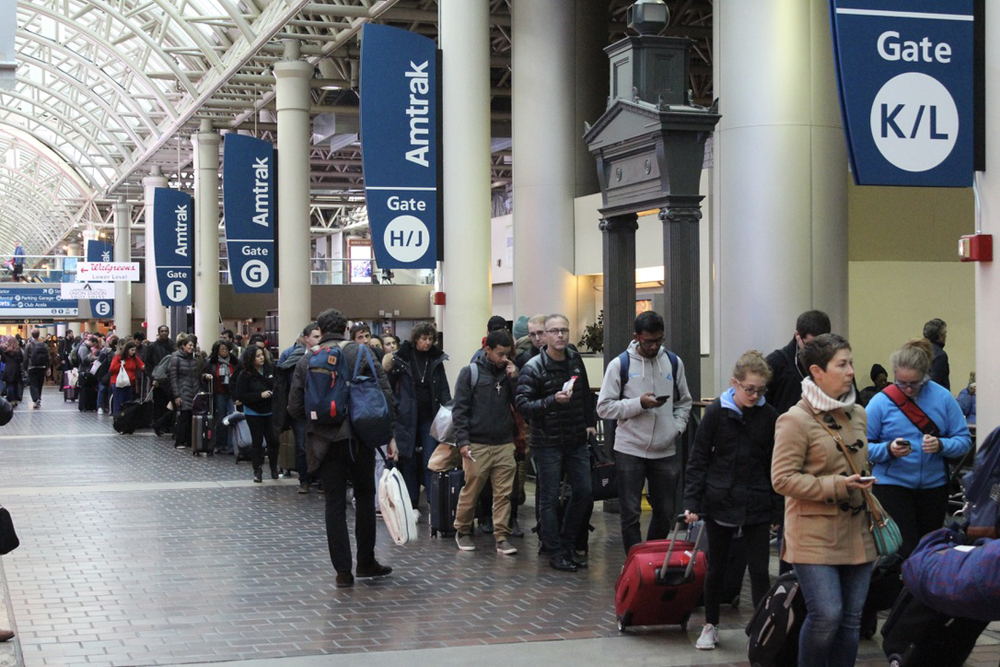 ---
WASHINGTON — In a departure from the post-Thanksgiving "Track Friday" sale that Amtrak has staged since 2016, this year's version is only available from Maine to Virginia in the Northeast instead of on most routes nationwide.
Through today (Monday, Nov. 29) the company is offering "Buy One, Get One Free" companion fares between Jan. 4 and April 30, 2022, for Northeast Corridor and Maine's Downeaster routes only. Two people must travel together, and no upgrades from Northeast Regional coach or Acela Business Class are permitted.
The fares are also good in coach on those portions of the Cardinal, Palmetto, Silver Star, Silver Meteor, and Carolinian operating between Virginia and New York City, but are not available on Keystones to Harrisburg, Pa., or Empire Service trains to Albany-Rensselaer and Niagara Falls, N.Y. The companion fares aren't being offered April 15-24, 2022, around the Easter holiday.
Bookings can be made through "Cyber Monday" using this link or entering code C420 if using the Amtrak app.
Previous versions of annual "Track Friday" sales featured advance purchase discounts for single trips rather than companion fares, and they were good for coach travel throughout the country except on certain state-supported routes. They also always began in early December following the Thanksgiving weekend [see "Analysis: Big-picture flaws in Amtrak's latest fare sale," Trains News Wire, Nov. 30, 2019]. Discounting started at 30% in 2016, rose to 35% in 2019, and 50% last year.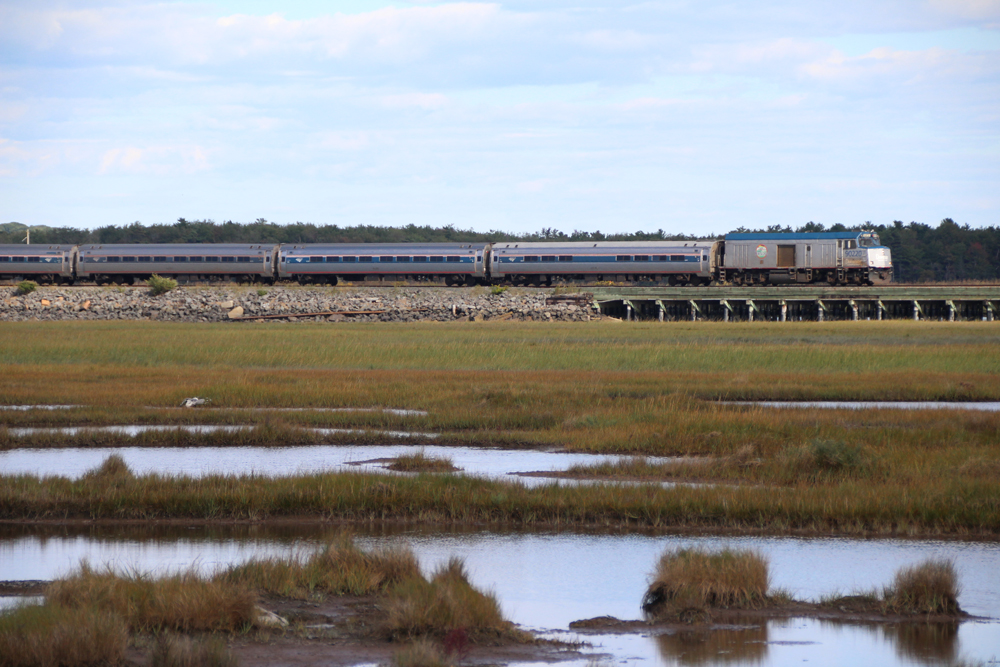 Amtrak primary promotional activity in recent years has been discounted fare sales, but in order to stage them nationwide, states who operate the service must agree to the discounting, and there have always been exceptions. For 2022, only the Northern New England Passenger Rail Authority and Virginia Passenger Rail Authority had to sign off on the deal.
The sale's limited scope reflects Amtrak's reduced equipment availability on long-distance and state-supported routes outside of the Northeast Corridor, and signals that sidelined cars won't return to service anytime soon. The company did manage to add one additional Boston-Washington, D.C., round trip on the Sunday after Thanksgiving, but not the usual extra trains supplement [see "Amtrak trains during the holidays," Trains.com, Nov. 22, 2021].
Service reductions possible because of vaccination rule
Immediately preceding the decision to limit free companion fares to regions where trains are frequent was the announcement to employees on Nov. 22 by Amtrak President William Flynn that effectively moves the company's mandatory vaccination date from Dec. 8, 2021, to Jan. 4, 2022.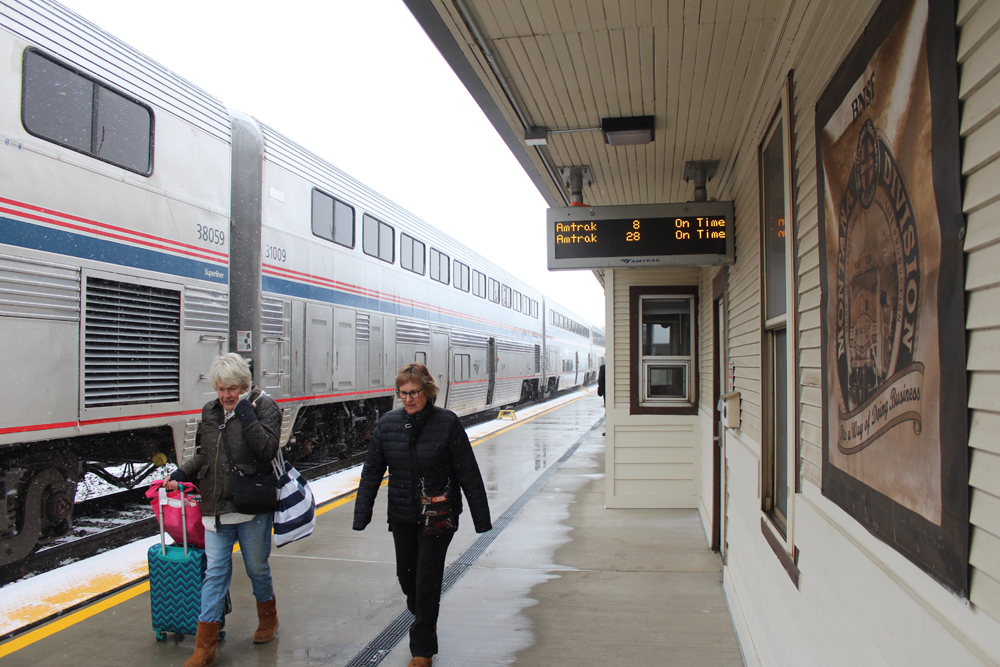 In a letter to employees, Flynn reveals, "To date, 88.2% of all employees and 94% of employees we expect to be available for service in December have gotten at least one vaccine shot." He says that although the mandate for all employees to be fully vaccinated and report their status by Dec. 8 is unchanged, those who don't comply may now remain in service until Jan. 4. Flynn notes that the decision to enforce compliance in January reflects the Biden Administration's executive order extending the deadline for federal contractors.
He adds, "Amtrak will publish a revised service schedule by mid-December, based on our then-current vaccination rate. The company continues to prepare for the possibility that some number of employees will choose not to get vaccinated and will therefore be leaving the company, which could necessitate some temporary reductions of Amtrak service."
Flynn had previously informed employees of possible service reductions when announcing an earlier extension of the vaccination date [see "Amtrak extends vaccination deadline …," News Wire, Oct. 28, 2021]. At that time, the company had planned to issue the revised schedule in mid-November.
Because conductors and engineers are only qualified on routes they normally operate, personnel with those skills can't move from one region to another without going through route-specific re-qualification. Onboard service employees can move to different crew bases to fill empty slots, but furloughs and layoffs dating from the October 2020 to May 2021 reductions of all long-distance routes except Auto Train to tri-weekly departures have thinned those ranks.
Unions file suit against Amtrak mandate
Meanwhile, the Brotherhood of Locomotive Engineers (BLET) and the International Association of sheet Metal, Air, Rail, and Transportation Workers' Transportation Division (SMART-TD) went to court in Chicago on Nov. 23, filing a lawsuit charging that Amtrak must negotiate with the unions over the vaccine mandate as part of its bargaining agreement.
The Cook County Record reports the unions are asserting that Amtrak workers are neither federal employees or federal contractors, and therefore are not subject to a federal executive order.
The unions have similarly objected to the imposition of vaccination mandates in suits recently filed against Union Pacific, Norfolk Southern, and BNSF Railway, arguing that the requirements represent a major dispute under terms of the Railway Labor Act. In those cases, the union suits were in response to suits filed by the railroad, seeking to block potential strikes or other work actions.