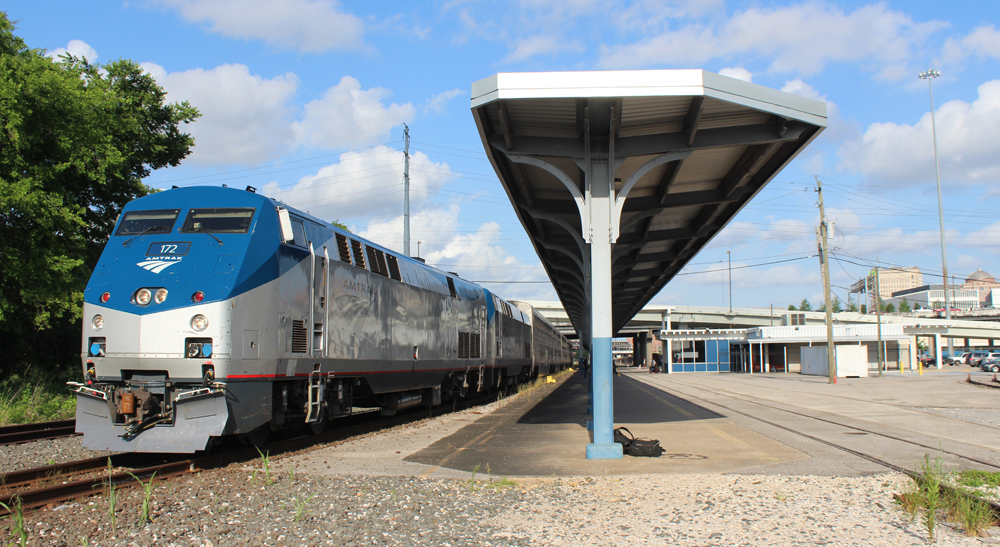 ---
WASHINGTON — Amtrak has asked the Surface Transportation Board to investigate what it calls the "abysmal" on-time performance of the Sunset Limited, which it attributes largely to the operating practices of Union Pacific, and seeks "damages and other relief" from UP as a result of those practices.
Amtrak lays out the details of its complaint in a 76-page document, one of two filings with the board on Thursday, Dec. 8. Since the complaint is the first of its kind under a provision of the Passenger Rail Investment and Improvement Act of 2008 — which charges the STB with the responsibility to investigate passenger on-time performance issues and how to address those issues — Amtrak has also proposed a framework for the proceeding in a separate 17-page filing.
Amtrak's filings came on the same day that the STB announced it had selected senior staff member Neil Moyer to serve as acting director of the STB Office of Passenger Rail, which is responsible for investigating and analyzing issues exactly like those raised in Amtrak's filing. The board established that office in October.
The Wall Street Journal originally reported the filing in a paywalled article published Thursday. Amtrak CEO Stephen Gardner told the Journal, "The public and Amtrak have waited a long time for what really is a pretty straightforward activity, which is just to have the board investigate and figure out what's going on with these services that are failing to meet the basic standards."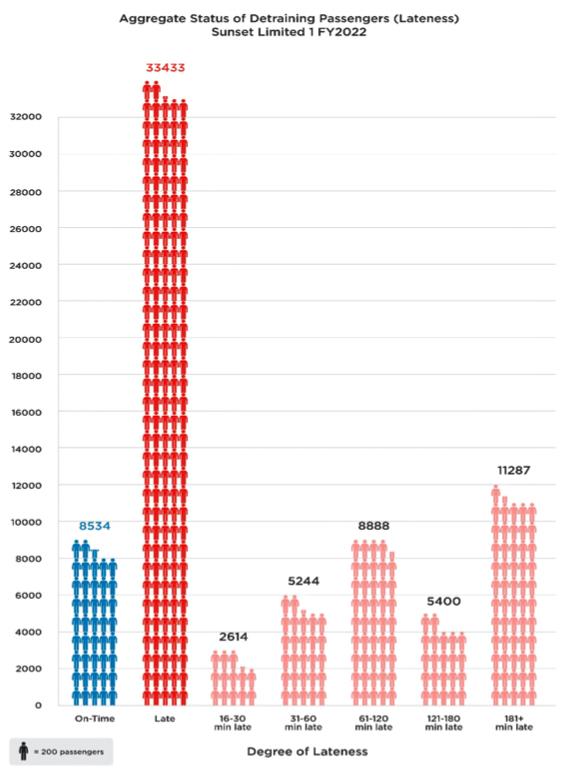 The triweekly Sunset Limited travels most of its route between New Orleans and Los Angeles on Union Pacific. Amtrak's filing alleges that during the passenger operator's fiscal year that concluded in September, and in violation of Amtrak's statutory right to dispatching preference, the train averaged more than 15 instances of freight train interference per trip, resulting in an average of more than four hours of delays.
The Federal Railroad Administration established on-time performance standards in 2020 — after a lengthy series of court battles — that require 80% of passengers to reach their destination within 15 minutes of the scheduled time [see "Analysis: FRA seeks Amtrak, host railroad scheduling cooperation," Trains News Wire, Nov. 20, 2020]. Under those standards, the Sunset is currently the worst-performing train on Amtrak's network and among the worst-performing in Amtrak history, the company says.
Over the last four quarters, the westbound train, No. 1, has posted customer on-time figures of 40%, 24%, 10%, and 11%; the eastbound train, No. 2, has posted figures of 40%, 35%, 11%, and 7%. Some 80% of passengers on No. 1 arrived more than 15 minutes late; for No. 2, the figure was 78%. Amtrak says UP is responsible for 74.2% of the delays, while it is responsible for 20.8% of delays and third parties are responsible for the remaining 5.1%.
The filing argues that many of the delays incurred by the Sunset are "attributable to UP corporate decisions, operational practices, or failures that result in systemic violations of Amtrak preference rights and cause substandard [customer on-time performance]". Among those, it says, are that UP regularly runs freight trains longer than sidings along its route; when UP dispatches freight trains that do not fit into sidings, "the Sunset Limited trains must follow that non-fitter, which can result in hours of passenger delay."
In addition to damages, Amtrak asks for relief "including (but not limited to) an injunction and other appropriate equitable relief to deter UP from taking future actions which may be reasonably be expected to result in delays to Amtrak on the Sunset Limited route." Any damages, it says, would be used for capital or operating expenses on the route.
Amtrak's second filing asks that the board investigate the steps that UP has taken to improve the customer on-time performance of the Sunset Limited and "whether and how UP's corporate strategies and objectives drive substandard Amtrak on-time performance." On the latter point, it asks the board to look at such matters as "how UP has reconciled its decision to implement Precision Scheduled Railroading with its obligations to host intercity passenger trains over the UP network." It suggests that the board split its proceeding into two phases — an investigative phase to determine the cause of delays, and whether they are due to a failure to provide preference to Amtrak, and a remedial phase to determine possible damages and corrective action. It also offers a broad range of procedural suggestions regarding documents and interviews that should be part of the proceeding.
Asked for a response to the filing Union Pacific said in a statement today that "The Sunset Route is a critical Union Pacific artery, carrying freight trains with consumer goods between the West Coast ports and Texas, as well as passengers. It is essential that Union Pacific and Amtrak collaborate to design a schedule that is reasonable and achievable. We welcome the opportunity to share our efforts with the STB and remain committed to finding a solution that provides excellent service for passengers and freight customers."
Prior to the creation of the procedure now being used for the first time, only the U.S. Department of Justice could bring a case regarding performance issues on behalf of Amtrak. That happened only once — in 1979 over Southern Pacific's handling of the Sunset west of New Orleans.