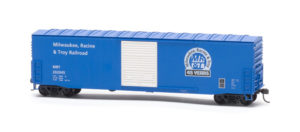 An HO scale injection-molded plastic boxcar kit commemorating the 45th anniversary of the Milwaukee, Racine & Troy, Model Railroader's staff layout, is now available from the Kalmbach Hobby Store. The kit, produced by Accurail, features a one-piece body, separate doors, and roller-bearing trucks.
Though our model is decorated in a fictional paint scheme, the Accurail 5700-series boxcar is based on an actual car, the Association of American Railroads 50-foot welded-side boxcar. The kit depicts a car built after 1966, as it lacks running boards and features a low brake wheel and short ladders on the sides and ends.
The model. The injection-molded plastic kit is an enjoyable afternoon or evening workbench project. An 81⁄2 x 11-inch instruction sheet, which covers six different series of Accurail boxcar kits, illustrates the assembly process.
The 8-foot Youngstown doors are separate parts but aren't positionable. Instead, they're attached to door straps, separate castings that need to be secured to the car's interior.
The one-piece underbody, shown on the next page, features center sills, crossmembers, body bolsters, bolster blocks, and draft-gear boxes. The air reservoir, brake cylinder, and control valve are individual castings. The roller-bearing trucks and draft-gear box covers are attached with supplied 3/16″ 2-56 screws.
Our sample is neatly painted Conrail Blue with Reefer White doors. The lettering is crisp, opaque, and legible under magnification. To the right of the door is the MR&T 45th anniversary logo. The road number reflects the anniversary's year (2020) and number (45).

On the layout. The model includes a steel weight that needs to be secured to the top of the underbody with double-sided tape or a solvent-free adhesive. I used a water-based contact cement.
The weight accounts for most of the boxcar's 4.2 ounces of weight, which is .3 ounce too light based on National Model Railroad Association Recommended Practice 20.1. There's plenty of room to add weight inside the boxcar.
The body-mounted Accumate couplers with modeler-installed trip pins are at the correct height. The 33″ Delrin engineering plastic wheelsets are correctly gauged.
To see how the car would perform on a layout, I pushed and pulled it in a train on our Wisconsin & Southern model railroad. The car navigated the no. 5 turnouts and 30″ radius curves without any issues.
Going fast. The HO scale Milwaukee, Racine & Troy 45th anniversary boxcar is a limited-run kit. We haven't forgotten our friends who model in N scale. A similar Micro-Trains Line Co. boxcar is also available. To order your models, head over to the Kalmbach Hobby Store website, KalmbachHobbyStore.com.
Price:
$24.99
Manufacturer
Accurail Inc., available exclusively
from the Kalmbach Hobby Store,
KalmbachHobbyStore.com
Era:
modern
Road name:
Milwaukee, Racine & Troy 45th anniversary scheme. One road number.
Features
33″ Delrin engineering plastic wheelsets, correctly gauged
Body-mounted Accumate knuckle couplers, at correct height
Weight: 4.2 ounces (.3 ounce too light based on NMRA Recommended Practice 20.1)