If you're like me, you love riding Amtrak and modeling the trains you have ridden. But scale passenger equipment can get expensive, especially if you add lights and figures. The first two Amtrak cars that I got were Superliner coach and diner cars; I thought I needed to save up for a whole train. This left me wondering, "how many Amtrak cars do you need to model a prototypical train?"
Throughout the next few months, I will take a look at small consist prototypes in Amtrak's system throughout each decade and how you can model them. Today's article will focus on two real-life modern Amtrak trains that operate with very few cars and give you ideas on how you can model passenger trains with a small fleet.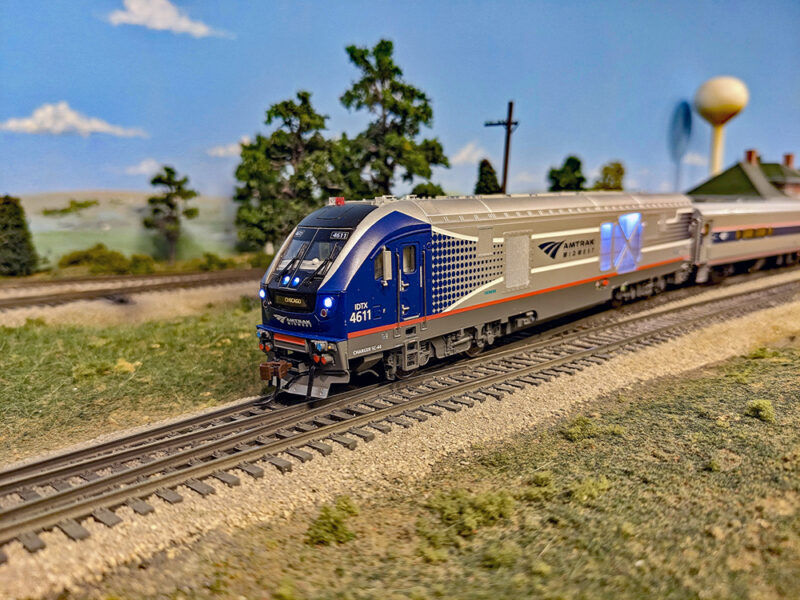 Less than you think
In the modern era, there are two Amtrak trains that have small consists, the Heartland Flyer and the Shuttle.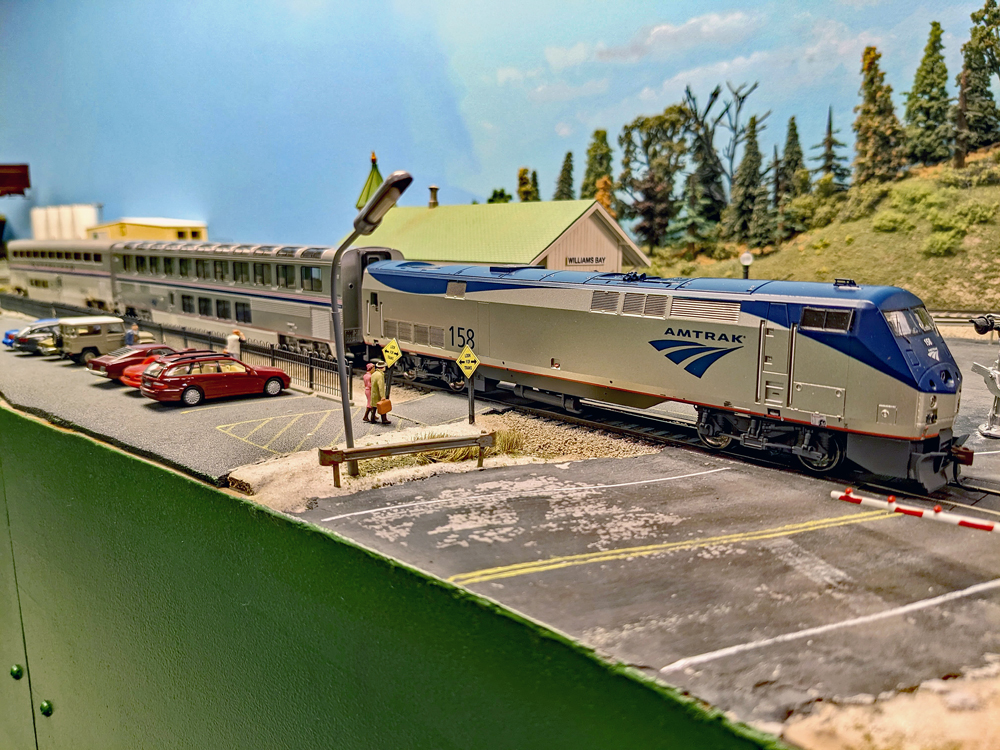 The Heartland Flyer takes passengers between Oklahoma City, Okla. and Fort Worth, Texas one way each day. Typical consists for this train are a P42DC locomotive leading two to three Superliner cars and another P42DC trailing. The cars are typically coaches with one usually being a snack coach with a small café on the lower level. But one weekend each year, when the Oklahoma Sooners take on the Texas Longhorns in the Red River Rivalry, Amtrak adds additional cars to the consist for fans traveling to the game. The Big Game Train usually adds two to three more Superliner coaches and a lounge car. In the photo above, I've taken some modeling freedom and used a Superliner coach and lounge together. Plus, since our train doesn't have to reverse at the end of its run, I only need one P42DC leading.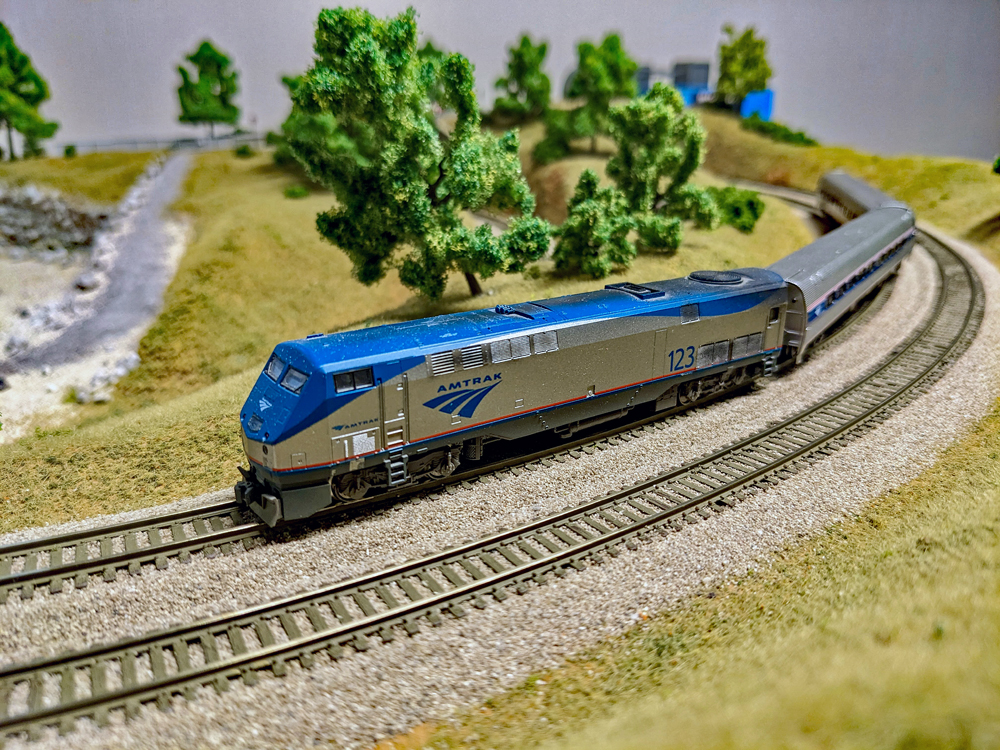 Although the Amtrak's 400-series of trains between Springfield, Mass. and New Haven, Conn. are currently unnamed, they are were previously called Shuttles because they shuttle passengers back and forth between the two cities. These trains are usually handled by a single P42DC, an Amfleet coach, and an ex-Metroliner cab car in a push-pull configuration. I used an N scale Kato P42DC and two Amfleet coaches for this operation.
Make your own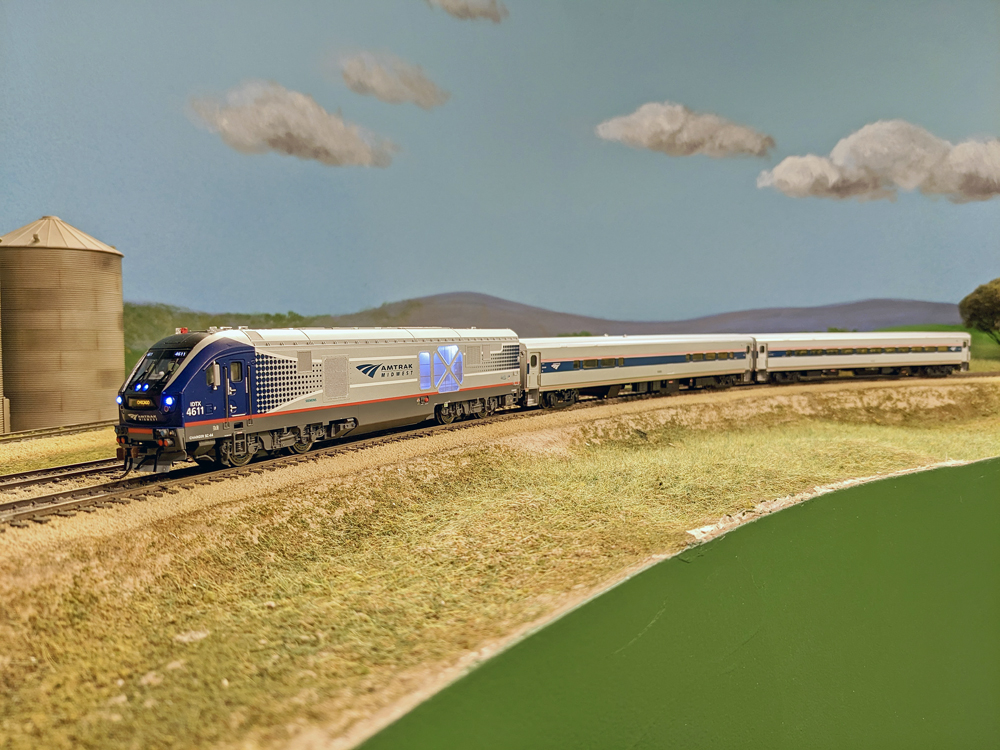 The beauty of model railroading is the ability to create your own world. This comes in many forms, with one of my favorites being the ability to make up my own trains. For my train I took some inspiration from Amtrak's Hiawatha, the regional train between Chicago, Ill. and Milwaukee, Wis. I love the look of Amtrak's Siemens SC-44 Charger locomotives and knew that I wanted one to lead this train. Though they aren't the sleek Amfleet coaches, I decided on a pair of Rapido's Horizon cars to follow up the Charger. David Popp once told me that a passenger train is never complete without a café car. I agree, especially since most of the time that's where the Wi-Fi router is located on the train (and I like food). With the Charger pulling the Horizon café and coach, it's time for the first passengers to climb aboard the Laker. "All aboard!"