It's a good time to be an Amtrak modeler. Rapido's new Horizon passenger cars are here to fill out your contemporary medium-distance trains.
Amtrak started its existence with a hand-me-down fleet of passenger cars and locomotives. In 1988, Amtrak ordered its first new short-haul cars, initially referred to as Amfleet III (Amfleet II came in the early '80s), but referred to upon delivery in 1989 as Horizon cars.
The Horizon fleet was built by Bombardier in 1989 and 1990. The 104 cars were based on a Pullman-Standard design for "Comet" commuter coaches Bombardier had purchased. There were four types of cars – two series of coaches, coach-dinette cars, and all-table cars.
Rapido's model is packed full of detail. A one-piece plastic body casting wraps around about 200 other parts, including detailed interiors and underbodies (there are even ventilated brake discs behind the wheels on the trucks).
The body shells have the appropriate doors and stairs for their paint schemes, and the interiors have appropriate layouts for their eras, as well. And take a look at those interiors! They're painted to reflect the surfaces and materials inside. The serving counter of the dinette is especially impressive.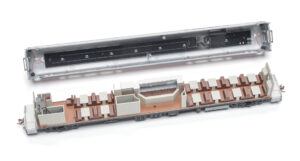 The instructions detail how to access the interiors. The coaches have four screws – two at each end – and the dinettes have two screws near the center of the car. Once the screws are removed, gently spread the sides of the car to lift the body off the frame.
All paint on the models is smoothly applied, and the striping and lettering is sharp and opaque.
I tested these cars on our staff layout, the Milwaukee, Racine & Troy, when I was testing Bachmann's new Siemens SC-44 Charger. The cars rolled smoothly and tracked well both in forward and reverse as we filmed the train for the review video, which you can see at Trains.com.
I also tested the cars on my home layout, where I pushed and pulled them through Atlas no. 6 crossovers and no. 4 compound yard ladders without any issues. Using the Rapido Lighter magnetic wand, I easily switched the interior lights and marker lights on and off.
If you're contemplating passenger service on your layout, these cars would be ideal for the kinds of shorter trains modelers love to run.
Facts & features
Price: $99.99
Manufacturer
Rapido Trains Inc.
500 Alden Rd., Unit 21
Markham, ON
L3R5H5 Canada
rapidotrains.com
Era: 1989-present
Road names: Amtrak (phase 3 [narrow and wide stripes], Phase 4, Phase 6, Amtrak California [dinette only], and undecorated
Features
– Constant interior lighting in DC and DCC
– Full underbody details
– Full multi-color interior detail with separate seats
– Folding or fixed stairs as appropriate
– GSI G70 trucks with free-rolling, turned-metal wheelsets, in gauge
– Metal knuckle couplers at correct height
– Separately-applied metal grab irons
– Weight: 7.7 to 7.8 ounces, about 1 ounce over NMRA RP-20.1 car weight of 6.9 ounces for an 85-foot car
– Working marker lights