Fourteen states on Amtrak
I've been riding on trains since I was 2 years old. Although those trips were short and on scenic railroads, my love for trains increased as I got older. From watching high-speed Acela and Northeast Regional trainsets fly by while visiting the Northeast Corridor to watching videos of the stunning views seen from long-distance routes, I was hooked. After touring some Amtrak rolling stock during National Train Day in Toledo, Ohio, I told myself that I would take a trip across the United States on Amtrak one day.
For several years, my friend Luke and I discussed taking a trip together. We wanted to see two things: trains and scenery. We decided to take Amtrak's "northern loop." Starting in Chicago, we would take the Empire Builder to Seattle, get on the Coast Starlight down to Emeryville, and head back to Chicago on the California Zephyr.
The journey begins
We left Chicago Union Station on time and quickly bolted up the Canadian Pacific mainline through America's Dairyland of Wisconsin, passing by many railfanning locations of mine. Soon we were eating a steak dinner – one of many we chose throughout the trip – while skirting the Mississippi River during sunset. Amtrak's community dining meant we were able to meet new people while enjoying amazing food and the best views of America. The next day we crossed into North Dakota and stopped in Minot for an hour of fresh air. "Why not Minot?" we thought as we thoroughly enjoyed our time there. Later that day we entered Glacier National Park. For hours our journey was filled with stunning views. After another steak dinner with new friends, we spent some time in the lounge car playing cards. One passenger even played their guitar softly in the corner. It was a perfect ending to a beautiful day of travel.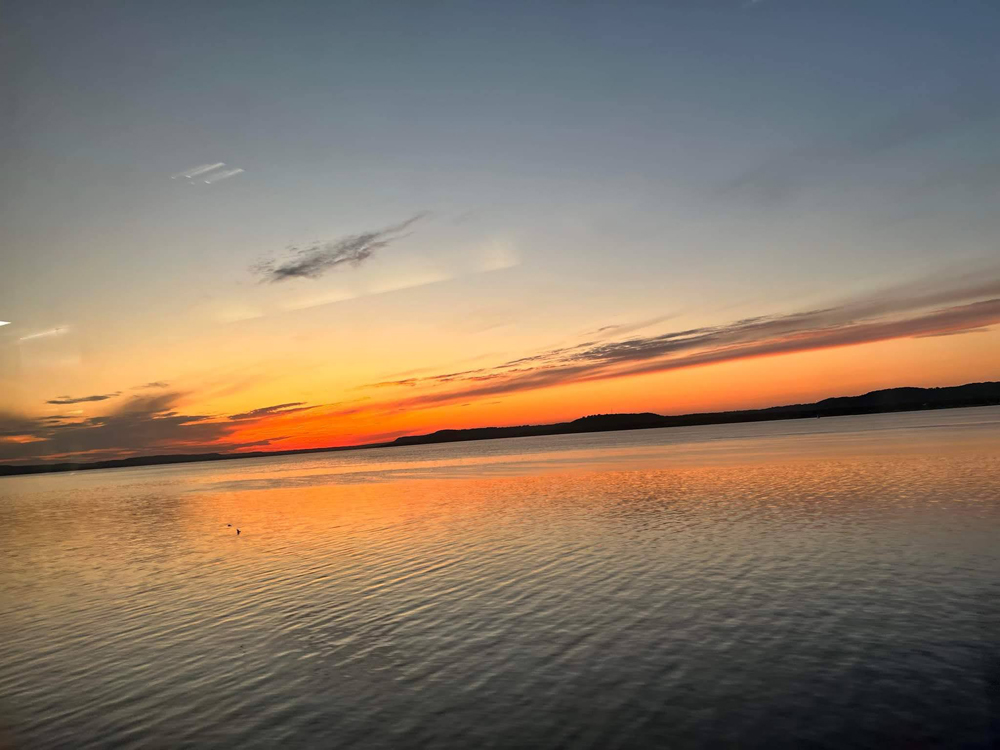 The next morning, we woke up winding alongside Puget Sound. The train had split up overnight in Spokane. Half of it traveled to Portland, taking the lounge car with it. We were okay with that. The roomette next to us was empty, allowing us to see out of both sides of the train, and we had the dining car for a nice warm breakfast. Soon we were pulling into Seattle's impressive King Street Station, a welcome sight for travelers making the 2,205-mile journey from Chicago.
Heading south
After spending a day in the city and a snowy day in Mount Rainier National Park, it was time to head south. We left King Street Station on the Coast Starlight. From Seattle to Portland, we sat in the lounge car listening to two volunteers from the National Park Service narrate the journey. Soon it was dinner time, which was once again steak. This time we were seated with a couple near our age on their way to their college commencement. We shared many laughs and stories, and by the time we went back to our respective rooms, we realized that our dinner had lasted more than three hours. After a fresh air break in Klamath Falls, we were asleep. A short night later we woke up to the California countryside rapidly approaching our destination of Emeryville.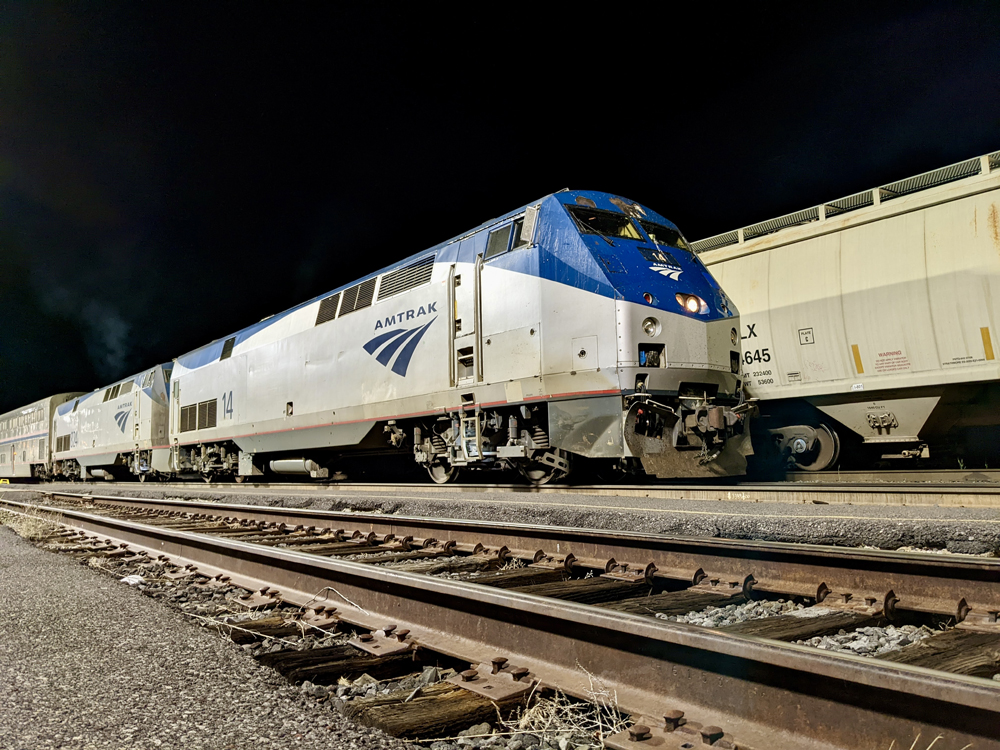 Life is good
Emeryville was our favorite stop on the trip. We were there for less than 24 hours, but it was 24 hours well-spent. After the Coast Starlight arrived, we got familiar with our surroundings and confirmed what we had thought all along – the station was a perfect place to railfan. We spent most of the day watching the many commuter trains arrive and depart the station with some Union Pacific freight trains added in the mix. When it was time to check into the hotel across from the station, we chose a room facing the tracks. From that room, we ate dinner and watched trains from the balcony. Life was good.
Early the next morning we were back at the station, beginning the longest leg of our journey, the California Zephyr from Emeryville back to Chicago. Soon we were through Sacramento and starting the climb up the Sierra Nevada mountains. Ironically, while on the train, I received an email from Kalmbach Media inviting me to interview for the Associate Editor position at Model Railroader Magazine. It was a great touch to an amazing day.
New friends
Our train lost some time overnight, but that allowed us to stop in Salt Lake City around six in the morning, and those who detrained for the fresh air break were treated to a gorgeous sunrise over the mountains. We took our time passing through Glenwood Canyon, following the Colorado River and climbing through the Rocky Mountains. Since it was so hot outside, our train had speed restrictions from Grand Junction almost all the way to Denver. We didn't mind though; this was the most beautiful part of the trip. The longer we spent taking it all in the better. We made some friends in the lounge car, including Mike, a retired Amtrak conductor who was heading to the National N Scale Convention. We also met Johnny, a travel photographer who recently found an old camera. He was using it as much as possible, capturing not only the stunning views outside the train but the friendships made inside too.
Back home again
Soon we were in familiar territory. In March we took the California Zephyr to Denver and the Winter Park Express up to Winter Park, but now we were seeing the mountains with a lot more color and less snow. Some of our favorite parts of the trip were the tunnels. The Cascade Tunnel on the Empire Builder and the Moffat Tunnel on the Zephyr are impressive feats of engineering. Coming into Denver we had one thing in mind: the Terminal Bar. We spent time in March tasting drinks at the Terminal Bar, but this time would be quick. The second our train stopped we were off, hastily making our way down the platform and into the station. A quick drink order later and we were sipping on the best that Denver had to offer. We made it back to the train just in time to depart, and after another steak, chocolate torte, and glass of cider, we were fast asleep, but not for long.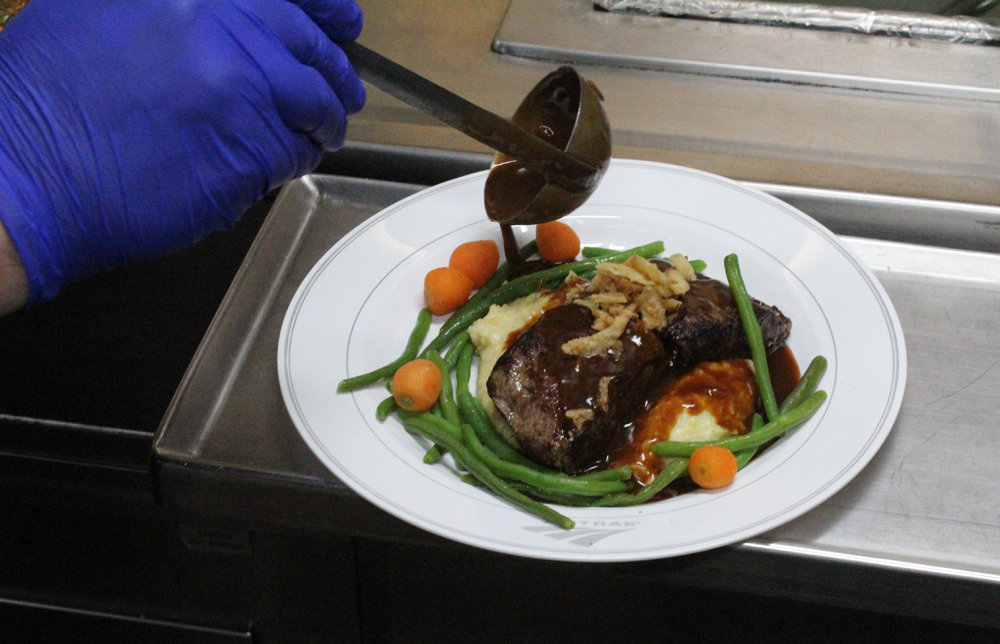 The BNSF trackage east of Denver is the roughest we have ridden. We woke up in Lincoln to begin a long day on some flat land. After fresh air stops in Nebraska and Iowa, we arrived in Galesburg and said goodbye to Mike. Shortly we were pulling into Chicago's Union Station, where the journey began 8 days ago. In those eight days, I enjoyed over 5,500 miles of America's best scenery, 15 delightful meals, and several new friends. I'm looking forward to my next Amtrak journey.
WATCH IT! | Video highlights of another Trains.com staffer's similar cross-country trek aboard Amtrak long-distance trains