My favorite caboose: The MR staff picks their favorite caboose model and explains why it's their favorite. What's your favorite caboose? Leave a comment and let us know!
Mitch Horner
International Car Co. I-18 steel bay window caboose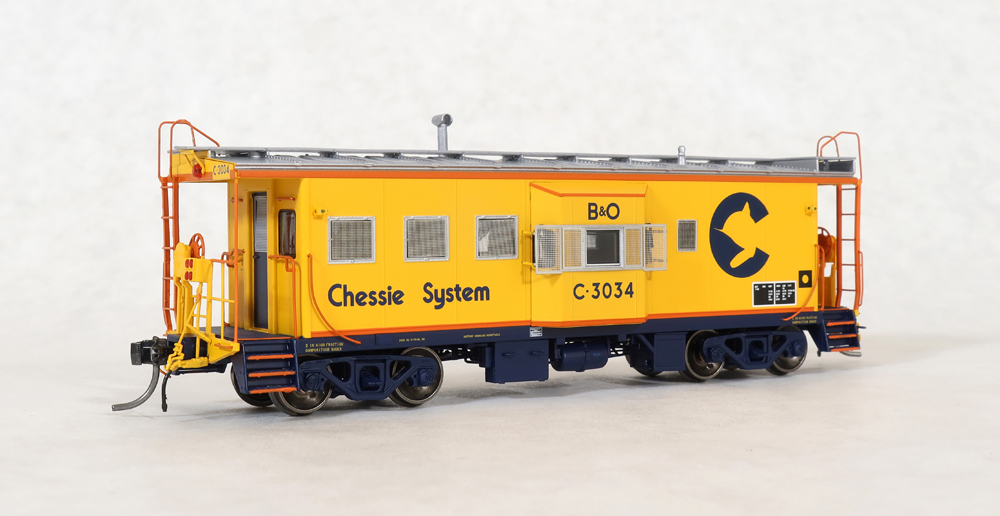 I've been enamored recently by Tangent's Chessie System "'73+ Repaint Version 2" International Car Co. I-18 steel bay window caboose. I've always been a fan of the Chessie scheme, and it looks as good as ever here, with orange striping and a silver roof added to the distinctive yellow and blue by the B&O's Dubois, Pennsylvania shop in 1973. The silver of the roof and bay window serves as a fine contrast to the otherwise vibrant colors of the paint scheme. Some era-appropriate details include illuminated Pyle lanterns and the standard toilet dump pipe. The effort that Tangent put into achieving prototype accuracy is evident in this well-researched and handsome caboose.
Cody Grivno
Standard-cupola caboose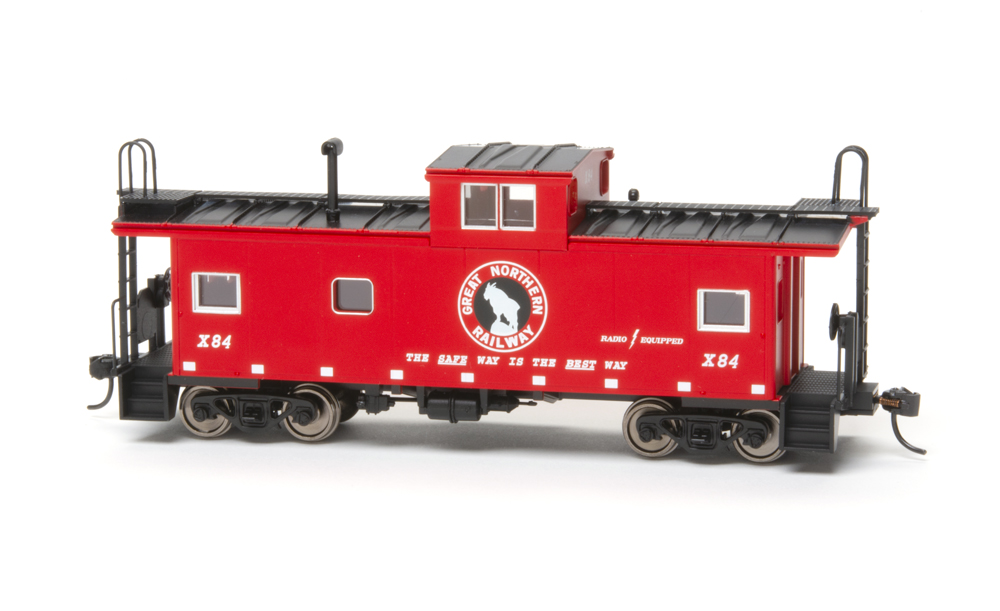 Wait, I can only pick one caboose? For a long time, Burlington Northern (BN) modelers had to settle for "close enough" cabooses. In recent years, a number of HO scale cabooses (or waycars for my Chicago, Burlington & Quincy friends) based on prototypes from BN predecessors have been released. American Model Builders offers more than a half-dozen caboose laser-cut wood caboose kits based on CB&Q, Great Northern (GN), and Northern Pacific prototypes. Athearn produces a CB&Q class NE-13 waycar in its Genesis line that's available in various Q and BN schemes. Wm. K. Walthers Inc. manufactured a CB&Q 30-foot four-window wood waycar, and it currently has a standard-cupola caboose based on a GN prototype in its Mainline series. Many of the cabooses (waycars) survived into the BN era, and some were repainted Cascade Green.
Which one is my favorite? The WalthersMainline HO scale standard-cupola caboose, which I reviewed in the November 2021 Model Railroader. I'm too young to remember the full-size cars when they were in GN paint, but I do recall seeing them in Cascade Green with yellow ends during the BN era. Walthers will be releasing the model decorated as BN 10169 and 10171 this spring. Put me down for one of each, please!
In addition to the nostalgia trip, I like the Walthers caboose because it gives modelers options. It's ready to use from the box. However, if you want to add grab irons and handrails, you can do that with Walthers caboose detail kit No. 910-201. If you model the late caboose era, you could use thin styrene to plate over all of the side windows and one on each end.
Steve Otte
Four-wheel bobber caboose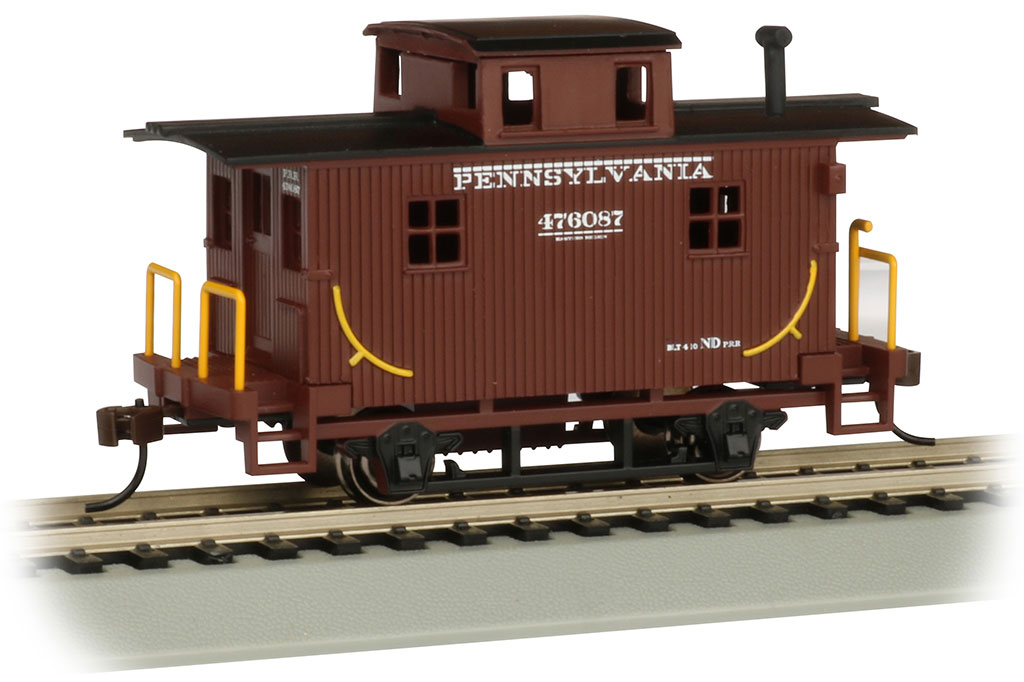 I model a 26-mile-long short line, so train crews got to go home every night. Therefore, the trains on my HO scale Cincinnati, Lebanon & Northern had no need for sleeping quarters in its cabooses. However, the conductor still needed a place to do his paperwork, and the brakeman still needed to keep an eye on the cars ahead, so they still needed cabooses. Enter the four-wheel bobber. You might think these little cabin cars look toy-like and unrealistic, but they did exist. In fact, Model Railroader printed O scale drawings of a Ma & Pa bobber in May 1945. Whether my prototype ran them or not, they're certainly the right size for my model railroad's small steam engines and short passing sidings. And they make the trains look more old-fashioned, which is a good thing (my CL&N is set in 1906). Perhaps someday I'll scratchbuild a wood bobber, but for now I'm happy with Bachmann's models. Replace the molded-on grab irons and thick end railings with brass wire, weather them up, and they look pretty good.
Rene Schweitzer
Chessie bay-window caboose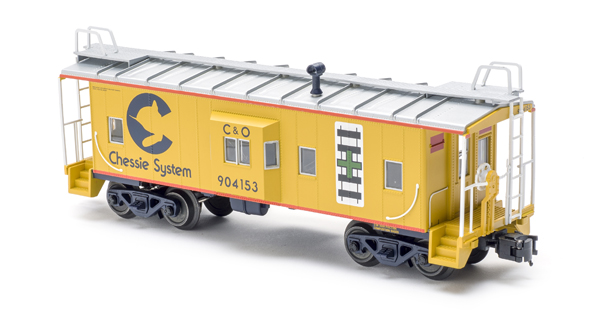 It's no secret in the office that I'm a big fan of cats, so it might not surprise anyone that I've always loved the Chessie paint scheme. (Read a fun article about the history of Chessie the cat.)
That being said, I chose Atlas O's Trainman-series model of the bay-window caboose. It's big, it's colorful, and there are plenty of details to look at. Cody wrote a review of this model a few years ago.
Bryson Sleppy
Akron, Canton & Youngstown No. 69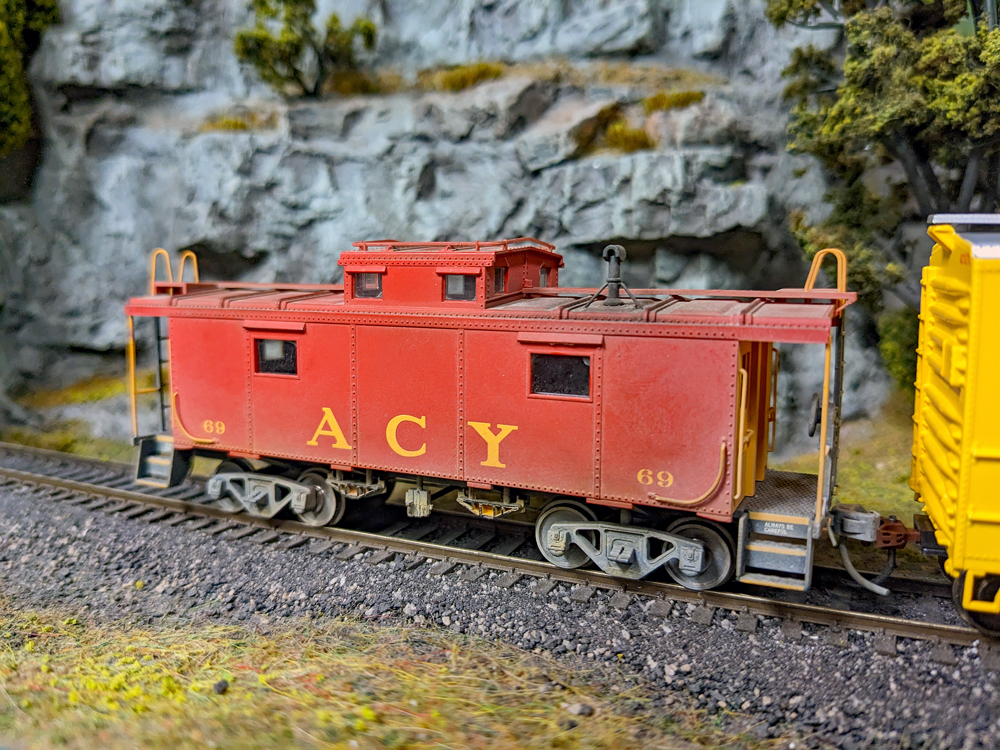 The caboose that I'm choosing represents railroading in Northwest Ohio in its purest form. Akron, Canton & Youngstown No. 69 was built for the railroad by the International Car Co. of Kenton, Ohio in 1947. The AC&Y crossed the New York Central in just 20 miles north of the ICC in Arlington, Ohio.  This caboose served 30 years behind freights pulled by classic yellow Fairbanks-Morse diesels between Akron and Delphos, Ohio. By 1965, the AC&Y was merged into Norfolk & Western, and the caboose was formally sold to N&W in 1977 and given the class C-37. The caboose lives on today as N&W 557069 at a trailhead in Galax, Va.
This model was produced by Atlas in 2005. The Atlas caboose models the standard caboose design that the ICC used in the 1940s. The caboose is offered in two body styles, New Haven style with windows closer to the cupola, and Nickel Plate style with windows spaced further from the cupola. The Nickel Plate style matches prototype pictures of AC&Y No. 68, built alongside No. 69. Though the model matches most prototype photos, Southbound Modelworks & Decal Co. offers a conversion kit for the Atlas model and other NE-5 or NE-6 cabooses to represent AC&Y's end railing, step, and underbody style.
Eric White
Pennsylvania RR N5c "porthole" caboose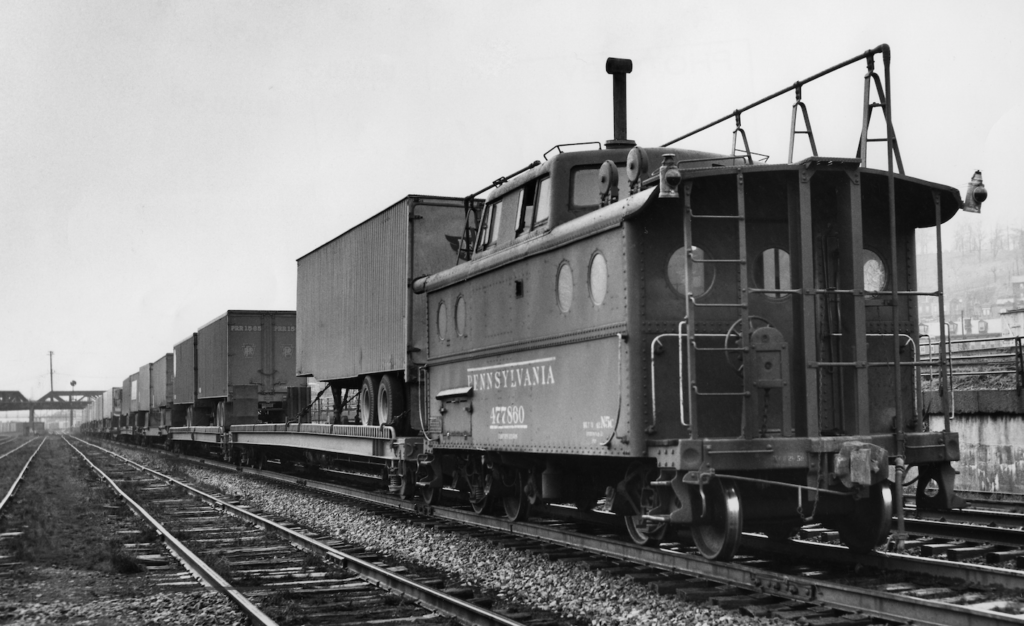 The Pennsylvania RR N5c "porthole" caboose, or cabin car in PRR parlance, has long been my favorite. I first came across it while paging through my dad's old Lionel catalogs. The porthole windows in those color illustrations made me think of long-distance travel, and the riveted steel sides evoked heavy industry. The streamlined cupola gave the cabooses a modern, purposeful look, and I always wished we had one to run on our three-rail tracks.
As I got older and changed focus to HO scale modeling, I wished I could find one in HO scale, but it wouldn't be until the 1980s that Bowser Trains finally brought out a scale model kit. Of course, I snapped one up as soon as I could, and I've since added more to my collection.
These cabooses lasted from the pre-World War II era into Conrail and the end of cabooses on trains. Since I'm modeling the Penn Central in the 1970s, you can be sure you'll see N5c cabins at the ends of my trains. You can learn more about them in the July 2016 issue of Model Railroader, which includes a PRR-era painting guide and scale drawings.