Chessie's story is a unique one. Born to the world in 1933, from the imagination of many, Chessie's tale begins innocently with her asleep, one eye slightly opened, and a paw stretched out from underneath a blanket. Her story, as it develops, flooded the mainstream media, creeping into people's homes during a painful and uncertain time.
It was the 1930s, the U.S. was engulfed in The Great Depression, families were searching for hope, and World War II was lurking over everyone's shoulder. That's when it all happened.
Chessie's evolving role with the C&O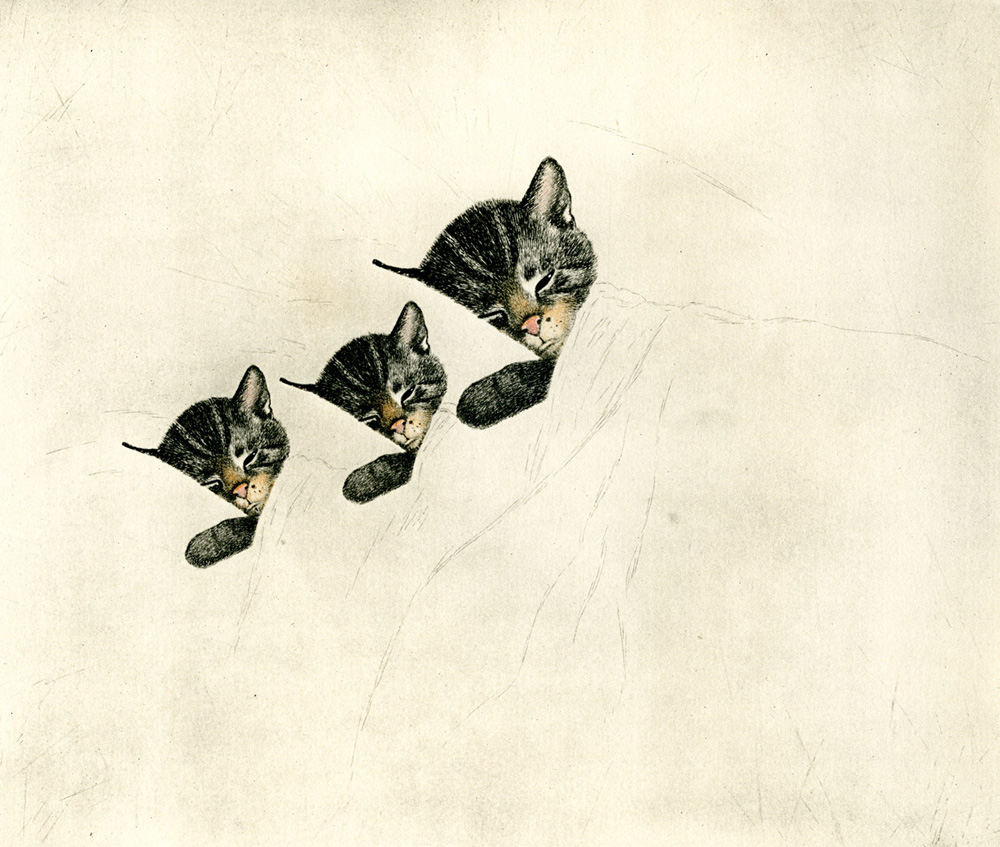 Lionel C. Probert stumbled upon a drawing of the kitten in the Sunday magazine section of the New York Herald Tribune. He immediately became enthralled with her gentle appeal. As the assistant to Chesapeake & Ohio Railway's President J. J. Bernet, Probert is just about to settle on the slogan, "Sleep Like A Top," for an advertising campaign that will promote C&O's new air-conditioned sleeping cars. However, when he sees this drawing, his motivation changes. He unknowingly goes forth and transforms this kitten into an ingenious advertising campaign for C&O based on a love story – a story that was unexpectedly written and directed by the public.
At first, this cute, nameless kitten was nothing more than an artist's muse. Probert set his sights on obtaining the drawing. The railroad paid artist Guido Gruenewald – name spelled in a variety of ways – a mere $5 for use of his work entitled, "The Sleeping Cat," – a price comparable to $100 today. Gruenewald or Grünewald, a Viennese artist, specialized in drawing cats and other animals, accepted the offer. His original drawing was sold to the Robertson-Deschamps Gallery in New York.
With the rights in hand, "Chessie" as she became known to all, was "adopted" into her first ad campaign for the C&O appearing in the September 1933 issue of Fortune magazine with the slogan, "Sleep Like a Kitten." The slogan replaced "Sleep Like A Top" and was used to attract business travelers to all three passenger trains with their new air-conditioned sleeping cars: The George Washington, introduced in 1932, along with The Sportsman and The Fast Flying Virginian in 1933. After just two days of circulation, the railway's offices were swamped with more than 300 requests for reprints of the ad.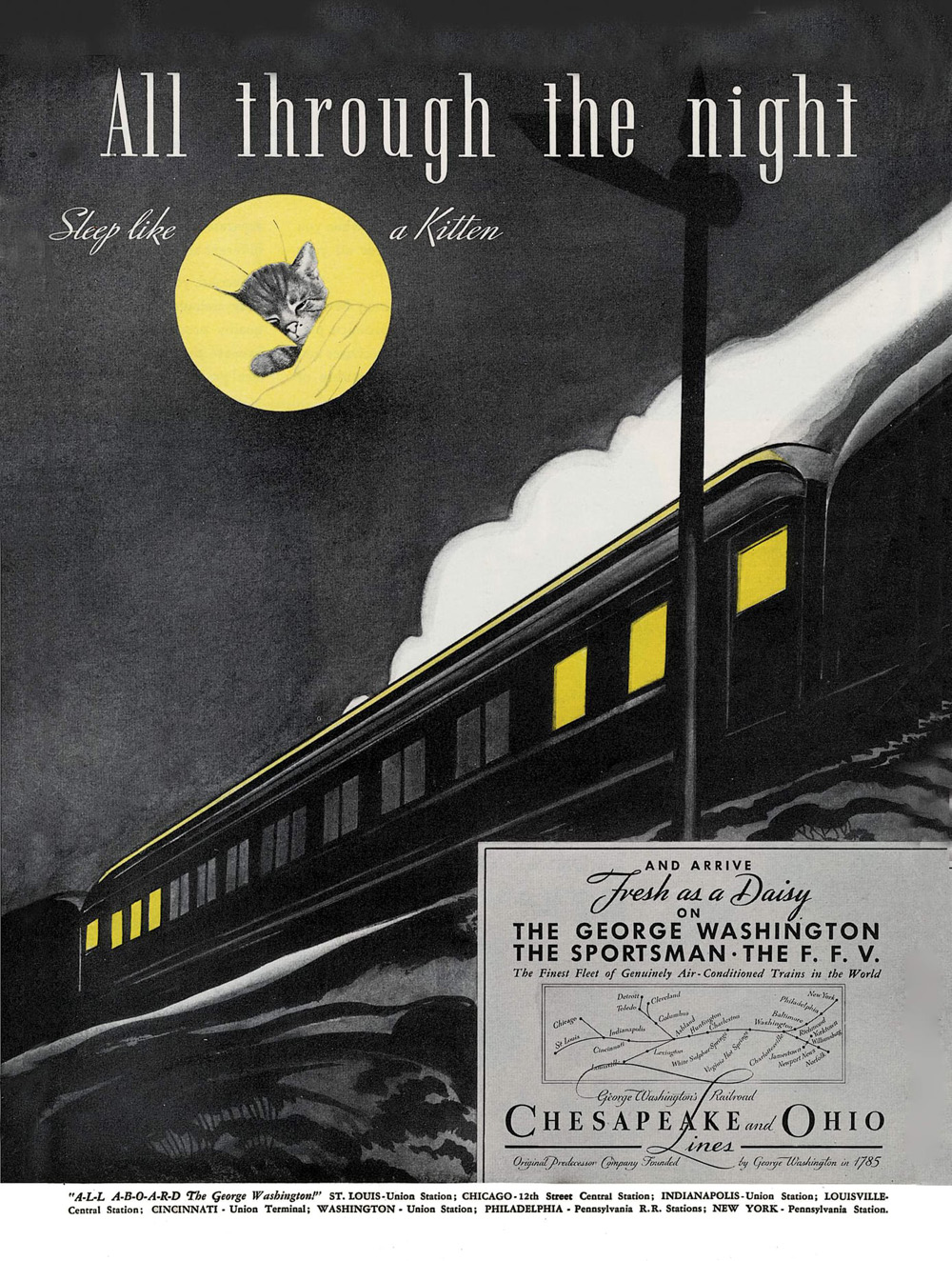 The lightbulb moment – Chessie is a natural!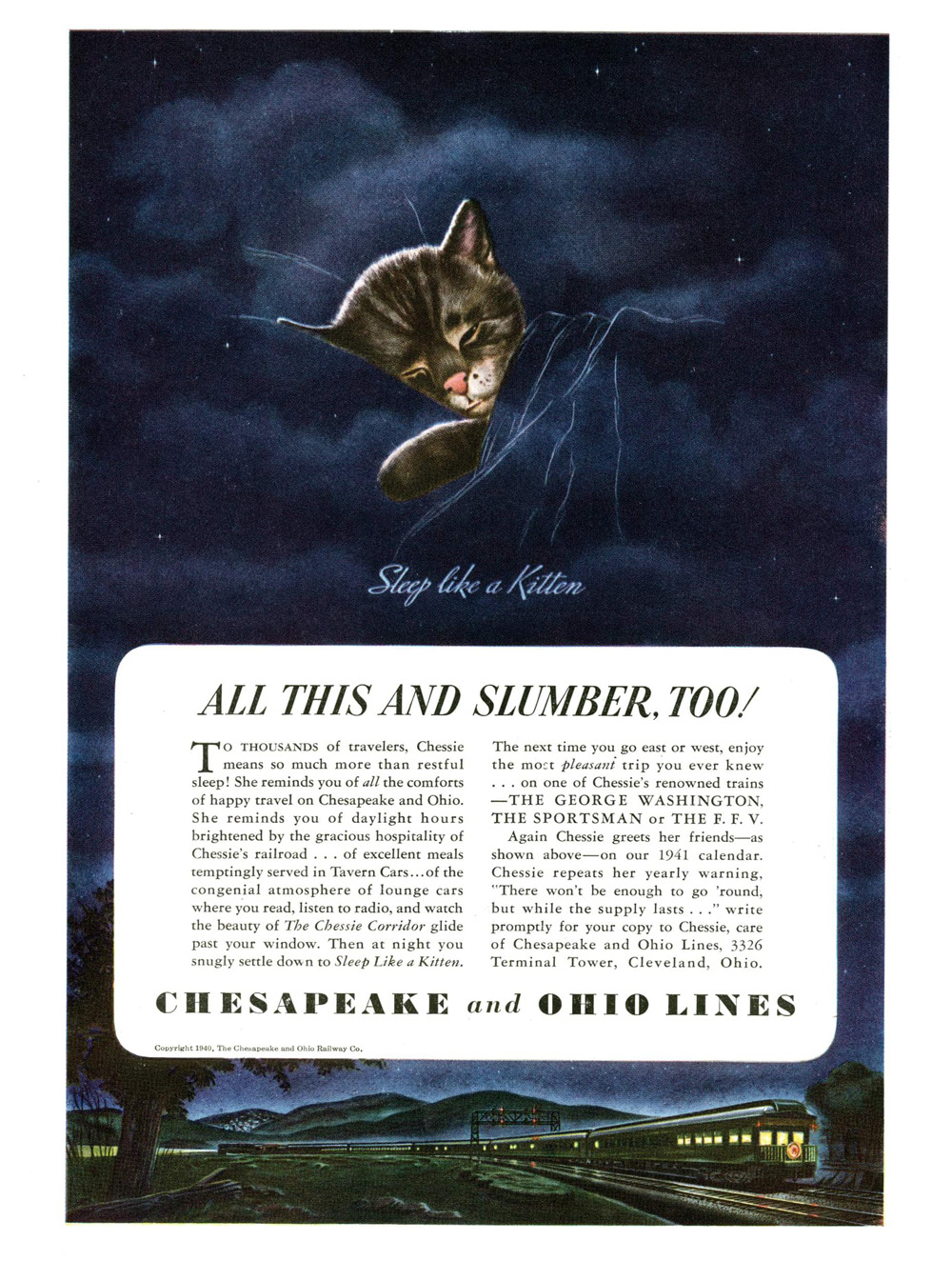 C&O, instead of reprinting the flyer with the ad, decided to print 40,000 calendars in 1934 with Chessie on it. They sold out! More were in demand than anticipated. The railroad knew it needed exclusive rights to the kitten and purchased them from the gallery. It seemed Probert's idea was a sound one, yet even with encouragement from Campbell-Ewald (the ad agency in charge), he remained somewhat skeptical during 1933 and 1934. The public pushed this campaign into action, and it took off in 1935. Gruenewald, unfortunately, died around this time, never seeing the tremendous love a nation would develop for his drawing. The 1935 calendar did even better, selling 100,000 copies. The demand for Chessie continued for years with her appearing in many publications, passenger timetables, playing cards, children's pajamas, and more.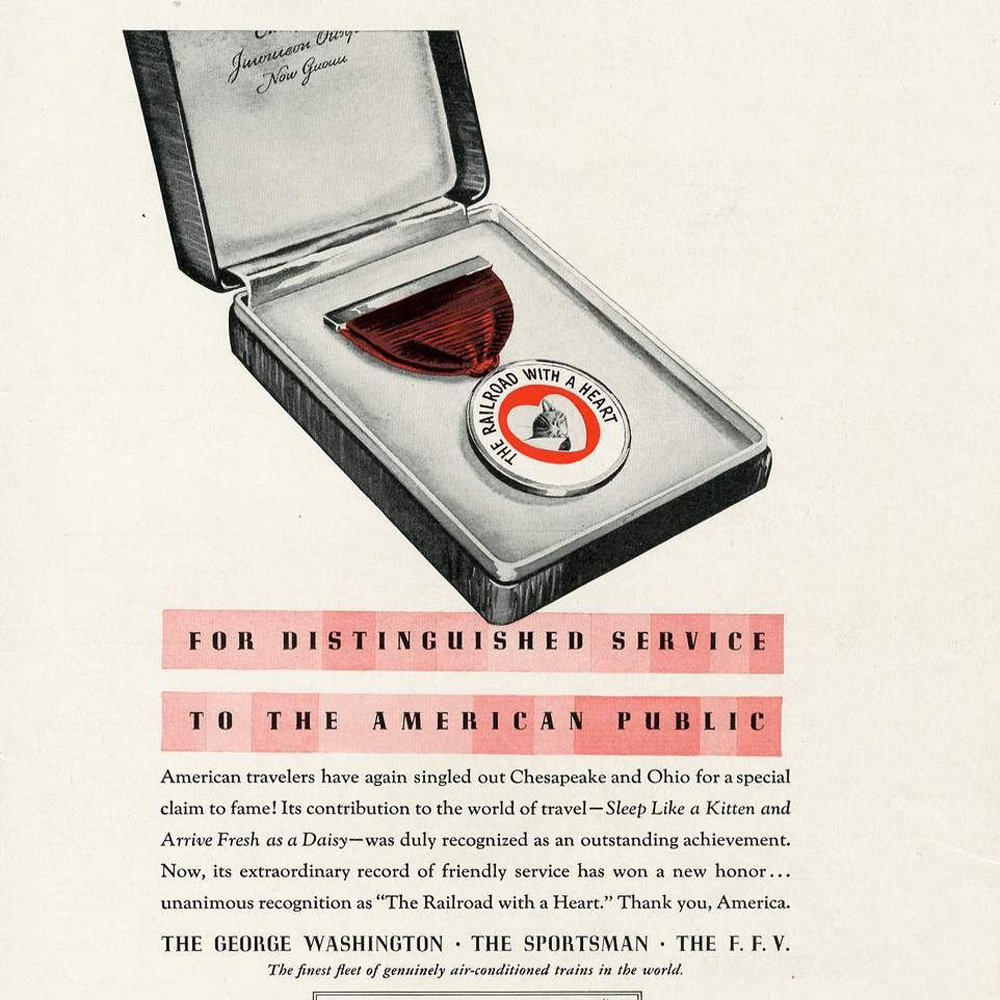 In 1935, Chessie becomes a mom with two small kittens in tow, Nip and Tuck. This naturally left the public questioning where "dad" was. So, to complete the family, "Chessie's Old Man" as he was called, appeared in a C&O ad on Father's Day in 1937. The railroad donned him Peake. Peake was a handsome tomcat and a soldier away at war. As the story grew, and continued to be perpetuated by the public, so did C&O's advertising revenue. C&O was ranked at the top for rail advertising in 1937. Chessie became known as "America's Sleep Warden." She was the proverbial house cat that would give up her Pullman bed for traveling soldiers during WWII. Her role: take care of the home front.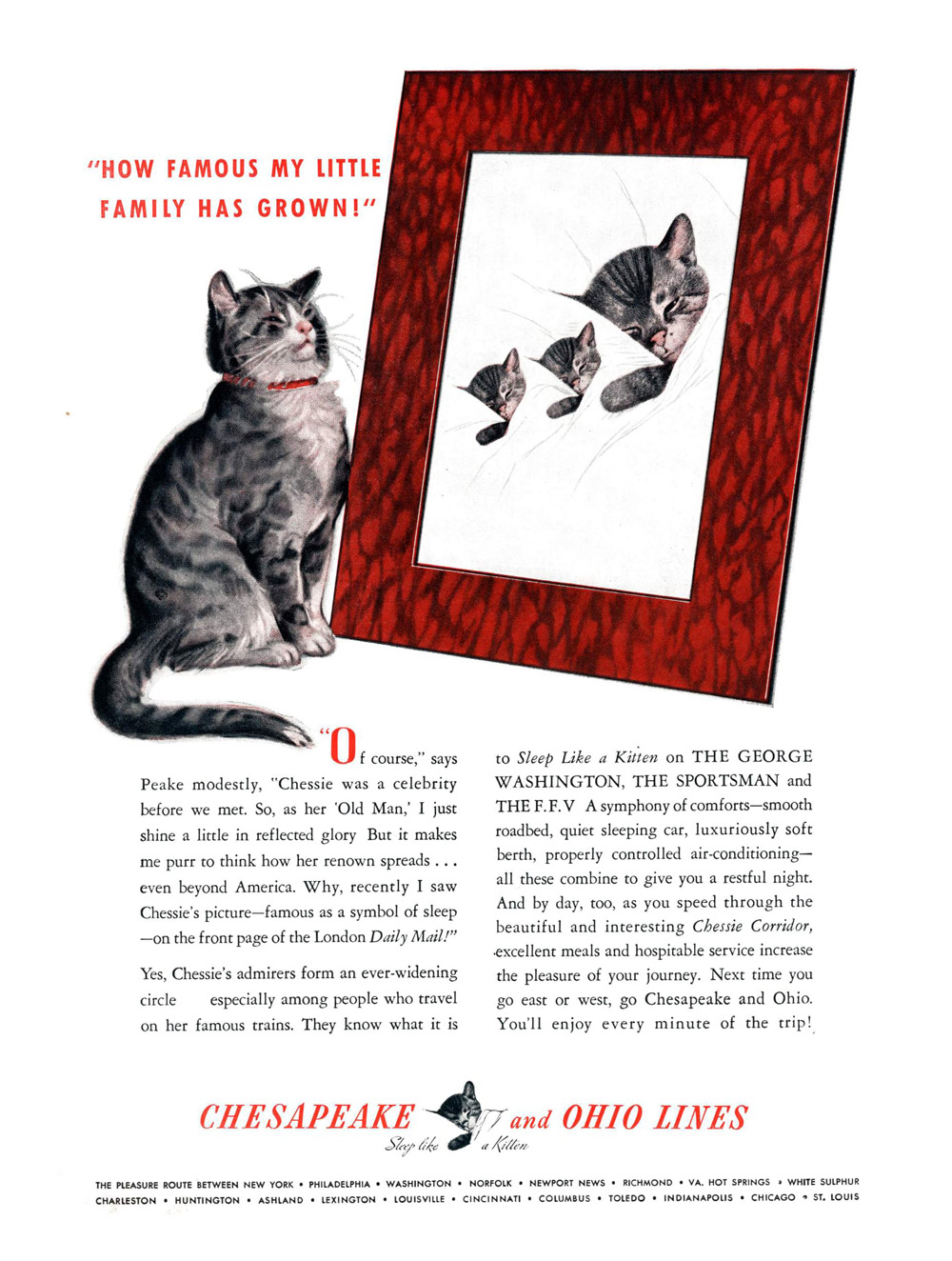 Chessie's timeless claim to fame
After the war, the C&O was widely nicknamed the "Chessie." The kitty icon revealed a much softer side to this brawny, coal-hauling railroad. According to Clifford Clements, vice president of the C&O Historical Society, Chessie had an aesthetic, artistic, emotional, and mass appeal. She represented all that was good with family values. Her family ultimately became members of everyone else's family as they personified what was going on with people before, during, and after WWII.
In 1972, the railroad's logo reflected her. It was a stylized version of a sleeping cat to represent the new Chessie System. It appeared on locomotives, freight cars, passenger cars, cabooses, stationary, and anything the railroad needed to operate. Unfortunately, when the Chessie System became part of CSX in 1987, a new logo replaced it.
The extremely popular Chessie calendar is still published annually today by C&O Historical Society. It is produced to carry on the tradition of the railway and is the longest continuously running railroad calendar (and oldest) in America. Clements says the historical society still makes and sells Chessie memorabilia due to good public response.
"I would maintain that "Chessie" is perhaps the best-known corporate symbol in American history," says Clements. Astonishingly enough, that is without there ever being a real Chessie. Clements continues, "But I would suspect there are countless real cats that have been named Chessie in both the past and present."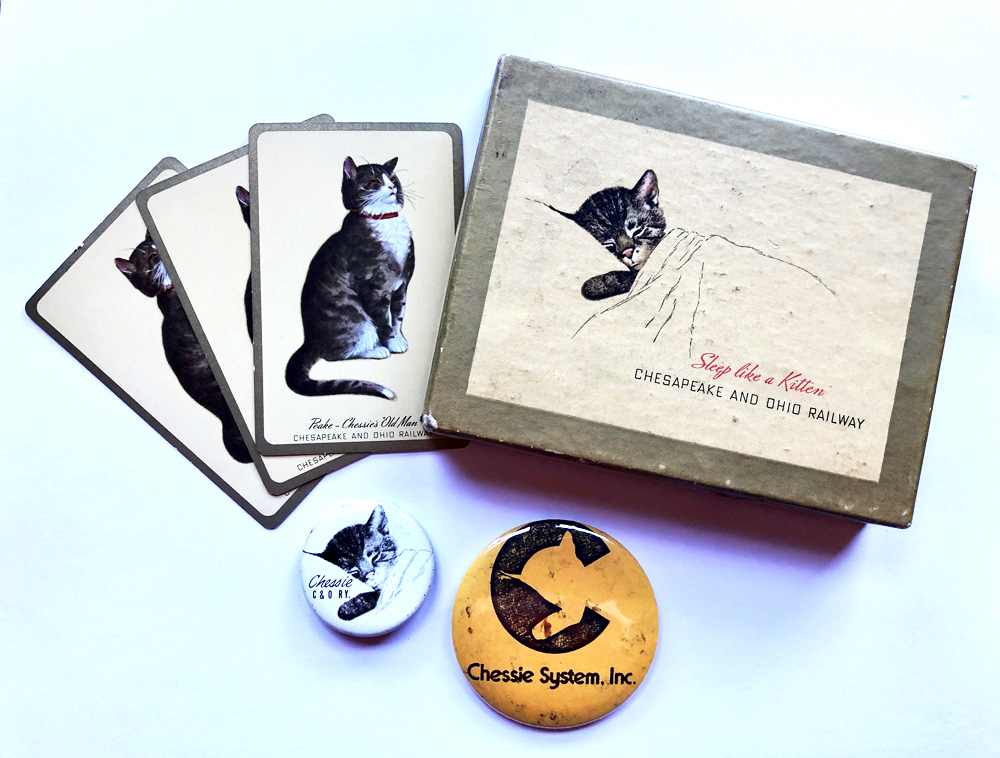 More Chessie!
Fun fact 1: C&O received thousands of letters from every state and from overseas with questions about Chessie and requests for calendars. Within one month after the 1935 kitten made her appearance, more than 20,000 letters were received requesting a calendar.  At one point, the letters came to C&O at a rate of more than 1,000 per day.
Fun fact 2: Some of the fan mail in 1936 said:
"If Chessie chooses The George Washington, no finer recommendation is needed."
"I'll trace a car of freight for two Chessie calendars."
"Send me a Calendar and I, in return, will promise on my word of honor that the next time I take an eastern trip, I will ride on your railroad and no other."
 "I am writing this for the first grade.  I am in the first grade, too.  Thanks for the calendar you sent us.  We like kittens very much.  P.S. My teacher told me how to  spell the hardest words."
Fun fact 3: Chessie merchandise appeared from  various manufacturers including a woman's silk scarf, children's sleepwear, child's engineer suit, music box, necktie, toys, engineer's oil/watering can, T-shirts, and a host of other items.  Sears, Roebuck and Company produced a line of Chessie blankets, bedspreads, and matching curtains for children's rooms in the 1960's.
Fun fact 4: In 1937, C&O reported that, "So successful were the freight and passenger campaigns which were prepared for the C&O Railway, that they are studied in advertising courses given by practically every college in the United States."
Fun fact 5: In the early 1980s, there were several Chessie calendars produced by the company Photographer John Corns and Artistic Manager Judy Poplar in Cleveland at Chessie System's Terminal Tower using live cats. The kittens were adopted and lived on the 40th floor of Terminal Tower in the photography office. When the Chessie System offices moved from Cleveland in 1986, the cats were adopted by Chessie employees.
Fun fact 6: Clements works in the C&OHS archives, writes for C&OHS and is one of their historians. He also worked for C&O in the 1960s and '70s as a brakeman and conductor.
(Information for this sidebar is courtesy of Clifford Clements)
Additional Information