Kansas City Southern Shay locomotives were oddballs on a steam locomotive roster of non-conformity. Ephraim Shay came up with the design for the geared locomotive in the 1870s. The Lima Locomotive Works popularized the design and sold almost 2,770 copies.

Throughout the Leonor F. Loree administration, Kansas City Southern was a loyal Alco customer, so choosing Lima to build the 2-10-4s was a break with tradition.
The Js weren't the first Lima power on KCS, however. In 1913, the road purchased a pair of three-truck Shays to switch the industrial spurs on the north side of Kansas City's downtown. They were numbered 900 and 901, which raises the question of whether the Js got those numbers on purpose 24 years later. Did someone in the motive power department have a sentimental regard for the old sidewinders from Lima?
The site that became Kansas City was originally a bluff on the south bank of the Missouri River. In the late 19th century, the bluffs were pared down from a precipice to a slope, but it was still a very steep one. Shays — those denizens of the logging camps — could be counted on to scale the 3% grades, and to handle the tight turns and street-running in the warehouse district.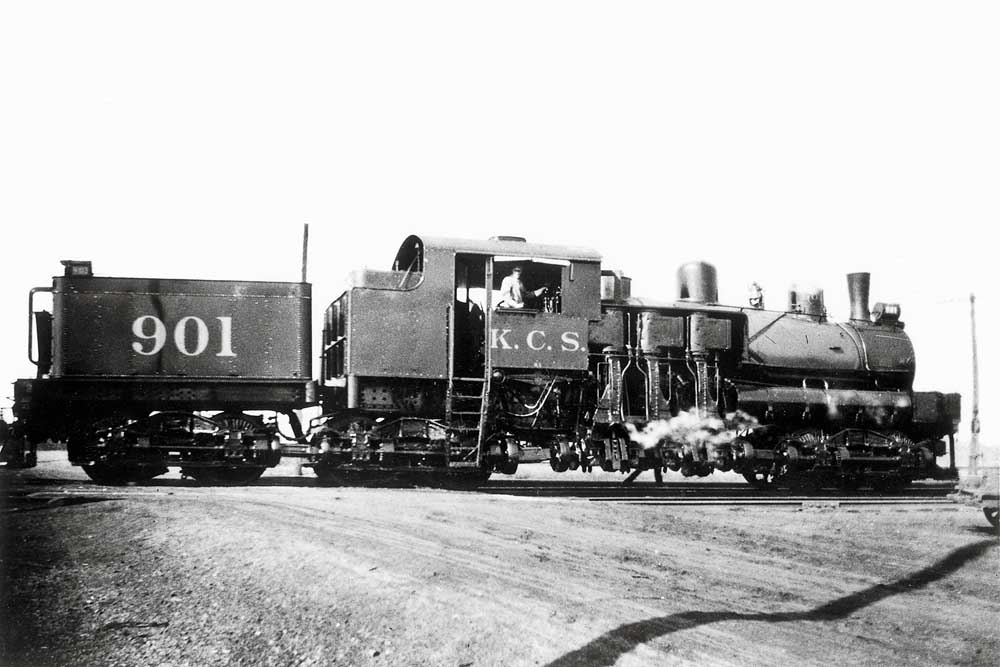 No. 900 was the largest Shay that Lima ever built, with a total length of 52 feet, 11 inches, 18×20-inch cylinders, and tractive effort of 74,400 pounds. Sister 901 was slightly smaller. The 900 was scrapped in December 1928, and the 901 followed four months later, ending the reign of Kansas City Southern Shay locomotives. Their duties on the streets of Kansas City were assumed by booster-equipped rod engines; beginning in 1939, the job was worked by NW2 diesel switchers from Electro-Motive.
The line has been abandoned for several years now, and its last customer was a Folgers coffee plant. The plant is still active, and KCS still plays a part in delivering the beans. These days, they come from Gulf Coast ports in containers, but they ride rubber tires for the last few miles.