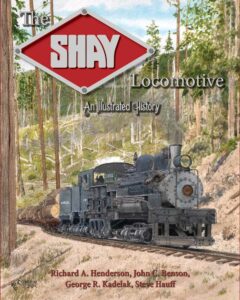 The Shay locomotive was a widely used North American geared steam locomotive, built to the patents of Ephraim Shay, who is credited with the popularization of the concept of a geared steam locomotive. Shay's early locomotives differed from later ones, but there is a clear line of development that joins all Shays. Shays were especially suited to logging, mining, and industrial operations and could operate successfully on steep or poor-quality track. The mention of Shays conjures visions of geared locomotives on steep, twisting rails meandering through swamps and backwoods, or serving mining camps up in the mountains.
In this comprehensive, 640-page book, readers will find just about everything they have ever wanted to know about these distinctive engines, which revolutionized the logging and mining industries. Chapters include the Lima Legacy, Basics of the Shay, Mishaps, Dealer Sales and Marketing, Shay Copies, Shay Survivors in the 21st Century, a Shay Gallery of Photos, Lima Shop Numbers, Owners/Operators list, Geographical list, and technical data such as Shay patents, and statistical and technical data. The book is filled with color but mostly large black and white photos, drawings and sketches. There is page after page of beautiful photos — many I've never seen before — and informative captions. As an example there is a nice side shot of William Ritter Lumber Co. 19 with a large cone-shaped smokestack on page 227 under the section entitled "Old Time Shays," and a color photo of Pickering Lumber Corp. 6 (formerly Hetch Hetchy Railroad 6) in color shown at the El Portal Transportation Museum.
Besides the detailed historical aspects of the Shay locomotive and the numerous photos of different Shays produced during the years, the listing of Shays by owners and operators is a boon to their enthusiasts, with more than 10,000 entries in this list. There is even a section on Shays that have been saved; of the 2,768 Shay locomotives that were produced, a little more than 100 survive today, some are on static display, and some are operational, representing 4% of the original number of engines produced.
For the Shay locomotive fan, or someone wanting to learn more about these unique locomotives, this is a superb, comprehensive book, worth having in your library.
White River Productions, P.O. Box 48, Bucklin, MO 64631. Price: $99.95. Authored by Richard A. Henderson, John C. Benson, George R. Kadelak and Steve Hauff.