Frisco steam to diesel transition: The mid-20th century was a time of great change for U.S. railroads. They were in the midst of a great steam to diesel transition that would revolutionize the industry for generations to come.
An example of how the diesel changed part of one railroad may be found on the rolling profile of the St. Louis-San Francisco, "the Frisco," between Kansas City and Springfield, Mo. The tonnage information comes from SLSF's Northern Division employee timetable for Jan. 30, 1949. The prevailing freight steam power on this district was the 4200-class 2-8-2 Mikado, among the most powerful of its type on any railroad, with a rated tractive effort of 68,500 lbs., or 78,100 lbs., with booster, and with the 64-inch drivers, grate area, and heating surface sufficient to easily achieve the 50-mph freight limit for steam on this district. It is telling, however, to note that diesel-powered freights were allowed 55 mph, in recognition of their lack of dynamic augment to their weight on driving wheels, which made them easier on the track.
A 4200 was rated to take 3,450 tons up the 0.7-percent ruling grade out of the Missouri River valley at K.C. to Olathe, Kansas, and then 4,000 tons from there to the division point of Fort Scott, Kansas. Assuming it got a push from a yard engine for the 0.9-percent ruling grade out of Fort Scott to Edward, the Mikado could then take 3,200 tons across the edge of the Ozarks to Springfield, with short segments of as much as 1.2-percent. Frisco's transportation department had to be thinking in terms of either helping the big Mikado to Olathe or of shuttling tonnage out there to fill, and then reducing at Fort Scott. Or, they could simply let the 3,200-ton limit of the Ash Grove Sub (Fort Scott to Springfield) govern the train for the entire distance. Indeed, in the 1940s and 1950s, 3,200 tons was a very respectable train.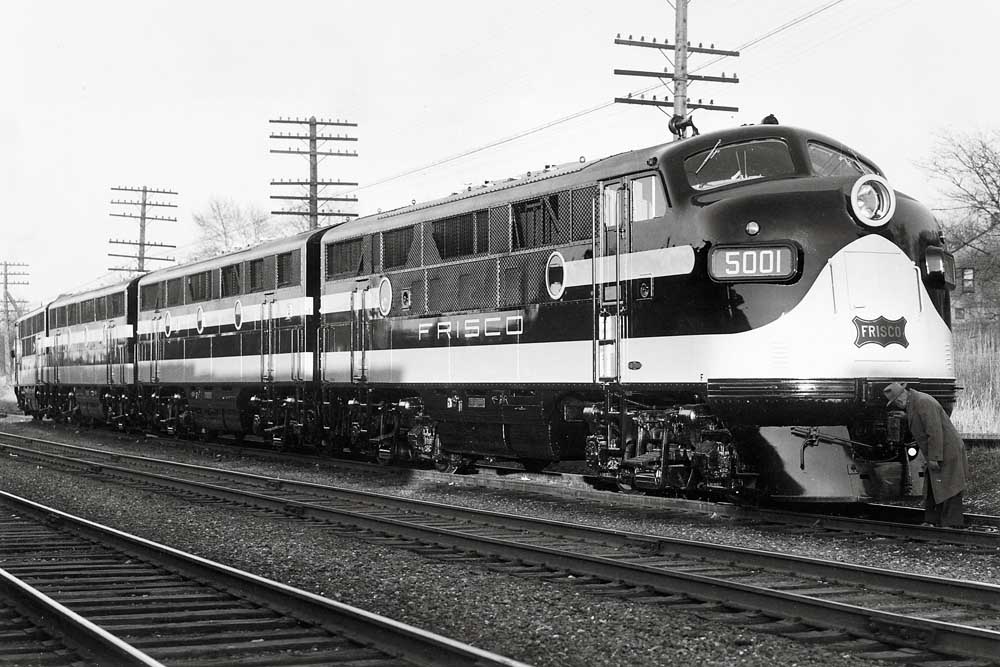 But the next day in that steam to diesel transition era, the same train might draw an A-B-A set of F3s, F7s, or Alco FA1/FB1s rated at 5,175 tons for the entire distance. Not only was this enough capacity to eliminate the operation of many second sections of scheduled freight trains and extra trains, but as a practical matter it put a stop almost completely to the fussy work of tonnage clerks in the dispatcher's office and yard offices. Seldom any longer was it necessary to juggle tons from one train to another across a division by shuttling out tonnage or making en route reductions. You can hear the railroaders saying to each other, "Just couple everything but the yard office on 'em and let 'em pull!"
The dispatcher and trainmaster would say this with a smile; the trainmen and enginemen just cut from the extra board would say it with rue.