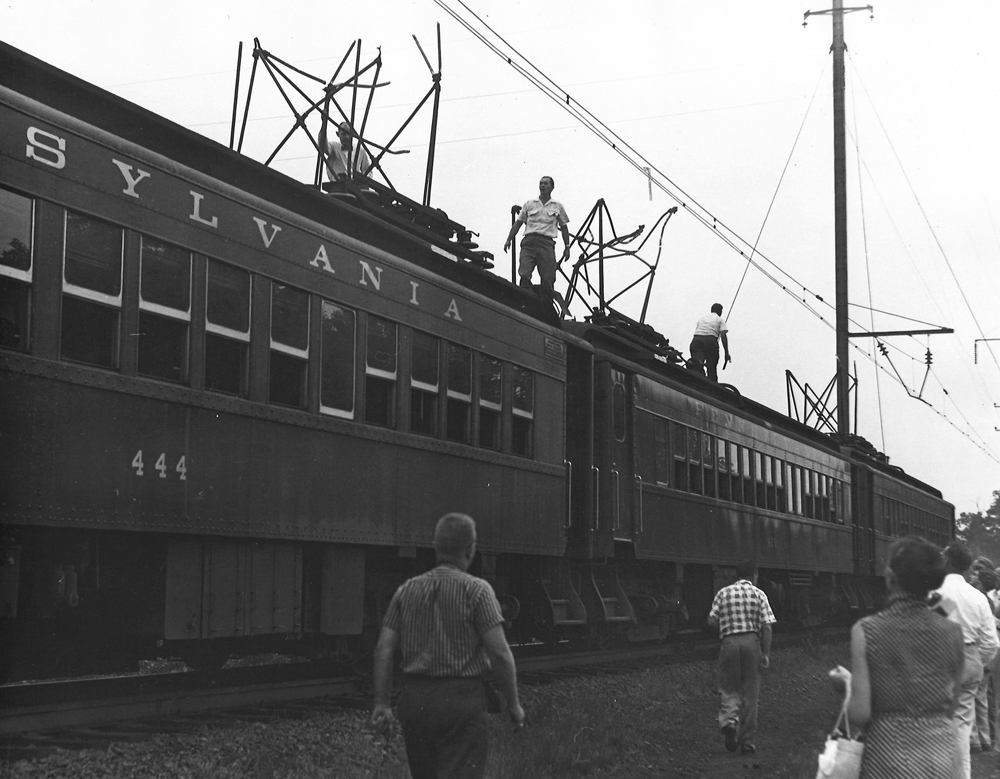 On August 4, 1957, the Pennsylvania Railroad dispatched an eight-car train of MP54 multiple-unit cars from Penn Station, New York. Aboard the excursion were hundreds of railfans anticipating a day of riding mostly freight-only trackage to the western extremity of PRR catenary at Enola Yard across the Susquehanna River from Harrisburg, Pa. The exotic routing included part of the old Camden & Amboy, Jamesburg Branch, Trenton Cutoff/Philadelphia & Thorndale, and Atglen & Susquehanna. But things didn't quite go as planned.
Thanks to the late Paul Carleton, who was one of the passengers, we have information on what occurred. Several miles west of Morrisville, Pa., on the Trenton Cutoff freight line, the pantographs on the last four cars became ensnared in the catenary, ripping down 1,700 feet of messenger wire before they sheared off. The engineer didn't know what had happened, and the train coasted 2½ miles beyond the damaged wire before a fan in one of the stricken cars mustered the courage to get out from under his seat and pull the emergency cord. After the train got stopped, workers climbed up and lashed down what was left of the pans.
You might think the PRR would have called it a day right there, but that's not how railroads did things 64 years ago. The special continued west, albeit on reduced power. When it got back on the main passenger route at Thorndale, Pa., it was not annulled and did not turn back for New York. It pressed on, diverging as planned onto the A&S freight line at Parkesburg. (Sticking to the low-grade freight routes not only honored the trip's advertised itinerary, it also kept the now-underpowered consist off the more steeply graded main line and out of the way of scheduled passenger traffic.)
By the time the special reached Harrisburg, it was hours late. So, instead of sending it the electrified long way around to Enola, to save time the PRR coupled an E8 to the head end, and the diesel dragged the MP54s north to the Rockville Bridge. It was after sunset when the train crossed the Susquehanna River and turned left to head down to Enola. From there — back under wire — the train finally began its trek back to New York. What a day!