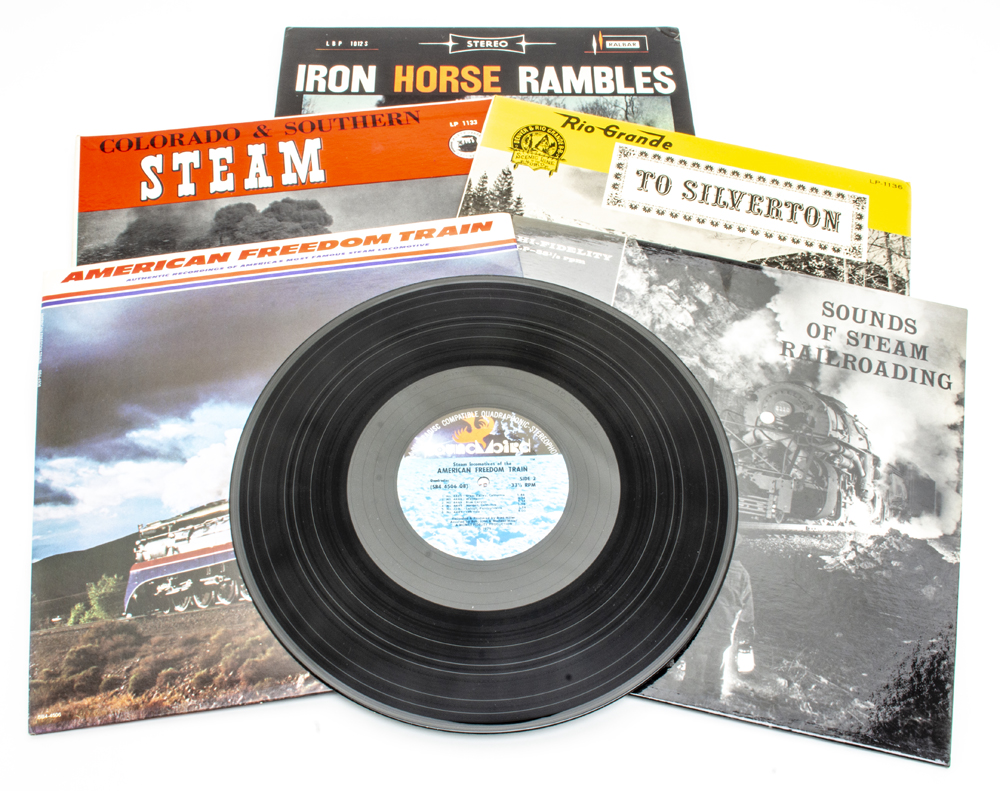 Today, it's easier than ever to railfan without leaving the comfort of your home. Kalmbach Media is one of several companies that offers DVDs on various prototype subjects. If you prefer seeing trains in real time, you can watch any number of railfan webcams, such as the one Trains magazine has at Rochelle, Ill. This ease-of-access we as railfans enjoy now has not always been the case, though. In earlier times, individuals and companies preserved railroad memories on vinyl records.
Below are five records from a small collection of railroad-themed LPs we have in the David P. Morgan Memorial Library here at Kalmbach Media. Some of the engines featured on the records are still in action, such as Southern Pacific 4449, Reading Co. 2102, and Denver & Rio Grande Western 473. In other instances, these LPs serve as some of the only mass-produced recordings of locomotives that have since been scrapped, making the records valuable resources for both rail enthusiasts and model manufacturers.
"Iron Horse Rambles"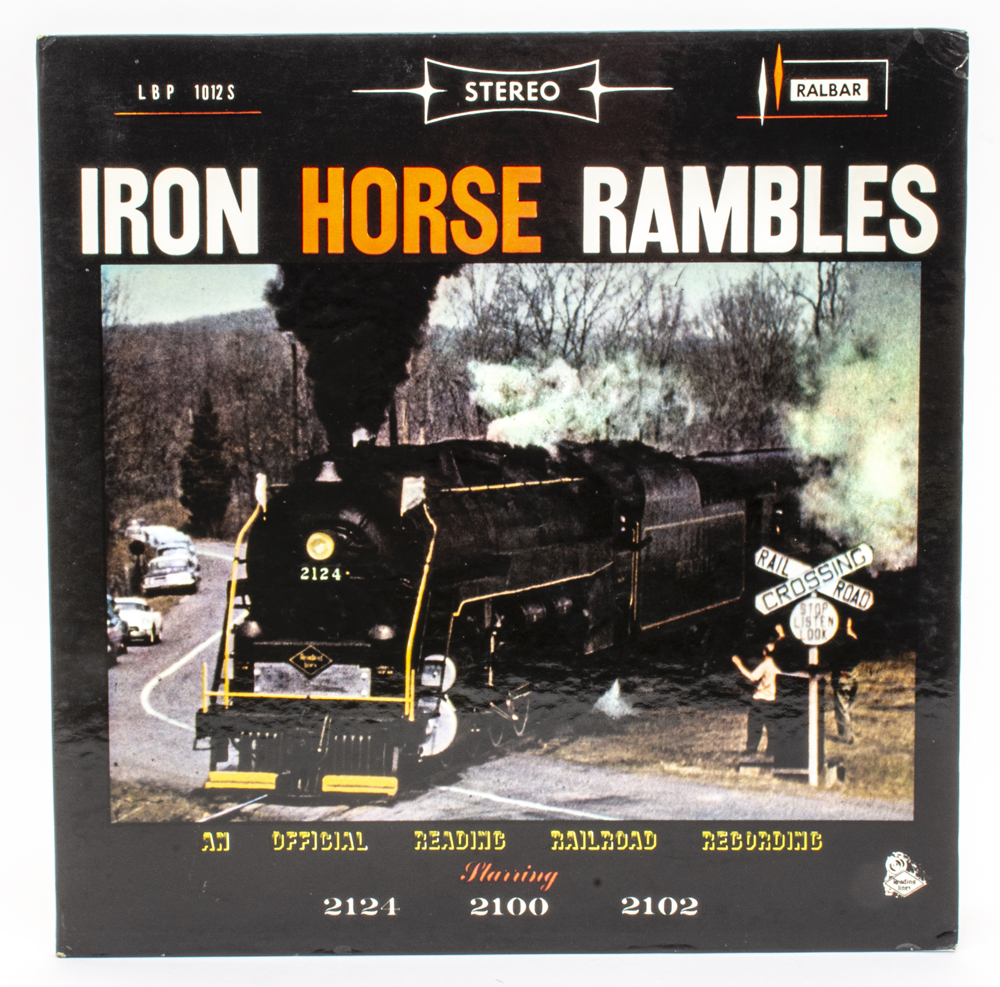 I started combing through Kalmbach's modest record collection shortly after Model Railroader editor Eric White and I filmed a product review video of the Broadway Limited Imports N scale Reading Co. T-1 4-8-4 steam locomotive. The first album that jumped out to me was "Iron Horse Rambles," an LP produced by Ralbar Productions that featured Reading Co. class T-1 steam locomotives 2100, 2102, and 2124.
The recordings were made between 1960 and 1962 during the Reading Co.'s famous Iron Horse Rambles steam excursions. The tracks on side one are 2102 at Peach Glen Grade on May 6, 1962; 2124 emerging from Perkasie Tunnel on June 11, 1961; and 2100 highballing west of Yardley, Pa., on May 20, 1962. Recordings on side two are 2100 and 2124 departing Port Clinton on Sept. 23, 1961; 2124 at Klapperthal Curve (also on Sept. 23, 1961); and an epilogue with E. Paul Gangewere, president of the Reading Co.
The record has a gatefold jacket with numerous photos and detailed descriptions of each track. It also notes, "This record was produced through the Reading's Public Relations Department, Harry E. Hammer, Director of Public Relations." Who knew that railroads were into the record business?
"Sounds of Steam Railroading"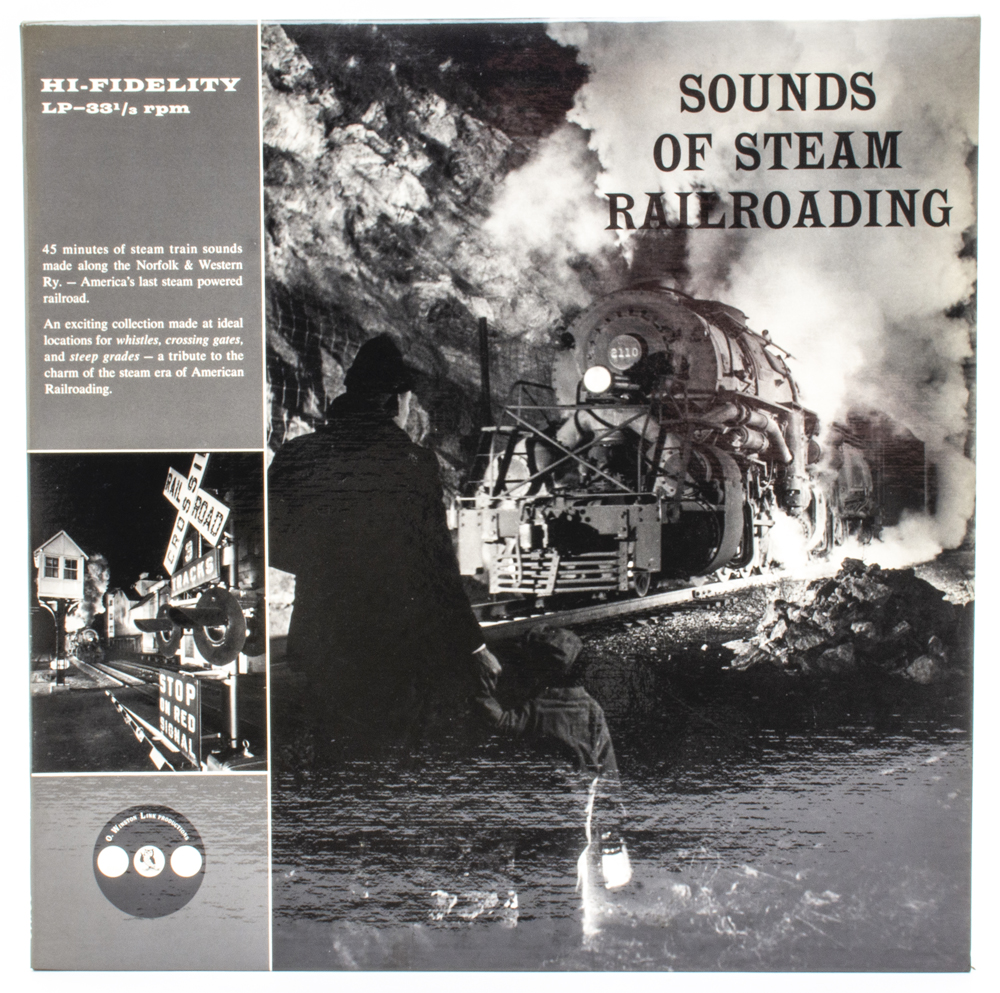 When you hear the name O. Winston Link, you probably think of photos, especially his images of the Norfolk & Western in the mid- to late-1950s. But while he was taking the well-known images, he was also making audio recordings. His first release was "Sounds of Steam Railroading" in 1957.
The record features a Y6 2-8-8-2 at Lithia, Va.; a meet between a coal train and the Cavalier at Christiansburg, Va.; steam switching sounds at Waynesboro, Va.; a train caller announcing departures from the Roanoke, Va., station; and more.
Volumes 1-6 of "Sounds of Steam Railroading" are available as a five CD box set from O. Winston Link Productions.
"Colorado & Southern Steam"
 Chicago, Burlington & Quincy subsidiary Colorado & Southern was the subject of this LP from North Jersey Recordings. Tracks on the translucent blue album include 2-8-2 No. 806 leading a freight on the Greeley Branch; the 806 switching at Windsor, Colo., (with bonus audio of Great Western RR 2-8-0 No. 60); 2-8-0 No. 648 with a sugar beet train at Fort Collins., Colo.; 2-8-0 No. 646 on the point of a beet train at Black Hollow, Colo.; United States Railroad Administration 2-10-2 No. 909 at the Denver enginehouse and pulling a freight train; and 2-10-2 No. 902 leading a special passenger train between Denver and Cheyenne, Wyo.
The rear of the jacket on "Colorado & Southern Steam" includes five small black-and-white images of the steam engines featured on the record. There's also information about each track and a brief history of the C&S.
"Rio Grande to Silverton"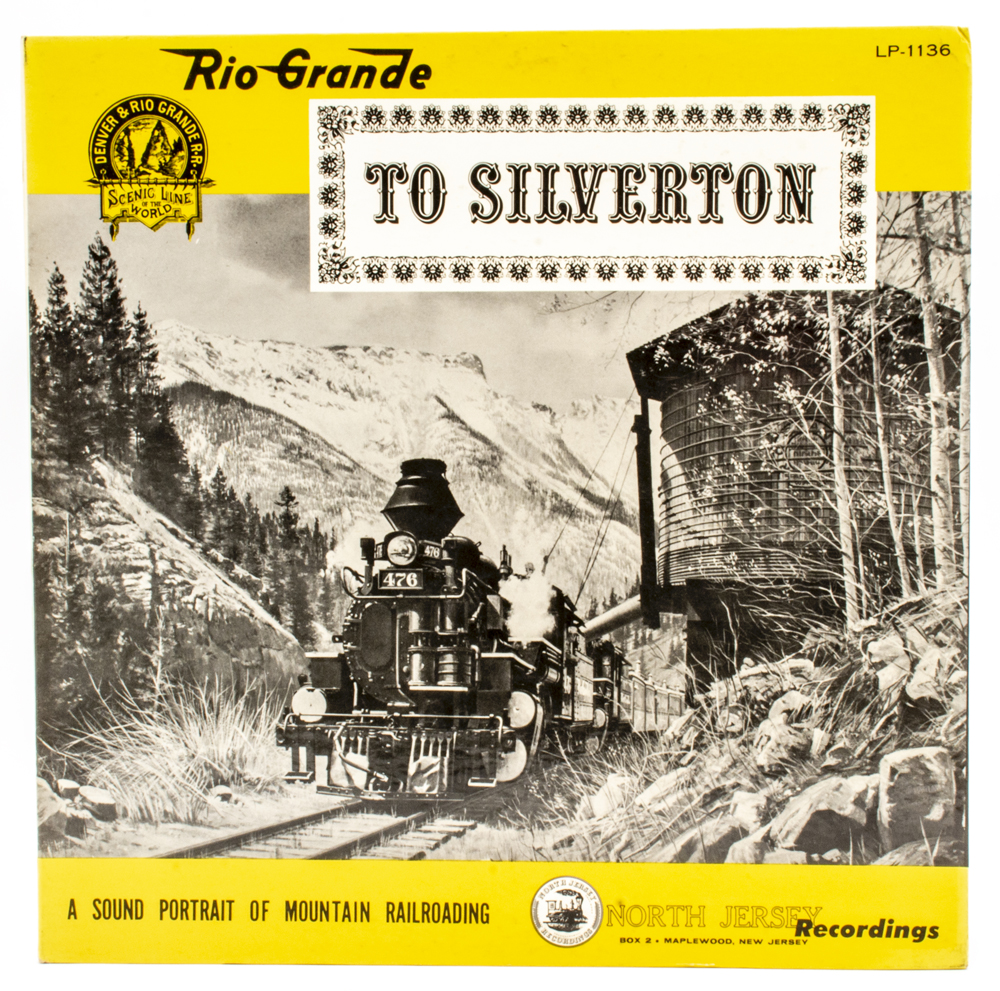 Denver & Rio Grande Western's narrow gauge operations have long fascinated model railroaders and railfans. "Rio Grande to Silverton," another LP from North Jersey Recordings, captures sounds from a variety of trains. Tracks on side one include Riding the train to Silverton, Photo run at Elk Park, Arriving at Silverton, Train time at La Jara, and Illini Special at Cumbres Pass.
Side two, titled "The Narrow Gauge Freight," includes the tracks Doubleheader starting at Monero, Eastbound freight, Arriving at Chama, Whistles at Coxo, and Freight with pusher at Coxo.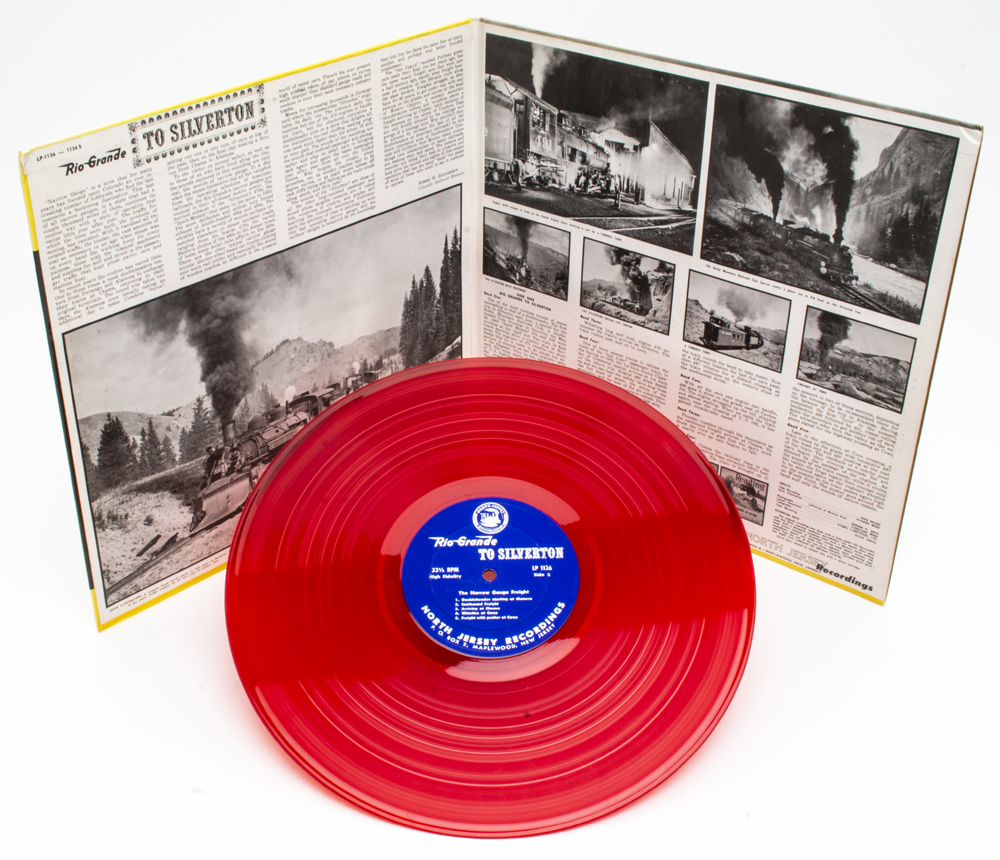 This album was one of the more visually intriguing ones in our collection. As you can see in the image above, the album is translucent red with a blue label. The inner sleeve, not shown, has a map of the Denver & Rio Grande from a 1907 timetable printed on the front. In addition to the large images on the front and back of the cover, the inside of the gatefold has additional black-and-white photos, introductory text by Robert W. Richardson of the Colorado Railroad Museum, and information on each track.
"American Freedom Train"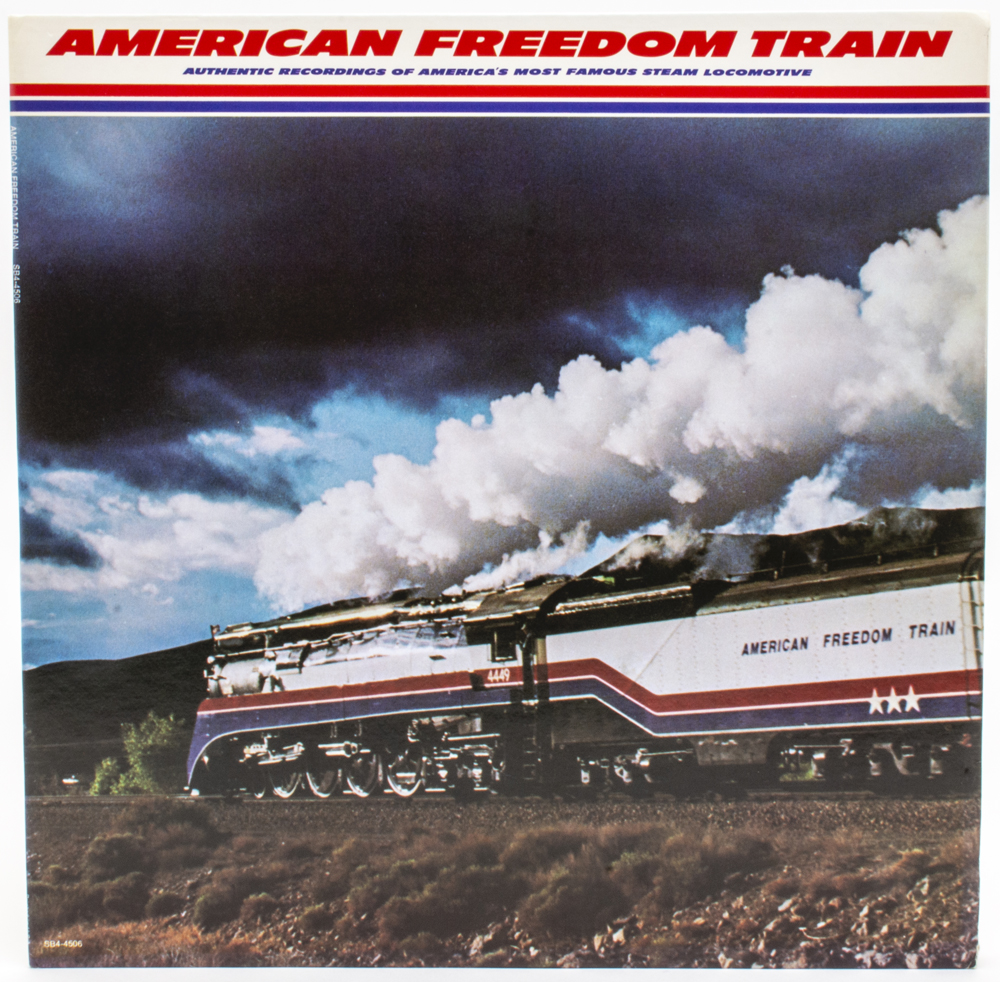 The American Freedom Train that toured the United States in 1975 and 1976 attracted more than 7 million visitors. A variety of memorabilia was produced, including patches, buttons, plates, and, of course, vinyl records. Most of the tracks on "American Freedom Train" feature recordings of Southern Pacific class GS-4 4-8-4 No. 4449 making test runs along the West coast in 1975, prior to being used on the train. There's also a track with Reading Co. 4-8-4 No. 2101 at White River Junction. The class T-1 engine, temporarily renumbered 1, was used to pull the American Freedom Train between April and early August 1975.
There are also two tracks of Nickel Plate Road 2-8-4 No. 759 leading excursions in July 1973. What did the Berkshire have to do with the American Freedom Train? In the liner notes it states, "No. 759's career was highlighted by heading the Golden Spike Centennial Special from New York to Kansas City and return in April-May 1969. It was during this trip that [High Iron Co.] founder Ross Rowland suggested to the High Iron crew (Wesley Camp, Andy Adams, Doyle McCormack, among others), a steam powered American bicentennial train, to reach every contiguous state in the Union."
Later it continued, "The conclusions were always the same. Lima built the classy Berkshires including No. 759, and Lima also built the Southern Pacific Daylights. They had the class, the power, the beauty, and most important, they were oil burners, rather than coal burners, which meant that fuel was more conveniently available. With that decision made, there was but only one place to turn – Portland, Oregon, and No. 4449. America truly has come home!"
This is just a small sampling of railroad memories on vinyl records. Do you have a favorite railroad LP? Let us know in the comments field below.