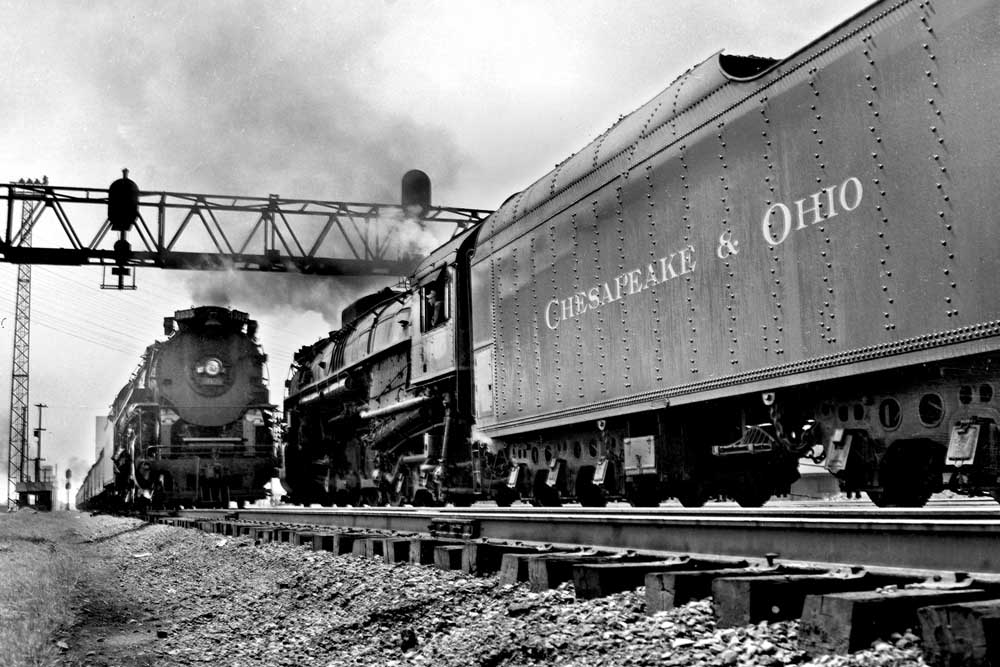 The railroad industry has created more than its share of publicity photographs over the past 150 years. Here, standing in Kalmbach Media's David P. Morgan Memorial Library, I'm surrounded by tens of thousands of them, mostly 8 x 10 black-and-white prints, all of which came flooding into the company after the 1940 launch of Trains magazine.
Many of these pictures are rather sterile or even dull bits of promotion, not the kind that would have been considered for Trains' old Photo Section. But some rise to a considerably higher level. Alas, most of the photographers remain anonymous, their names obscured by history and by the inevitable company stamp on the backs of the prints they created. This week I've been pulling some credited simply to "Chesapeake & Ohio Public Affairs, Terminal Tower, Cleveland."
Fortunately, a new book from the C&O Historical Society reveals the identity of one of the men behind that rubber stamp, and in spectacular fashion. From authors Karen Parker and Thomas W. Dixon, Jr., comes "William M. Rittase, Photographer, and the Chesapeake & Ohio Railway," a hardcover monograph of a mid-century commercial photographer at the top of his game. The book is published by the C&O Historical Society with the help of a grant from Virginia Humanities. The book comes after the C&O society's "Gene Huddleston's Chesapeake & Ohio, 1947-1959," co-authored in 2019 by Parker.
The work of William Rittase is anything but pedestrian. Clearly, he set out to produce images that could surprise and delight even the most jaded newspaper or magazine photo editor, so often the railroad's initial audience. Rittase (pronounced RIT-uss) went to great lengths to show the railroad from unusual angles, to imply action and power, and to put railroaders in the limelight.
Consider the accompanying photo from 1944, depicting a pair of C&O's mighty T-1 2-10-4 engines meeting under the signal bridge at Parsons Yard in Columbus, Ohio. The locomotives and crews are likely posed, but Rittase's position down in the ballast, his camera's view of wheels on rails, and the precise spacing of the engines' front ends all combine to create an overwhelming sense of action.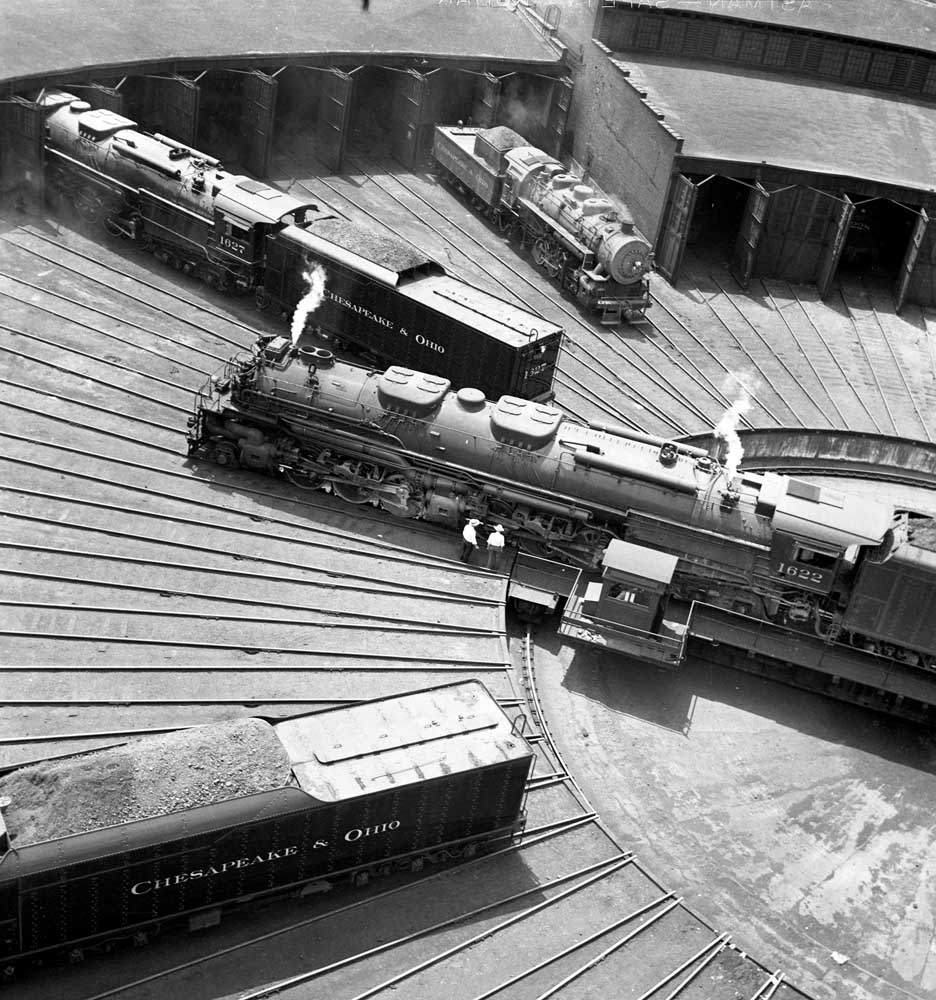 Here's what Rittase himself had to say about his approach and its relationship to art photography: "I believe that the standards of photography today are not set in the salons, but across the pages of the leading magazines, in advertising, and the movies. Photography has accepted the function which is really of an interpreter or a portrayer of some concrete object or person in front of the camera."
Rittase spoke with authority. Born in 1894, he got his start as a commercial photographer in the 1920s. By the early 1930s he was a regular contributor to Henry Luce's new magazine Fortune, alongside another photographic luminary, Margaret Bourke-White. His work was included in an influential exhibit at New York's Museum of Modern Art in 1932, and not long thereafter he began doing railroad work.
Railroad clients included New York Central, Baltimore & Ohio, Seaboard Air-Line, and several other carriers. By the 1940s he was heavily involved with the so-called Van Sweringen roads based out of Cleveland, mainly C&O, Pere Marquette, and the Nickel Plate. His work resides today in several prestigious collections across the museum spectrum and original prints by Rittase are prized by collectors.
The C&O knew how good they had it with Rittase and gave him wide access to the property, sometimes on a panoramic scale, other times more intimately. Two other photographs here really show it.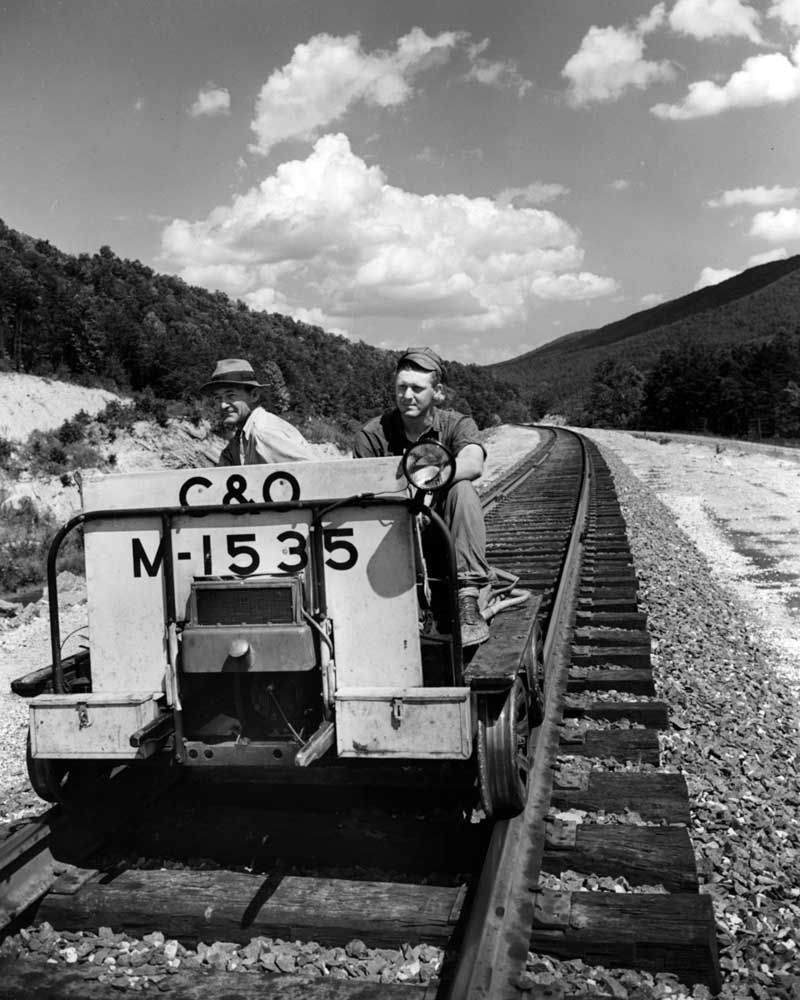 One is Rittase's famous bird's-eye-view of C&O 2-6-6-6 Allegheny engines (plus an 0-8-0 switcher) arrayed around the turntable at Clifton Forge, Va., in 1944. According to the authors, Rittase likely was positioned atop or suspended from a crane. Whatever his vantage point, the photographer displays amazing insight into both the design of a typical roundhouse, and the immensity of C&O's signature articulated H-8 engines.
But Rittase also loved to get up close and personal, as demonstrated by his picture of a track supervisor and his section man enjoying the breeze as they inspect the main line near Snowden, Va., along the James River main line west of Lynchburg, in 1946. Again, the two men are posing, but they don't look it, such was Rittase's skill at getting his subjects to appear relaxed.
Another example of Rittase's approach to people pictures comes from his work on the Nickel Plate, showing three female laborers washing down a 2-8-2's tender at Frankfort, Ind., in 1943. The assignment was to specifically showcase women on the railroad during the war years, when, so often, their railroad husbands were serving in the military. It's a good example of how Rittase humanized a vast, technical enterprise.
That NKP photograph is a favorite of another Rittase fan, John B. Corns, who in the 1980s and '90s followed in the master's footsteps as the chief photographer (meaning on the payroll) of CSX Transportation. Corns wrote extensively about Rittase in his hardcover two-volume set "Nickel Plate Road Publicity Photos, 1942-1953," produced by TLC Publishing in 1996 and 1998. Don't let the anquity of Rittase's photographs fool you, says Corns: he has lessons for today's photographers.
"It was Rittase's raw talent for seeing strong compositions in his mind's eye whenever he first encountered what would become his subject, whether it was subject position, terrain, natural and artificial lighting, foreground and background, etc.," says Corns. "Rittase knew where he wanted to place his camera and did so, even clambering to the top of a raised boom on a railroad crane to gain some risky altitude for his camera. A drone with a camera could accomplish that feat today without endangering the photographer, but such sophistication lacks the Rittase chutzpah. Today's camera-toting railfans would do well to glean some old-time ideas from studying the 8x10s of a little-known master."