Transkentucky Transportation Railroad Inc.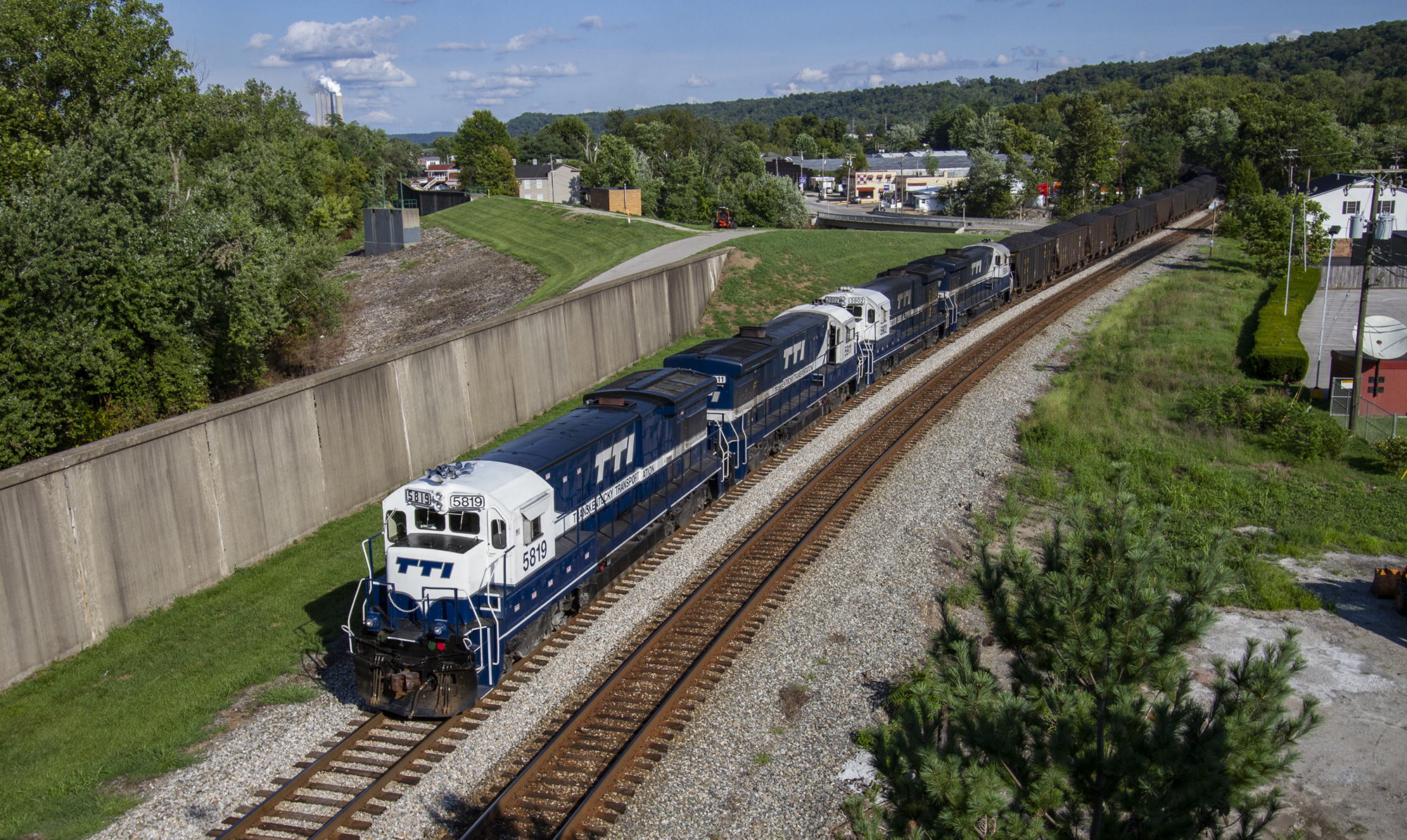 Mention Eastern Kentucky railroading, and what comes to mind may be coal trains and manifests threading their way through needle-like tunnels and across generous rivers on Norfolk Southern's "Rathole" or CSX Transportation's Corbin Division. Or you might think of spiderwebs of branch lines serving hundreds of coal producers.
Eastern Kentucky was all of this and more. Then the bottom fell out of coal production and Precision Scheduled Railroading took hold of operations in the 2010s, bringing dramatic changes to the area's rail landscape that remain today.
If you turn back the clock a few years ahead of those changes, though, there's another aspect of Eastern Kentucky railroading worth recognizing: Transkentucky Transportation Railroad Inc. or TTI. The short line emerged from the ashes of an almost-abandoned branch line and hung on for three decades after years of litigation.
To the chagrin of the still-young CSX, TTI short-hauled mountains of coal between the Eastern Kentucky coalfields and the Ohio River with an eclectic fleet of General Electric locomotives. Against all odds, it made a niche for itself on an abandoned 55-mile long former Louisville & Nashville Maysville branch, operating between a connection with L&N's CC Subdivision at Paris, Ky., and an Ohio River barge transloader at Maysville, Ky.
A consortium of local businessmen purchased the line, abandoned in 1979, and went to work restoring it to operation while maneuvering in court to compel rates from CSX between its L&N-served mines to the TTI Ohio River Terminal. The route also required trackage rights and a mainline reverse move of several miles on CSX's Chessie System (ex-C&O) Cincinnati-Russell main line to serve the TTI port. Years in litigation, the formal merger of CSX divisions, the passing of the Staggers Act of 1980, favorable economics and energy policy, and luck — definitely some luck — finally cleared a path and TTI entered the coal hauling and transloading business in 1981.
How well did it work? Well, by 1993 CSX would have majority ownership of TTI through its Three Rivers Railway subsidiary. If you can't beat them, buy them!
TTI began operations with three former Missouri Pacific EMD-reengined RS3s (which MoPac called GP12s), adding a small fleet of ex-Rock Island U28Bs and road slugs to haul early coal tonnage. These received a distinctive silver and blue livery. As business expanded, ex-Pittsburgh & Lake Erie and Burlington/Burlington Northern locomotives boosted the fleet of U28Bs to 21 units. These created a wild crush of odd color combinations but turned almost black under the extreme conditions and constant use that made it difficult, or at least not ideal, for railfan photographers in the late 1980s and early 1990s.
By 1993, coal business was brisk, and the fleet was worn out. Two and sometimes three daily turns between Paris and Maysville, using up to eight U-boats each, left little time for maintenance, painting, or washing the fleet. Something had to give as failures grew and track conditions worsened.
Enter CSX, which acquired TTI stock but kept the companies separate. The affiliation gave TTI access to needed capital, as well as new, more powerful locomotives: U36Bs, retirement candidates on CSX. A technological breakthrough of its time, the U36B produced 3,600 hp on four axles. It was intended for high-speed freight service, but CSX had adapted it for years of lugging heavy phosphate traffic at low speeds in Florida, making the unit an ideal candidate for the TTI.
The railroad acquired nine U36Bs, almost immediately painted black with yellow trim and large TTI heralds on the hood, giving the fleet a more unified, if not clean, look. These were followed by 15 B36-7s fresh out of the intermodal pool, a newer adaptation of the U36 platform, being only about 17 years old when acquired. TTI also tested 4,000-hp CSX Dash 8-40Bs Nos. 5959 and 5951 under "fall leaf" track conditions in autumn 2009, but these were deemed a bit slippery, considering the extra horsepower and extra cost for each microprocessor-equipped locomotive.
Change came soon after. Business slowed from daily to weekly. The down time allowed some of the B36-7s to be painted in a dynamic white and blue scheme — four were done in white and one in a platinum-mist silver. Locomotives were even cleaned.
But prosperity was fleeting. Coal user Dayton Power & Light closed its J.M. Stuart Station and Killen Generating Station, major TTI customers, leaving East Kentucky Power Cooperative's Spurlock Power Station as one of the few remaining users. Scrubber limestone trains in August 2015 rounded out the last unit-train business to the Maysville dock. Soon after, the railroad was shut as a through route and used for car storage. A Trans-Flow transload operation at the Paris, Ky., yard currently rounds out normal TTI operations.
CSX subsequently sold its interest in TTI to the Vermillion Valley group of short lines, now part of Midwest & Bluegrass Rail. A recent check of the dock facilities in Maysville revealed an empty field, devoid of any dumper or storage capabilities. As of now, it's safe to say the railroad is done as a coal hauler, as washouts and time have not been kind to parts of the unused main line.
What will the future hold? Stay tuned. For now, enjoy these images through the years of the always fan-friendly TTI.
Like this gallery? Click here for more.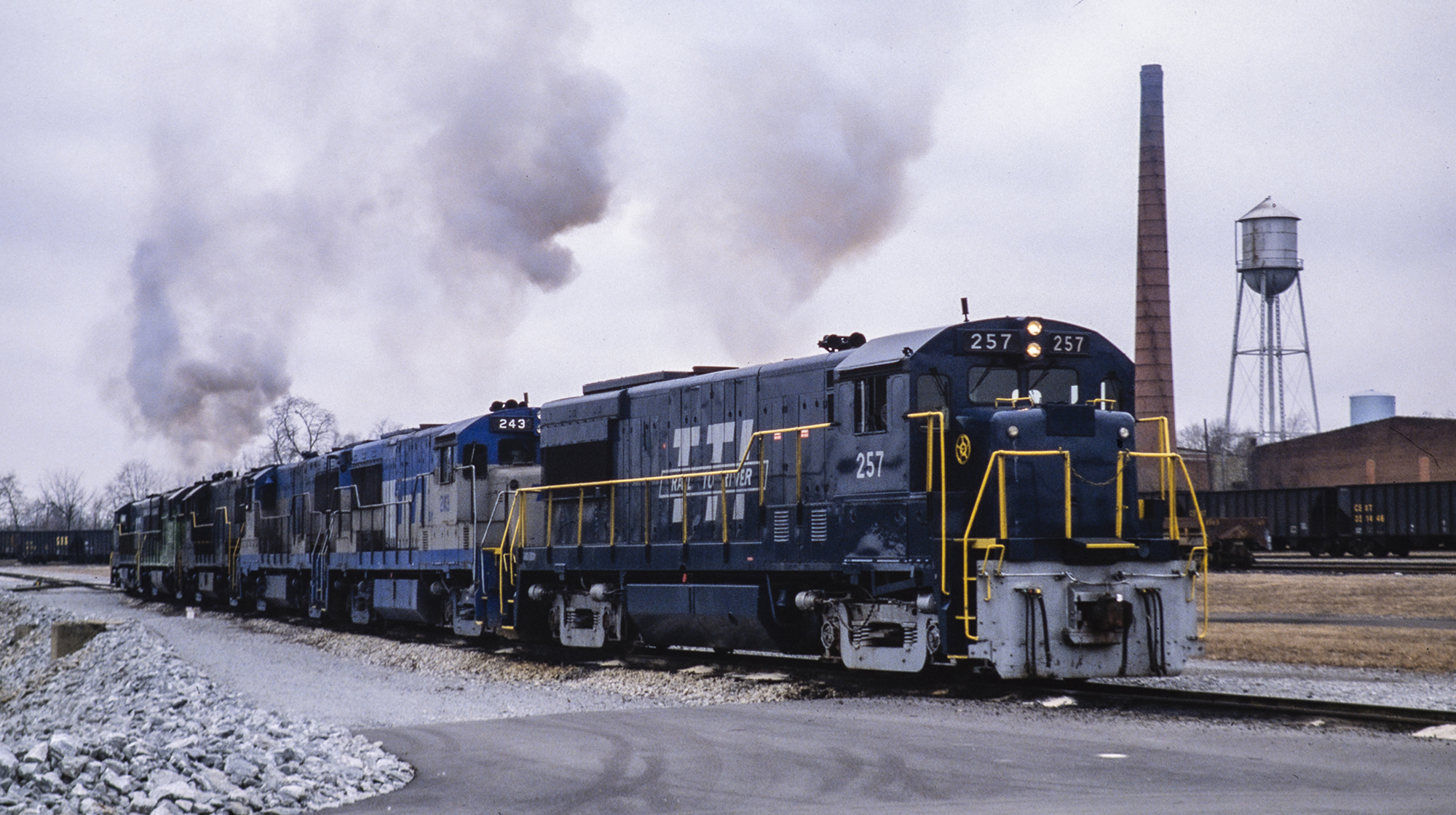 Smoke 'Em! A TTI Hostler makes a six-pack of TTI U28Bs come alive while being moved onto an outbound hopper train for Maysville in December 1991.  No. 257 sports a later dark blue with silver trim and its distinctive "Rail To River" herald that was continued on the U36B fleet.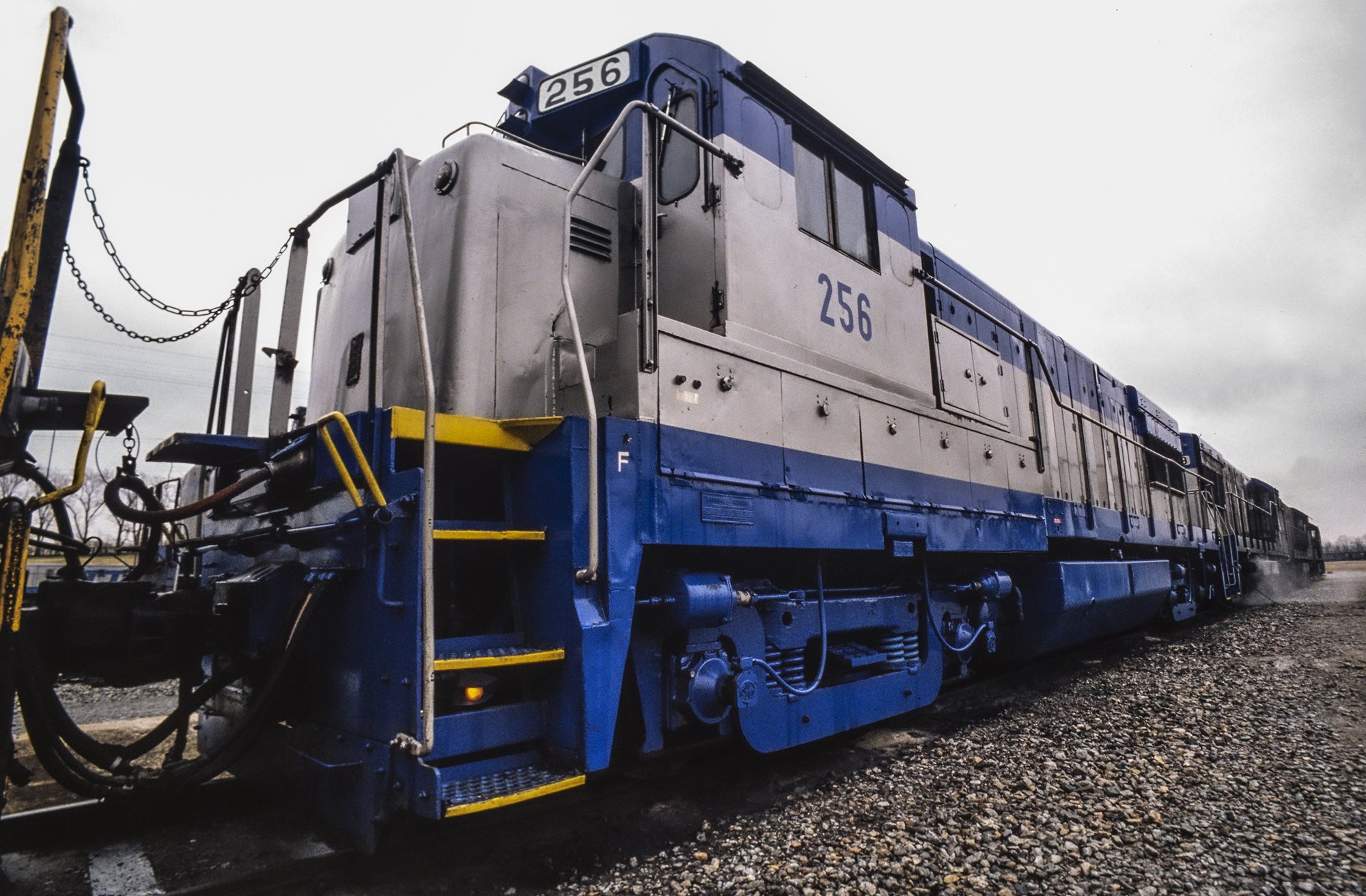 All Cleaned Up. U28B No. 256 is an ex-CB&Q/BN locomotive and was freshly washed on a Saturday in December 1991. Unlettered, other than numbers, units tended to turn black under constant use in this season of TTI operations. No. 256 sports the newer style of U28B carbody missing the familiar "U25" step on the back end of the carbody, and became more representative of later GE models..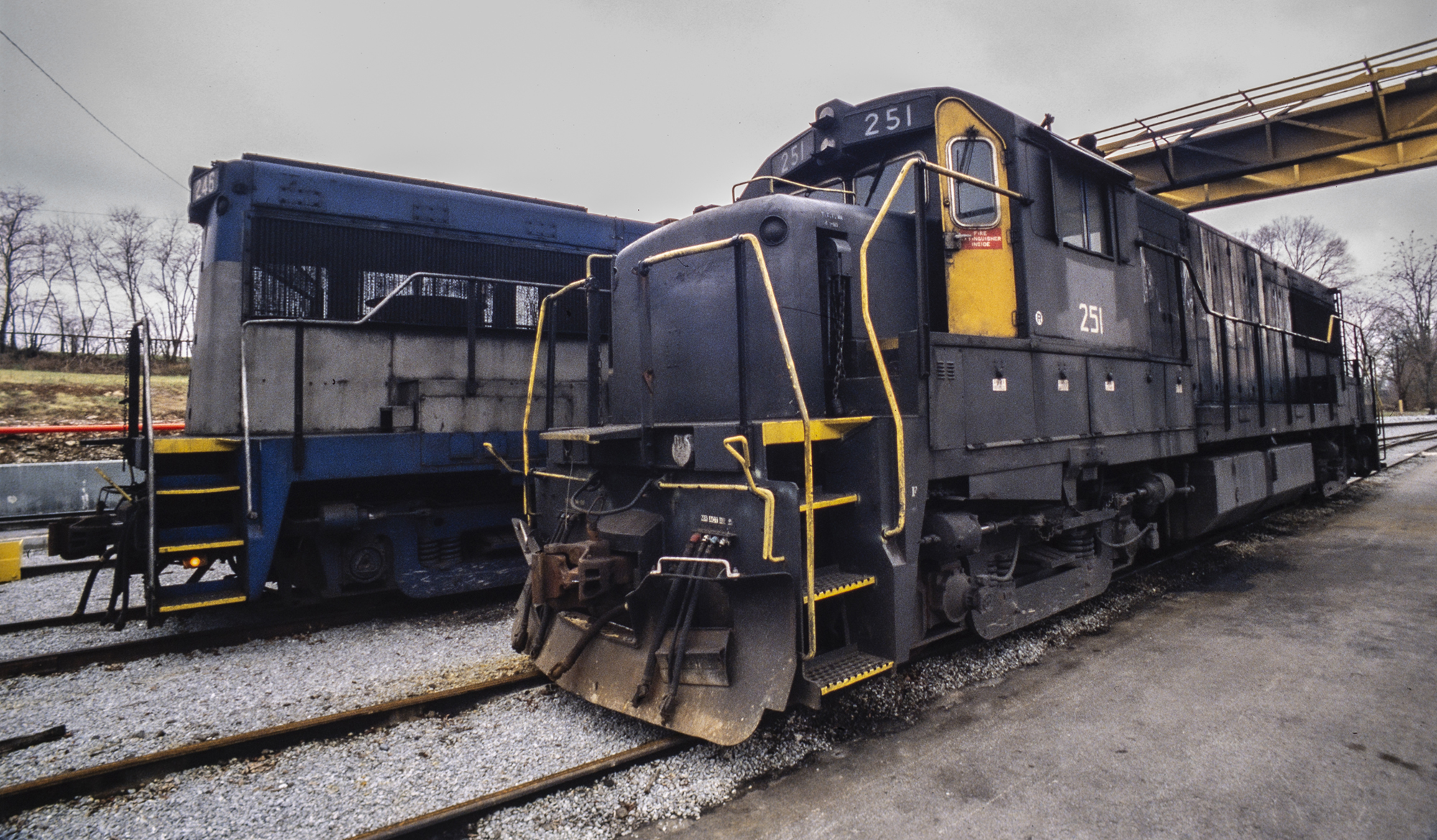 U28B's. Ex-P&LE No. 251 and Rock No. 246 sport the early U28B-style carbody, with the back "U25" step over, below the radiator fan. No. 251 never received paint and was retired in 1993 in P&LE black and grime with yellow doors.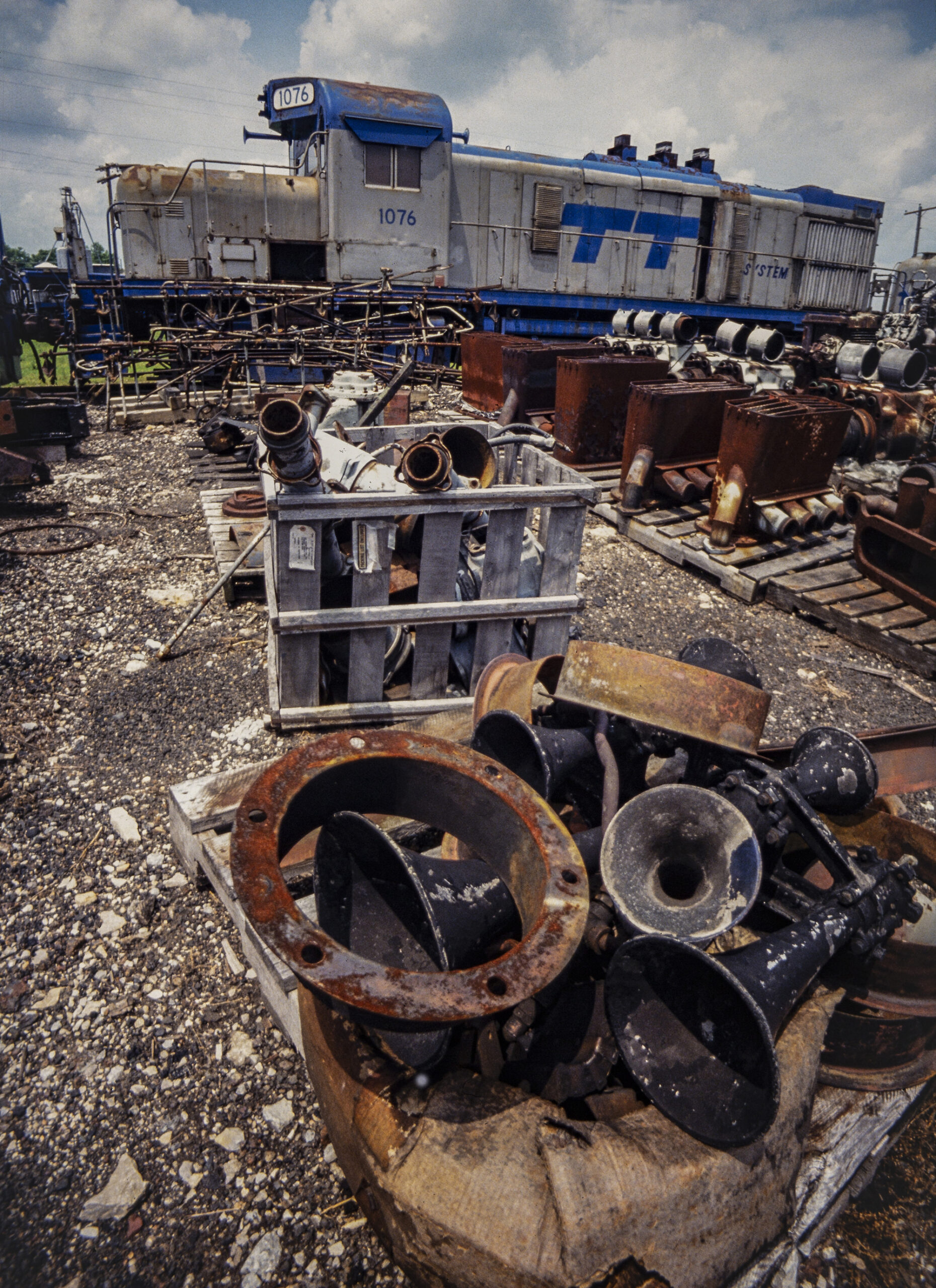 GP12. TTI No. 1076 was an ex-MoPac RS3, created by Missouri Pacifics North Little Rock shops, reengined with EMD 12-567. The engines were rated at 1200 hp and handled the initial opening of the line. Here the last GP12 on the roster stands in pieces on a whisker track of TTI's Paris roundhouse. Parts may be just parts, but a splendid Leslie S5 whistle is found buried under the rubble alongside.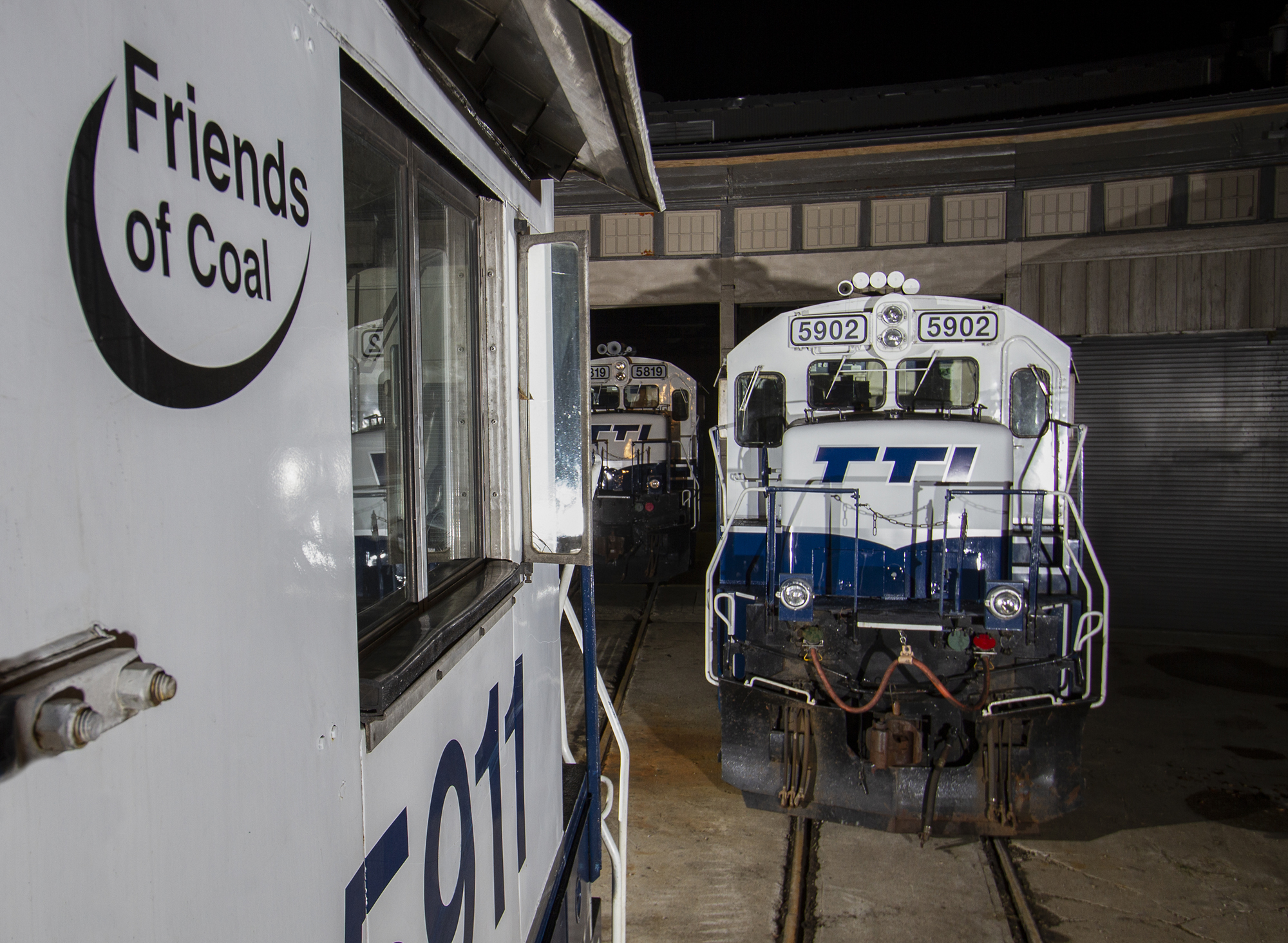 Friends of Coal. On Aug. 8, 2014, TTI No. 5911 faces white sisters, Nos. 5902 and 5918, outside the 1918-built roundhouse in a staged night photo session.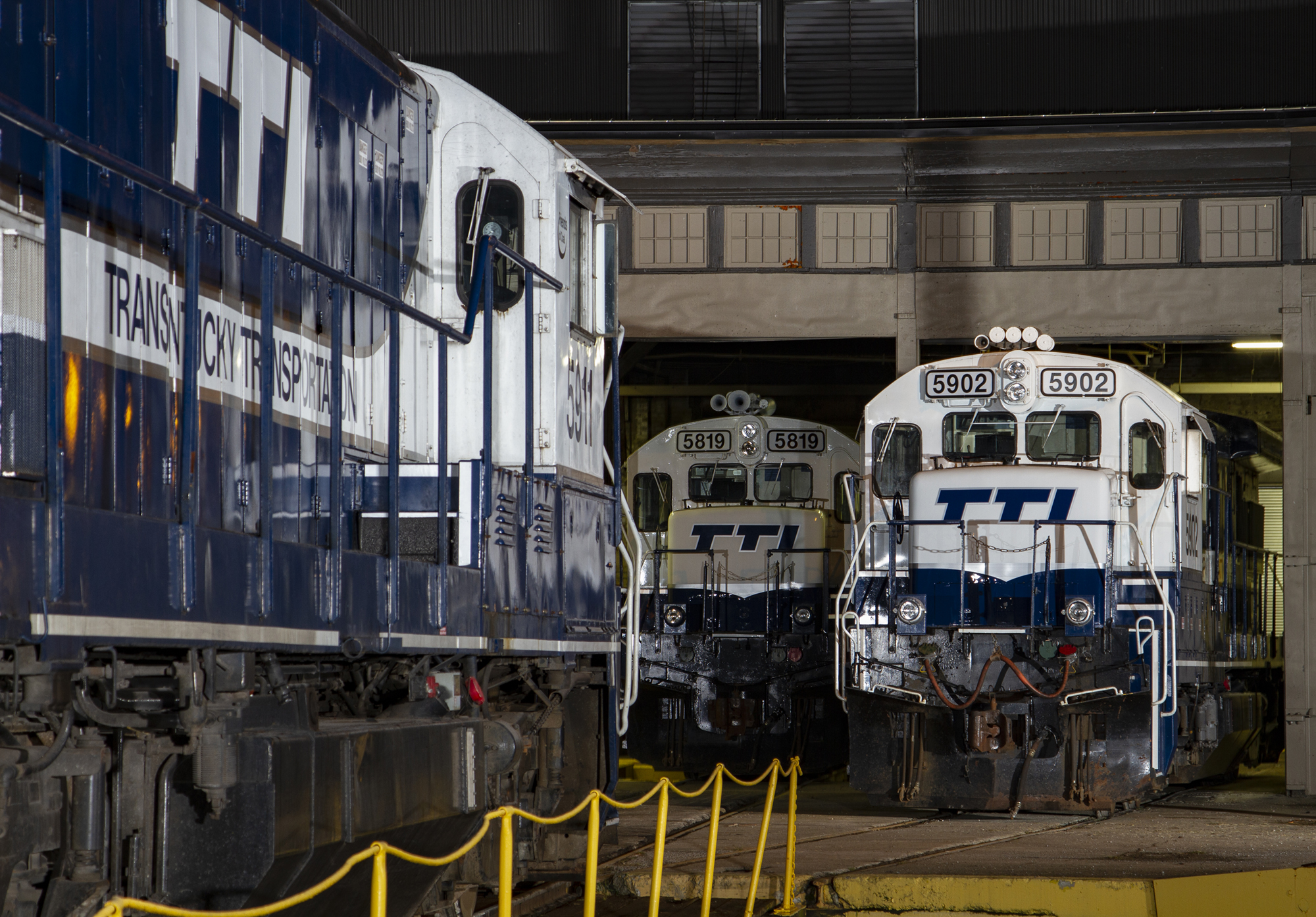 Friends of Coal (take two): Another view of staged photo shoot from Aug. 8, 2014.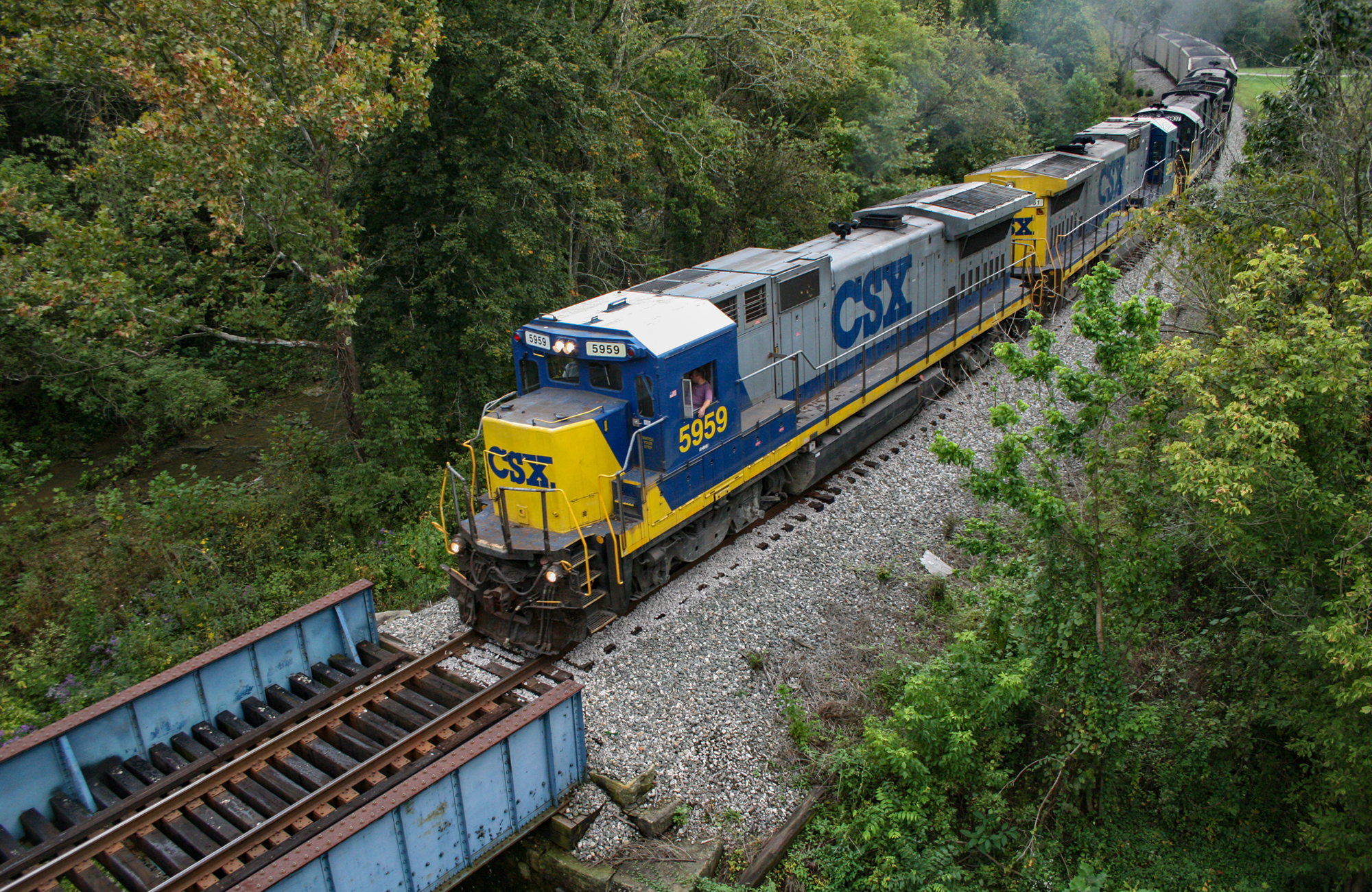 Testing, Testing. CSX Dash 8 40Bs, Nos. 5959 and 5951, were tested for a fall season (when track conditions are worse) to see if the added 400 horsepower and microprocessor control could better tame TTI's profile. Deemed too expensive to buy and maintain, TTI decided to add more B36-7s bought at near scrap prices. Here the "Techno Toasters" pull loads north over Scrubgrass Creek at Myers, Ky. with two sister B36s.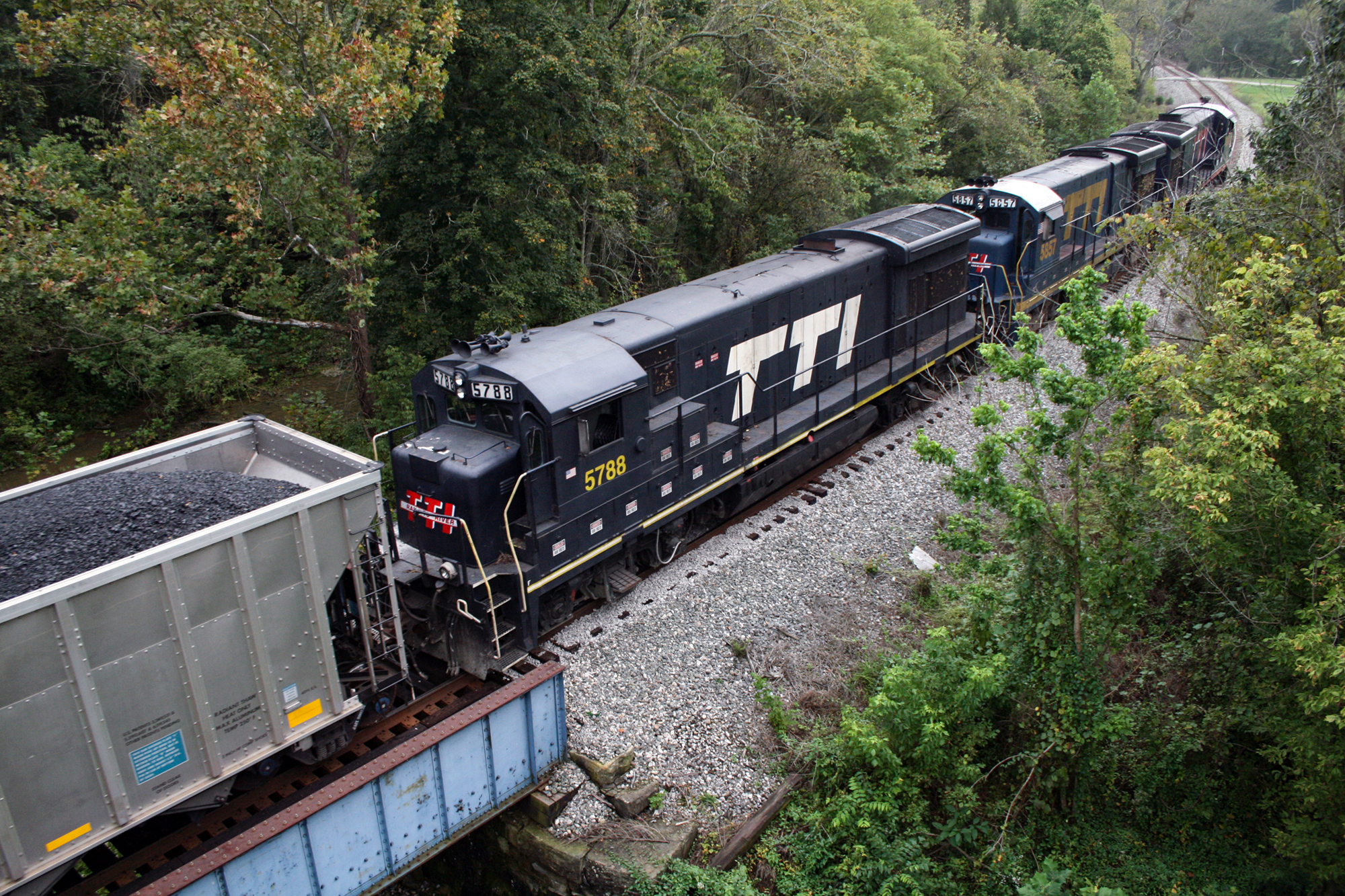 Push-Pull. Trailing 92 loads of coal for Spurlock, a U36B and two more B36s in solid blue shove across the railroad in a push-pull fashion. This negated a time-consuming run-around move once the train was on the busy (at times) C&O main line at Maysville on Sept. 23, 2009.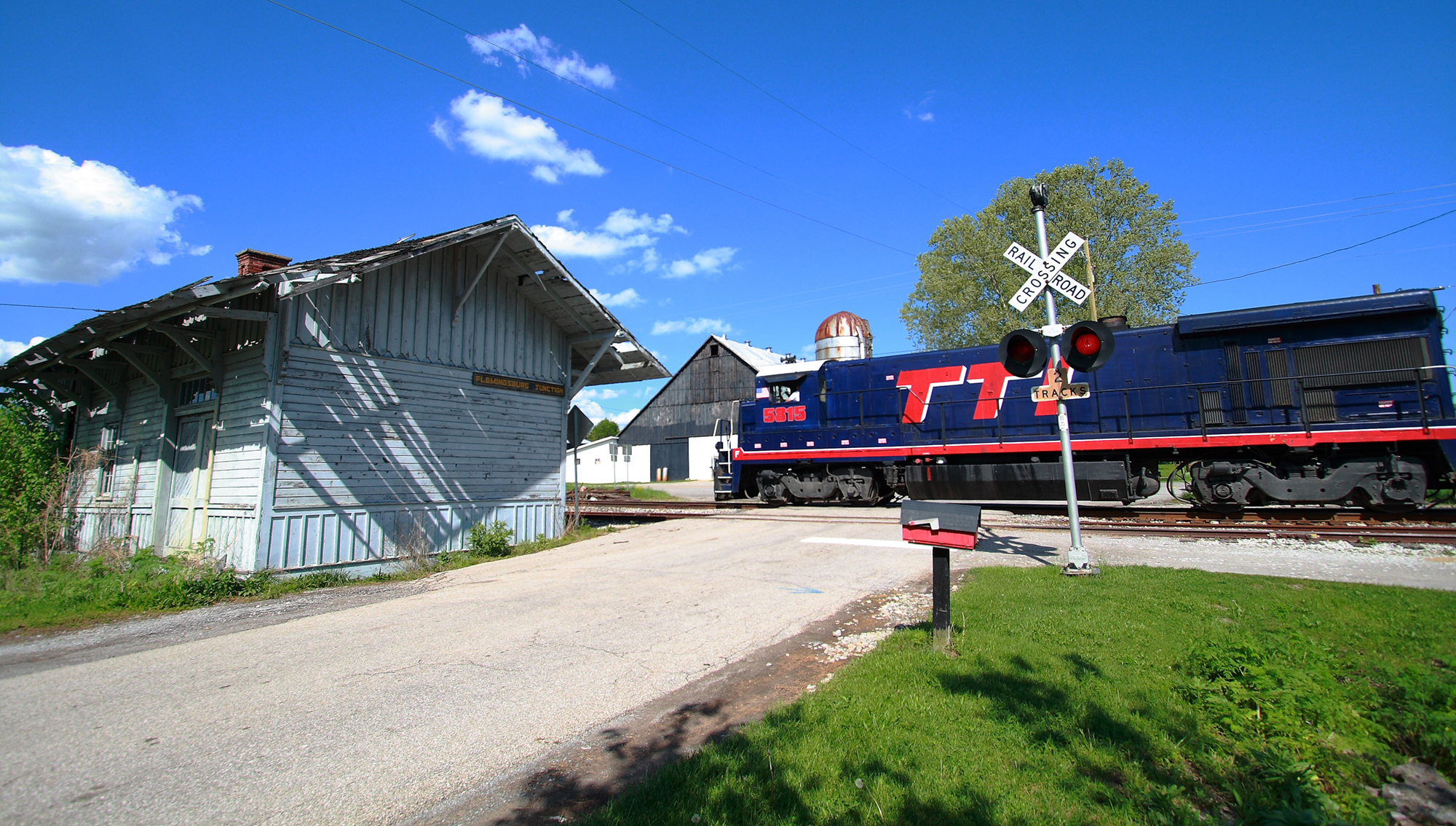 Flemingsburg Junction. Once hosted another branch off the L&N Maysville branch. A dilapidated L&N Depot was a wonderful prop that was sadly torn down not long after this May 3, 2010 view of the No. 5815 northbound on loads in clean blue and red paint. In its last years of service, No. 5815 was eventually painted as the only TTI unit to receive platinum mist silver with white paint.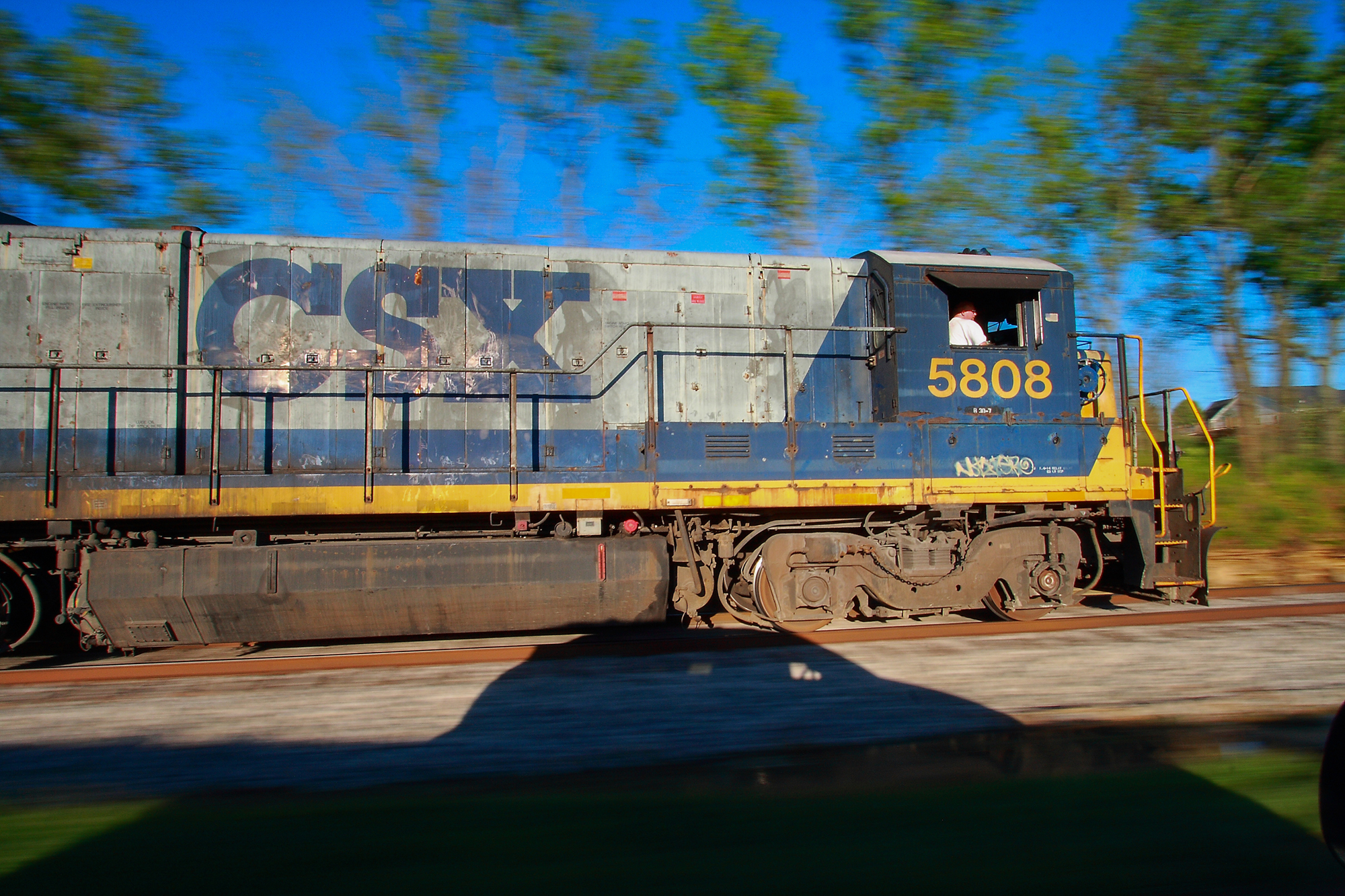 Thoroughbreds. Pacing these guys was always a must to Lewisburg. B36-7s were fast locomotives designed for high-speed intermodal service. Indeed, they did perform well in that capacity for many years. However, No. 5808 is now a racehorse relegated to plow service and barely gets to stretch her legs at 30 mph southbound with empties still in faded CSX paint on May 3, 2010.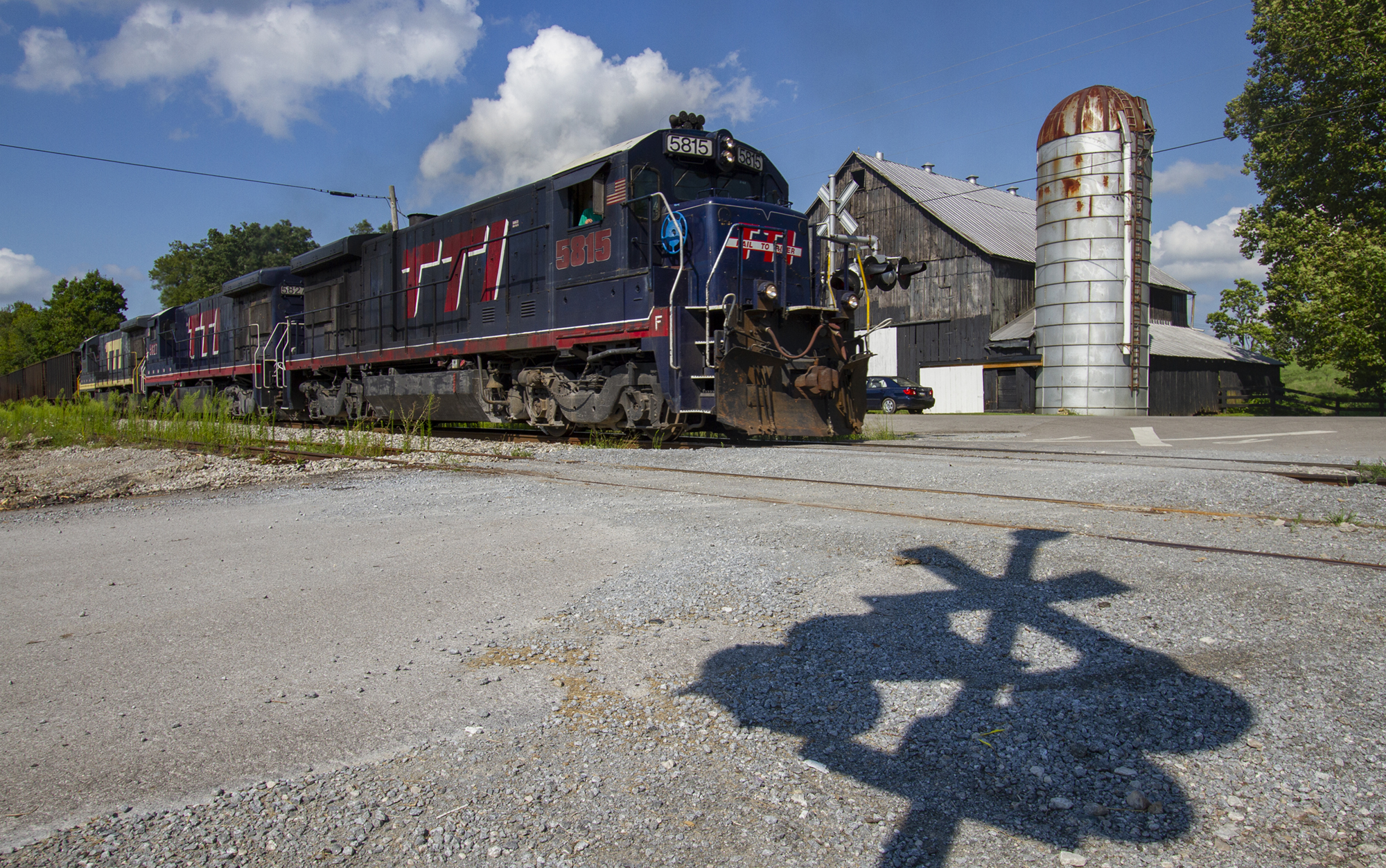 TTI No. 5815. Probably the most painted B36 of the fleet. It was first delivered in Seaboard System gray and repainted into the original CSX "yellow nose-1" paint by 1991. The unit then got full CSX bright future paint in 1994. No. 5815 then entered TTI service soon after, was repainted into this attractive blue and red paint before finally getting the new white treatment. This unit being the only one to get platinum mist gray/silver. Flemingsburg Jct., Aug. 12, 2012.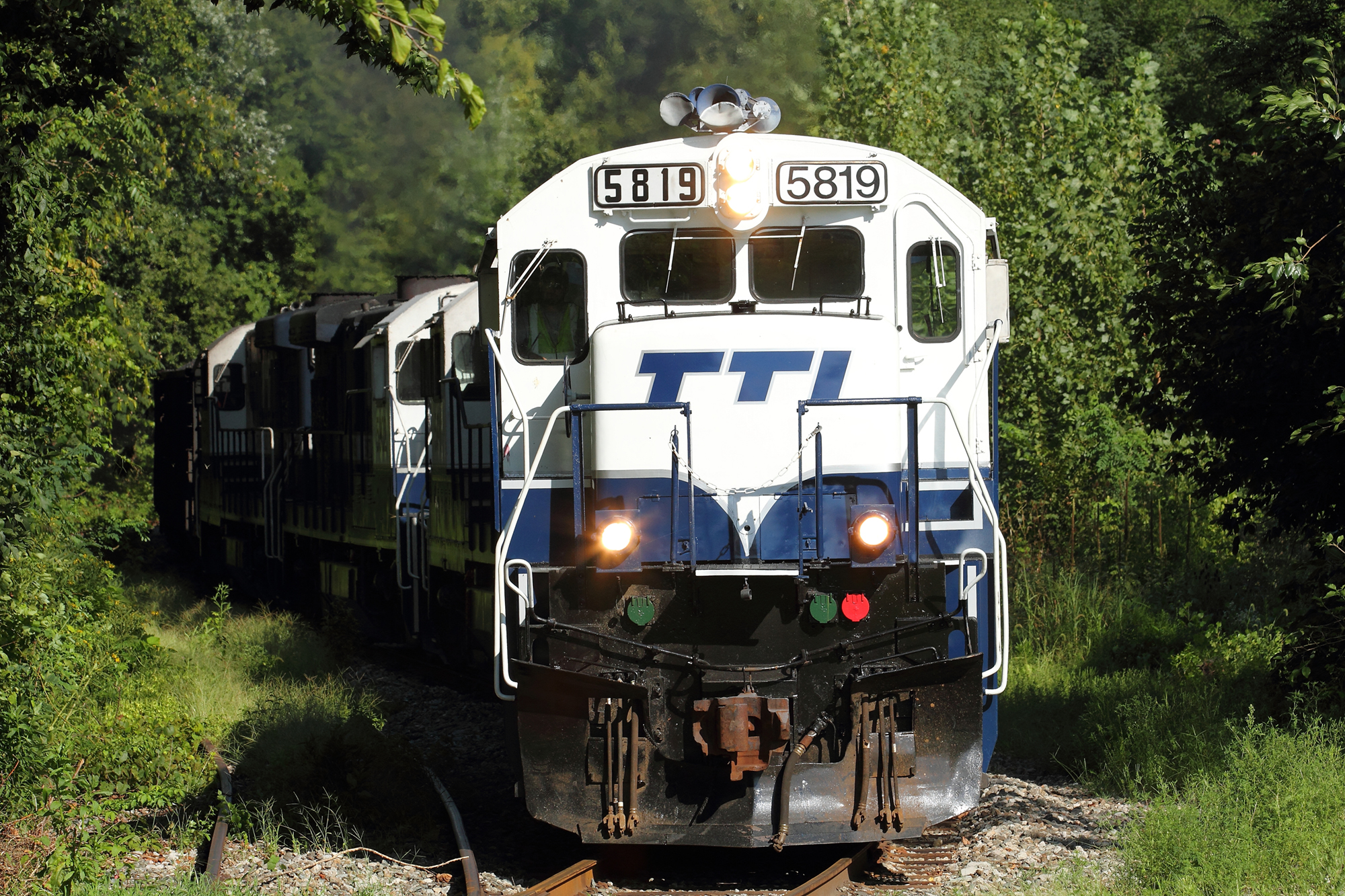 Four Pack. Finding four matched white B36-7s wind loads down into Maysville, Ky., was a real treat. The fact that near the end of operation, TTI units were kept immaculately clean was a true joy to photograph. It was a stark contrast to the first 20 years of near-black locomotives. Aug. 10, 2012.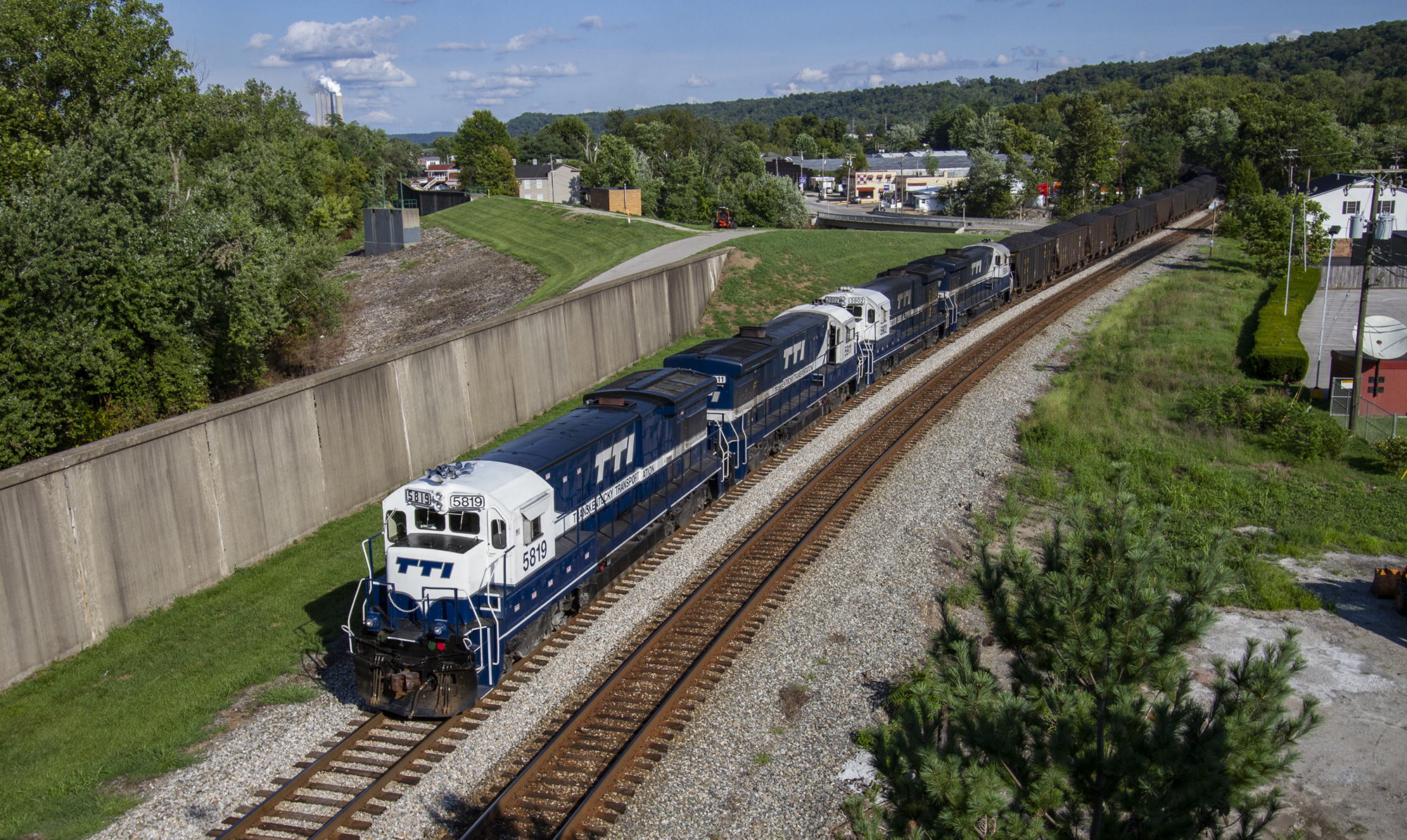 Welcome to Maysville. Our four pack of whites gently ease down the former CSX (C&O) Cincinnati-Russell main line in an effort to get his rear end completely out onto the CSX, before changing directions with another four B36-7s on the rear end. Then pulled east to the dumper riverport on the east side of downtown Maysville on Aug. 10, 2012.


Survivor. TTI U28B No. 260 was the sole remaining U28B in operation, which was used as the dumper locomotive at the Maysville facility. No. 260 swings into action and is about to pull a small cut off a short-loaded train at the Maysville River Terminal. No. 260 survived the closing of TTI at Maysville. Eric Hendrickson of CSX is credited for saving and donating it to the Illinois Rail Museum (IRM) in June 2019. No. 260 will regain her original CB&Q Chinese Red paint and No. 114 at a later date. She will be appreciated in operation for many years to come. Maysville, Aug. 25 2015.