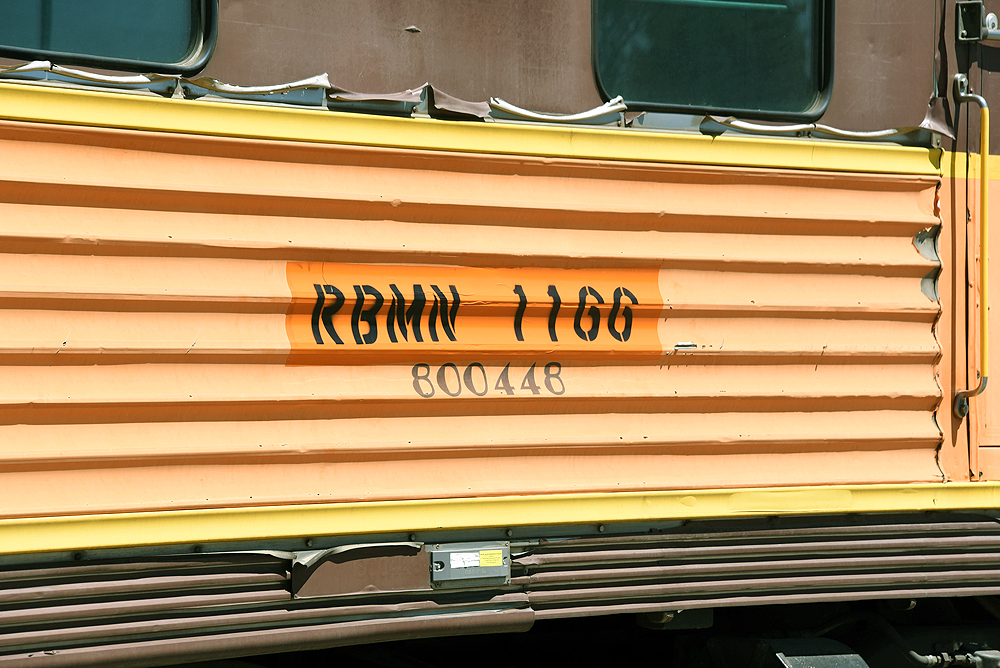 The unrelenting Colorado sun has faded the Illinois Central paint on New York Central diner No. 448 built by Budd in 1947 and now destined for Reading & Northern. Jim Wrinn photograph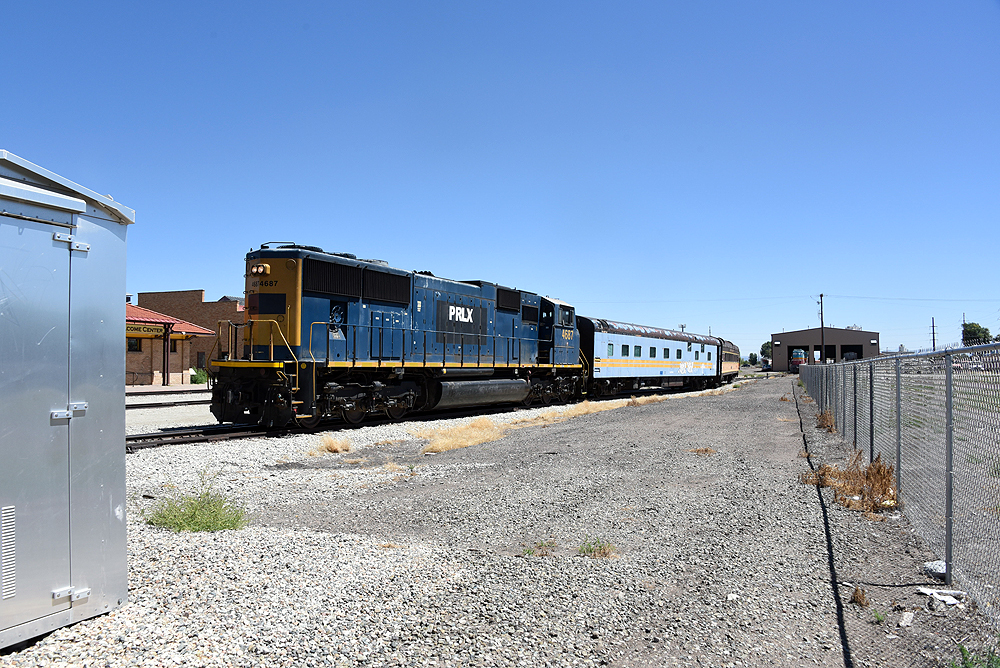 Trustee's leased Progress Rail SD70M No. 4687 moves former VIA Rail Canada sleeper Ellerslie into the Alamosa shop area. Jim Wrinn photograph


San Luis & Rio Grande F40s 227 and 459, former Amtrak units, flank an E unit in the Alamosa yard. Jim Wrinn photograph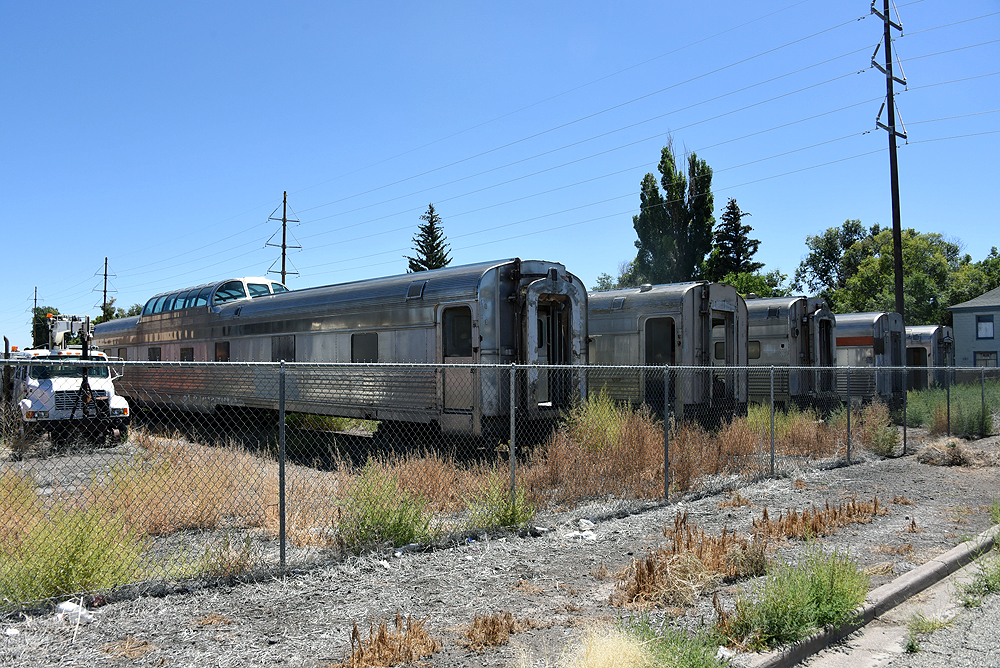 These five passenger cars are stored at the Alamosa shop without trucks. They rest on cribbing. Jim Wrinn photograph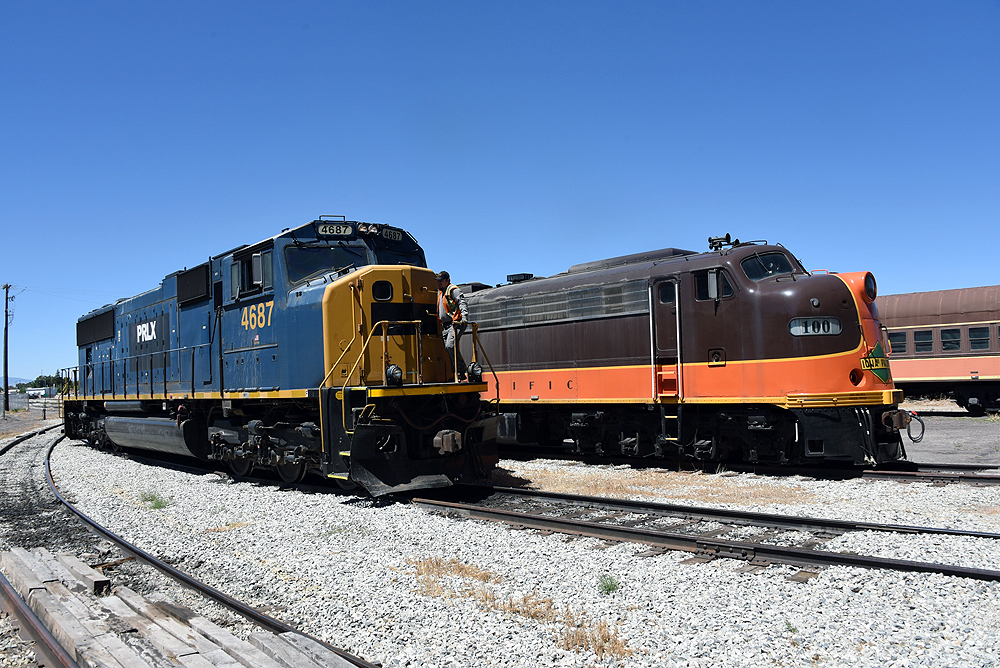 Trustee's leased ex-CSX SD70M No. 4687 switches the Alamosa shop while former Iowa Pacific E9 No. 100 anticipates its future. Jim Wrinn photograph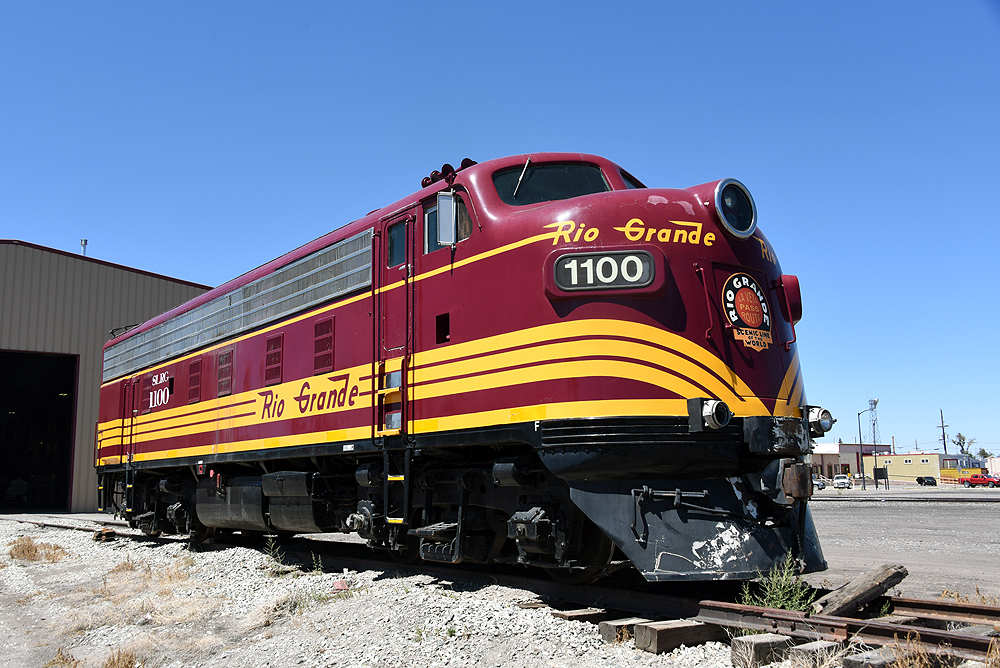 One of the most impressive locomotives still on hand in Alamosa is FP10 No. 1100, which began life in 1946 as a Gulf Mobile & Ohio F3 and was later rebuilt for commuter train service in Boston. Jim Wrinn photograph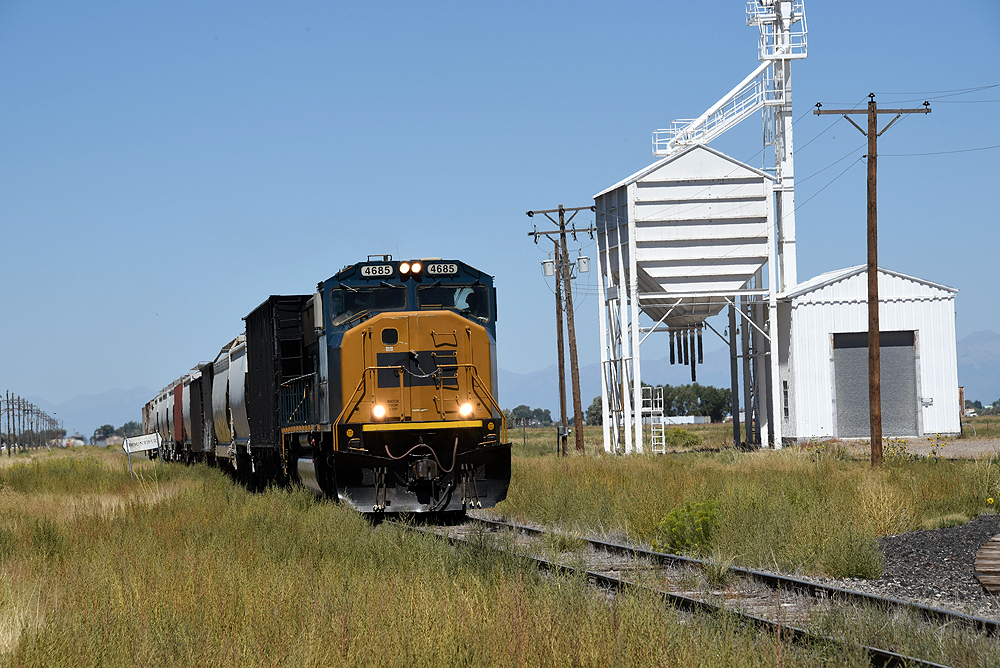 Slowly plying the branch between Alamosa and Antonito, Colo., the trustee's SD70M No. 4685 passes a grain elevator at Bountiful, Colo. Jim Wrinn photograph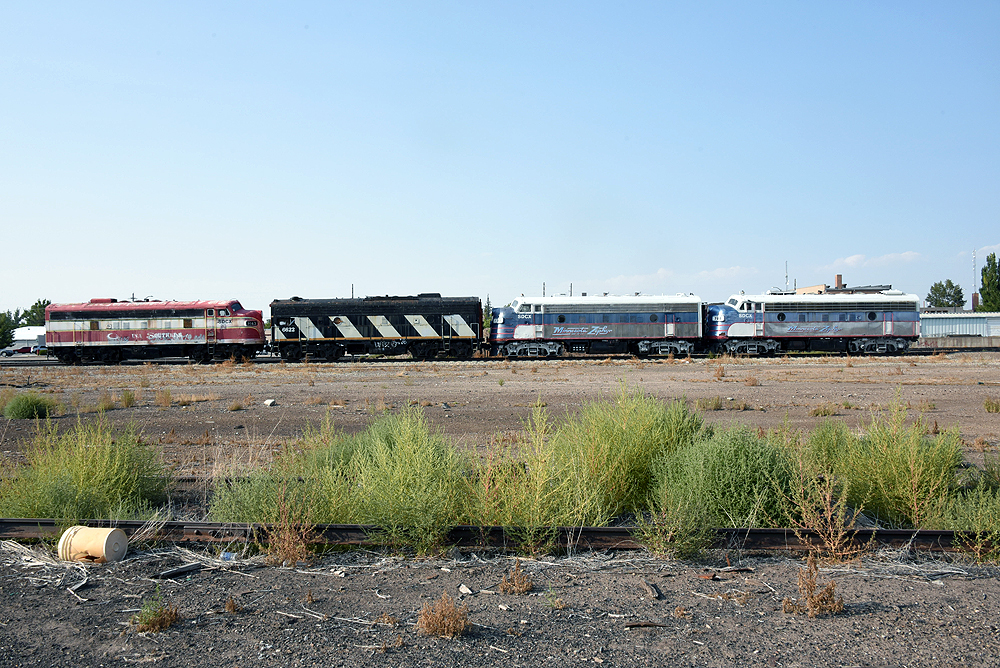 Stored in the yard at Alamosa are former Carolina Southern F7 No. 9163, F7B No. 6622, and former Minnesota Zephyr F7s Nos. 787 and 788. Jim Wrinn photograph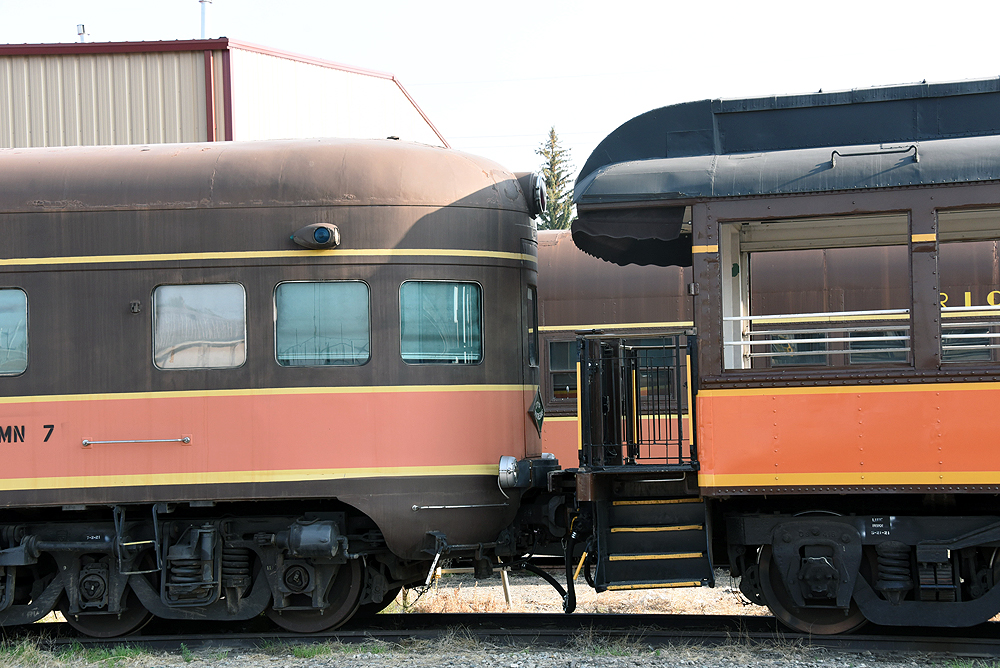 Two superstars of the passenger train and excursion world, left, Illinois Central Mardi Gras, and right, Southern Railway open air observation Lookout Mountain, share track in Alamosa. Jim Wrinn photograph
ALAMOSA, Colorado — Iowa Pacific Railroad equipment rolled out of Alamosa in the San Luis Valley bound for days of fun, music, and beer in the Colorado mountains until just a few years ago. The Illinois Central colors of Iowa Pacific Holdings and the trains of the San Luis & Rio Grande added to the landscape.
Today, in Alamosa, freight trains behind former CSX SD70Ms (leased from Progress Rail) still run on behalf of the trustee placed in charge of the receivership of the bankrupt Iowa Pacific, and Rio Grande Scenic's rolling stock is for sale, or sold, and waiting on brake valves and inspections before moving out to new homes.
In late August 2021, 11 passenger cars bound for Pennsylvania regional Reading & Northern had been stenciled for their new owner. Freight trains still made the twice weekly trip to Antonito, Colo., on what were once dual gauge tracks of the famed Rio Grande narrow gauge. But tourists no longer clamber on board fun trains. A buyer for the railroad is being sought, but so far the freight operation continues under the trustee.
Gathered at the shop in Alamosa were luminaries in the passenger and excursion train world, including former Southern Railway steam program open-air coach Lookout Mountain and the former Illinois Central streamlined observation-lounge car Mardi Gras. The two cars were parked tail to tail.
The 11 cars bound for R&N will boost the railroad's fleet of some 30 passenger cars currently used in excursion service over portions of the company's 400-mile system in east-central Pennsylvania.
Other Iowa Pacific Railroad equipment:
• Former SL&RG No. 59, a full-length "Super Dome" car built by Pullman-Standard in 1952 as part of a 10-car fleet for the Milwaukee Road's Olympian Hiawatha and Twin Cities Hiawatha service. Built as Milwaukee No. 59, it will join another former Milwaukee full-length dome already on the roster, R&N No. 4, Lehigh Gorge, formerly Milwaukee 55. The newly acquired car will become R&N No. 5. It formerly ran on Amtrak trains as car No. 9383 and subsequently in tour-agency service. It differs from R&N No. 4 in that its appearance was modified with the addition of fluted-side skirting.
• Former SL&RG 1056, Lookout Mountain, ex-Southern Railway No. 1595, a 60-seat heavyweight coach rebuilt by Southern as a 44-seat open-air car for that railroad's (and successor Norfolk Southern's) steam program, which operated for 30 years, 1964-1994. It will become R&N No. 20.
• Former SL&RG No. 3305, Mardi Gras, a streamlined observation-lounge rebuilt in 1947 from Illinois Central 1916 heavyweight 88-seat coach 2188 to serve on the City of New Orleans, IC's secondary intercity train on the Chicago-New Orleans route. This car has a long history in excursion service for the New Orleans and Roanoke chapters of the National Railway Historical Society. It will become R&N 7.
• Former SL&RG No. 3378, Calumet Club, built by Pullman in 1918 as IC 88-seat coach No. 2211 and rebuilt in 1952 as a streamlined flat-end parlor-observation-lounge car. It will be renumbered R&N 6.
• Former SL&RG No. 2904, originally IC heavyweight coach No. 2221, will become R&N 450.
• Former SL&RG No. 1062, Chuchara Valley, formerly Canadian National heavyweight coach No. 5067. It will become R&N No. 1165.
• Former SL&RG No. 1066, a 46-seat heavyweight coach, originally Southern 60-seat coach No. 1649. To become R&N No. 451.
• Former SL&RG No. 1067, Gila Valley, a 46-seat heavyweight coach, originally Southern 60-seat coach No. 1670. Will become R&N No. 452.
• Former SL&RG No. 1068, San Luis Valley, a 46-seat heavyweight coach, originally Southern 60-seat coach No. 1668. Will be renumbered R&N 453.
• Former SL&RG No. 1125, Ellerslie, a streamlined sleeper, built by Pullman-Standard in 1954 for Canadian National and later operated by VIA Rail Canada. An eight-duplex-roomette, four-double-bedroom, four-roomette car, it will be renumbered to R&N 1125.
• Former SL&RG No. 448, originally New York Central diner No. 448 and later Penn Central No. 4548, and subsequently owned by the High Iron Co. excursion operation. A streamlined stainless-steel car built by the Budd Co. in 1947, it will become R&N No. 1166.
Additional passenger cars, E units and F units, as well as F40s are still in Alamosa awaiting new homes and new fates.