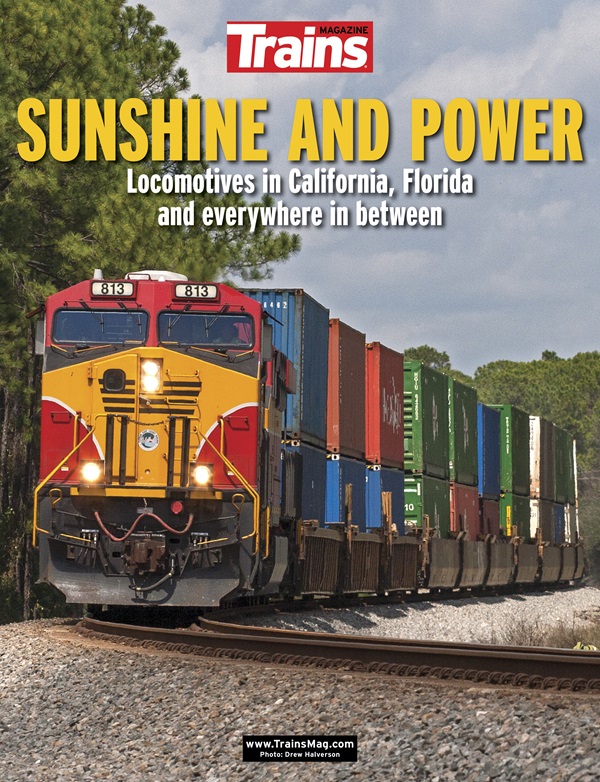 Locomotives are the power behind the rail industry, and capturing the perfect photo of a locomotive is no small feat. That's why Trains magazine is offering this 40-page special download all about locomotives.
This free PDF includes an in-depth guide to rail-fanning in Los Angeles, where there's no shortage of activity from the likes of Union Pacific, BNSF, Pacific Harbor Belt, Metro Rail, Metrolink and Amtrak. The section features a detailed train-watching map, and information on spotting trains in locations such as Fullerton and Sixth Street in Los Angeles.
Also included: A look at why Florida East Coast Railway's new GE Transportation ES44C4s, which have replaced the railroad's all-EMD fleet. Why did FEC change locomotive manufacturers? And what do they think the benefits of the ES44C4s are? We'll cover that and more.
And finally, you'll have access to a big-picture study on the power that drives North America's largest railroads, with an in-depth review of the diversity and defining trends of modern motive power. This section includes a freight fleet overview of the top seven railroads, with details on each railroad's total locomotive fleet size, builders, top models and more.
Downloading this guide is easy – simply enter your email address below!
Get Your FREE PDF Download
Enter your email for access to Locomotives.
By entering your email you may also receive newsletters, reader surveys and occassional special offers from Model Railroader Magazine. View our privacy policy.