Unusual rolling stock: There is no doubt that today's trains are just not as colorful as those of a few decades ago. But just when you're cradled into thinking variety is a thing of the past, a piece of rolling stock pops up to make you take a second look.
Here's a few samples of what you might find out there including a few from yesterday you probably never knew existed.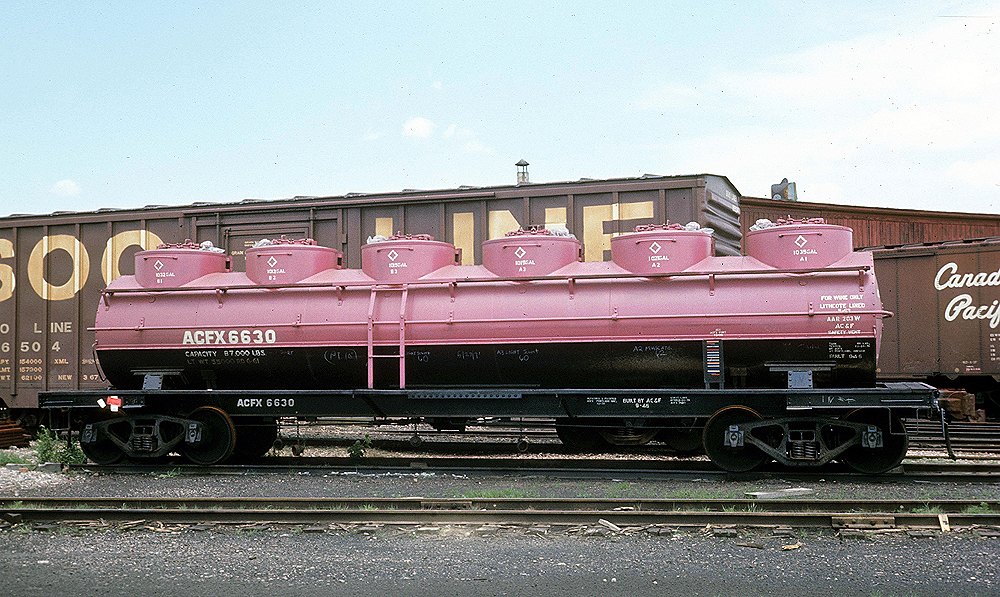 ACFX 6630 is a wine tank car. No, this is not something Lionel or American Flyer dreamed up but genuine vino on wheels. Hauling fermented grapes was a modest business commodity for railroads, and although demand has lessened these multi-domed cars can still be found working today. Bruno Berzins found this purple one in Schiller Park, Ill. in June 1970. – Lloyd Transportation Library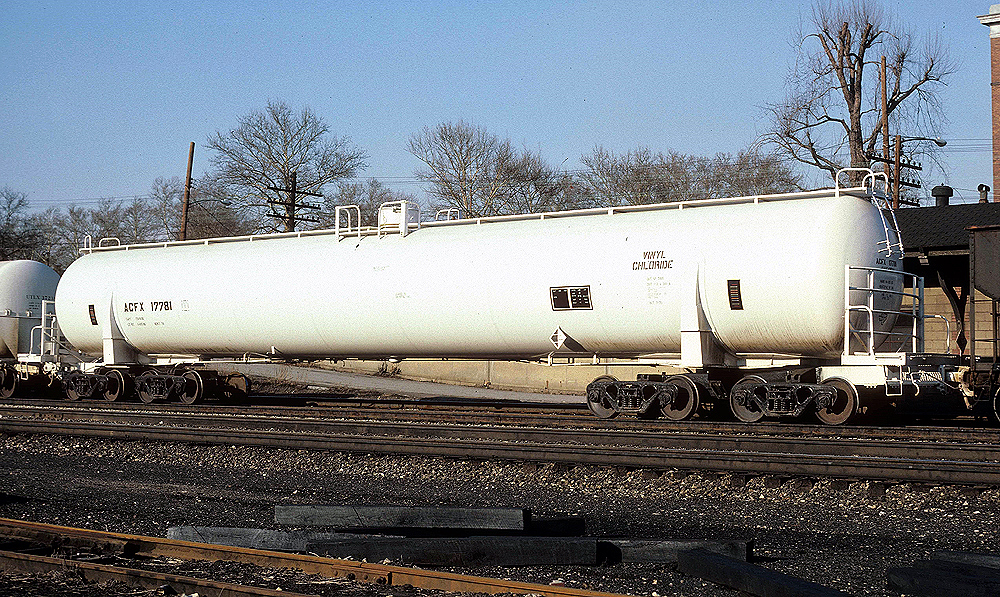 This big boy was one of 12 built by ACF Industries for its Shippers' Car Line Division in August 1970. Initial service was with Uniroyal, Inc., transporting vinyl chloride. It had a capacity of 302,000 pounds. The car worked until 2006 before being scrapped. – Lloyd Transportation Library.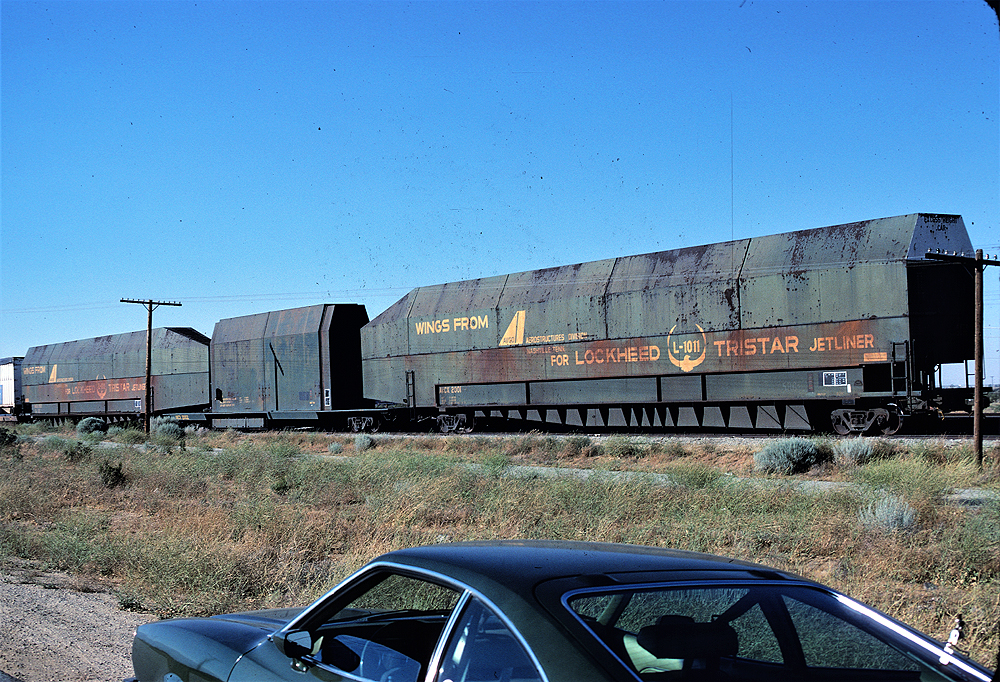 Another aircraft carrier. These were specially designed to haul the wings of the Lockheed L1011 Tri-Star wide-body passenger jet. It was competition to the Douglas DC10. Various components were built by Lockheed at the Hollywood-Burbank (Calif.) Airport and shipped by rail for final assembly at another Lockheed plant in Palmdale, Calif. Craig Walker found these gems June 15, 1978.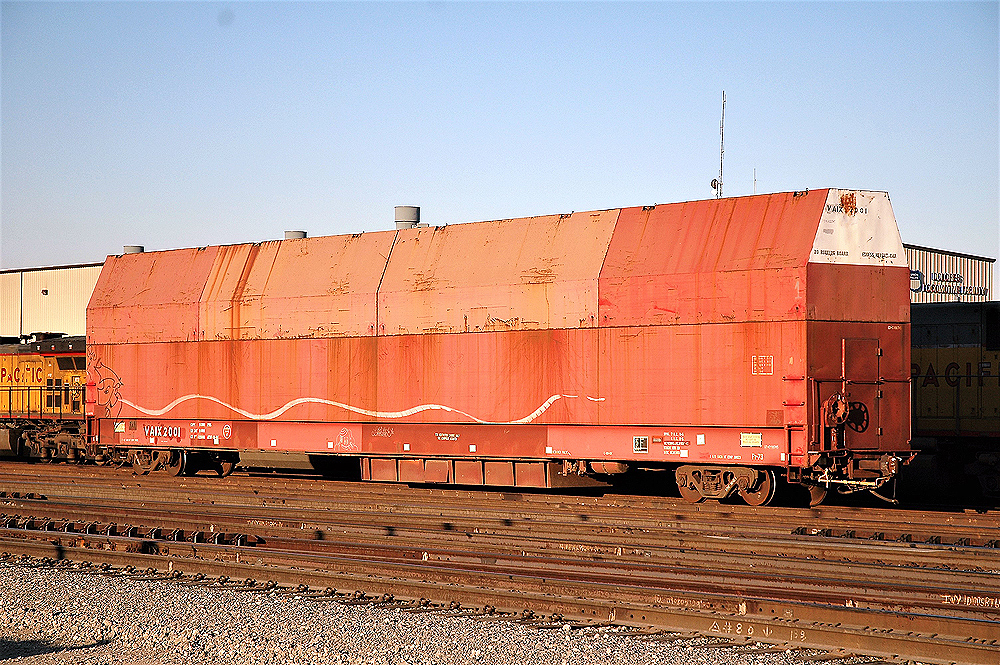 All sorts of planes begin their journeys on a train. Here is a specially designed wing carrier for the Boeing C17 Globemaster III, a four-engine cargo jet that is the backbone of the heavy lift capacity for the U.S. Air Force. The only thing bigger in the current inventory is the Lockheed C5 Galaxy. Carson, Calif., June 7, 2009. – Craig Walker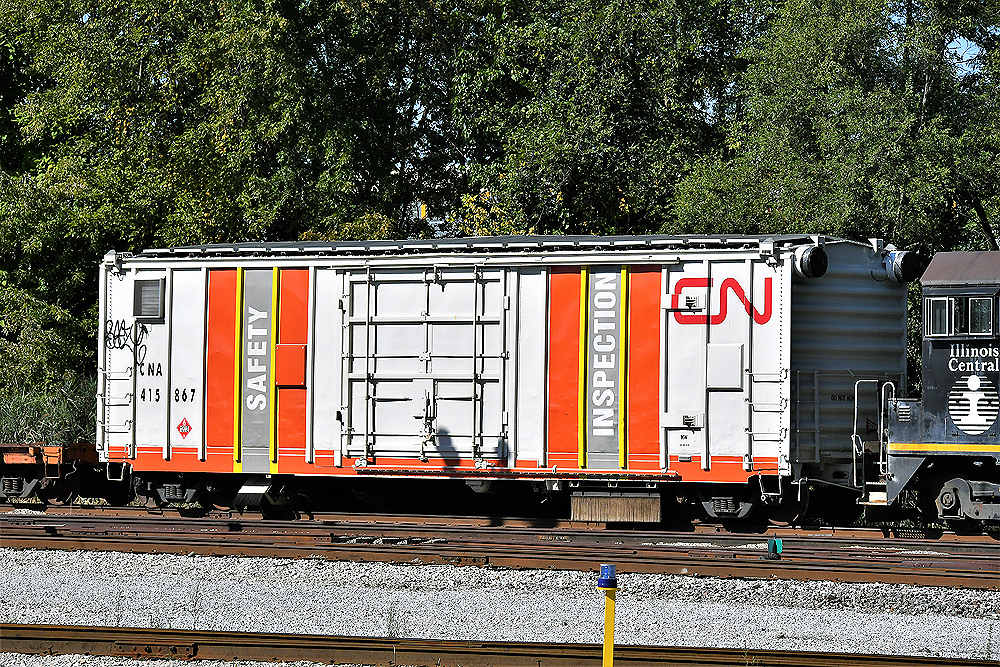 This car is part of Canadian National's Autonomous Track Inspection Program. The railroad says it is a fully automated rail car that employs wireless communications to evaluate and monitor real-time geometric track parameters without interrupting normal railroad operations. Powered by solar panels and a generator and travelling at revenue service track speed, the Autonomous Track Inspection Program uses sensor and AI technology to deploy fully automated track inspections 24/7 year-round. The test car was spotted at Homewood, Ill., Sept. 26, 2021. – Craig Walker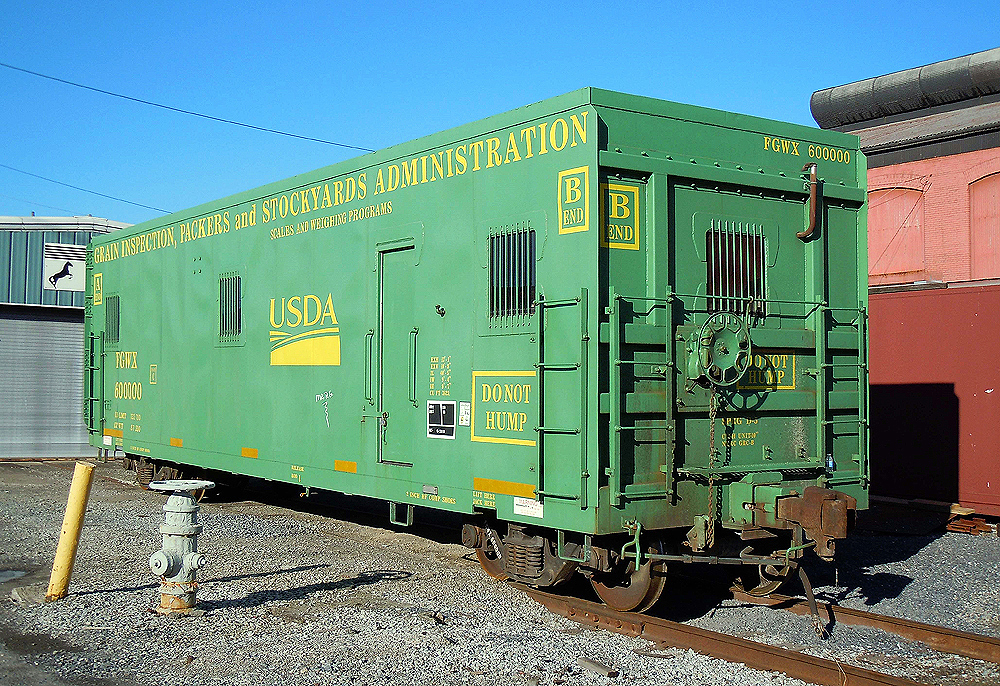 The U.S. Department of Agriculture's Grain Inspection, Packers and Stockyard Administration uses this car to calibrate track scales weighing agricultural products. Scale test cars are not uncommon, but are generally smaller [see "Ask MR: What does a scale test car do?" Ask Trains, Feb. 6, 2022]. Photographed at Altoona, Pa. – Lloyd Transportation Library.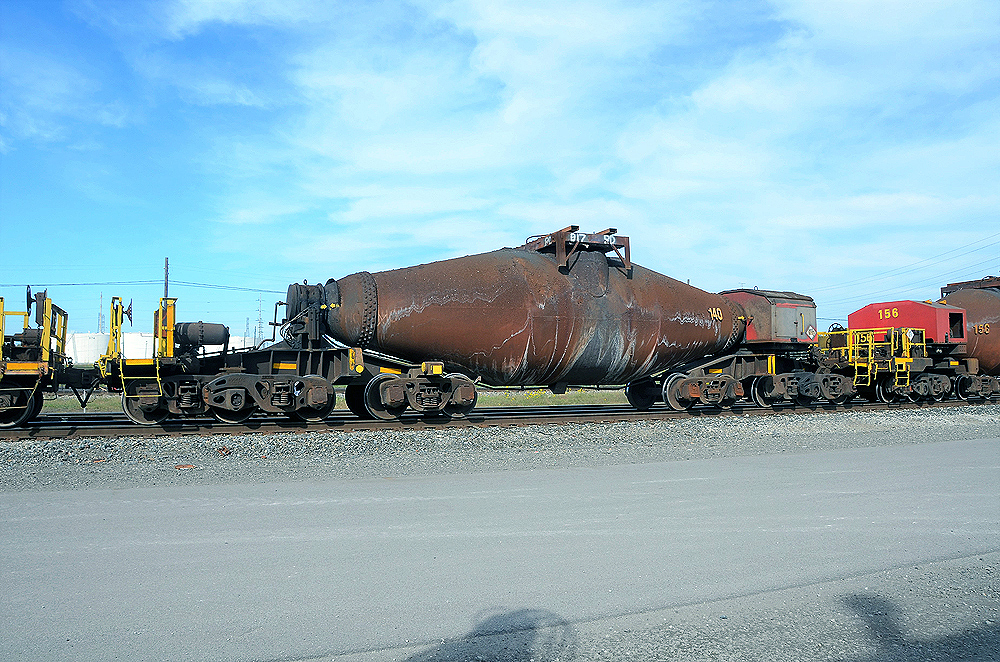 Inland Steel 140 is a hot metal car, or bottle car, used for transporting molten steel in the greater Chicago area. Built by Reichard Industries of Ohio, they not only manufacture hot metal cars, but ladle transfer cars, scrap bucket transfer cars, slag pot transfer cars, and slab transfer cars. Craig Walker found it on the Indiana Harbor Belt in Hammond, Ind., on Sept. 27, 2018.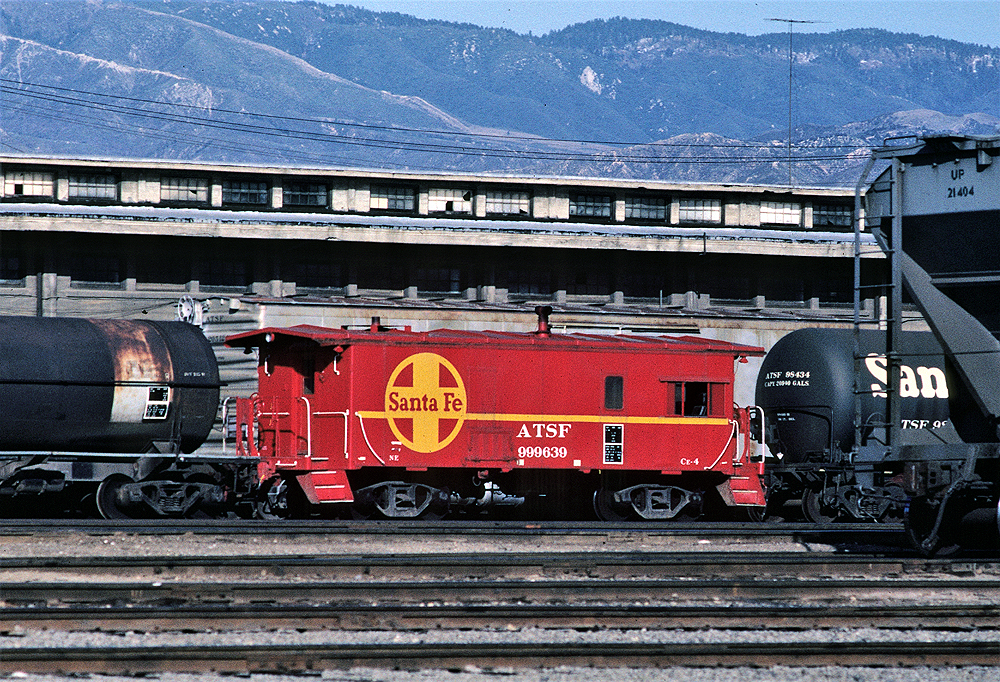 Is there something missing on Santa Fe caboose 999639? It started out as a run-of-the-mill crummy with a regular cupola until 1969 when the railroad rebuilt a trio of them for captive service on unit ore trains. So why remove the cupola? When the train was moving through the rotary dumper the caboose wouldn't fit with the cupola. In later years, the cars could be found almost anywhere on the system. Craig Walker found this one in San Bernardino, Calif., Dec. 30, 1982.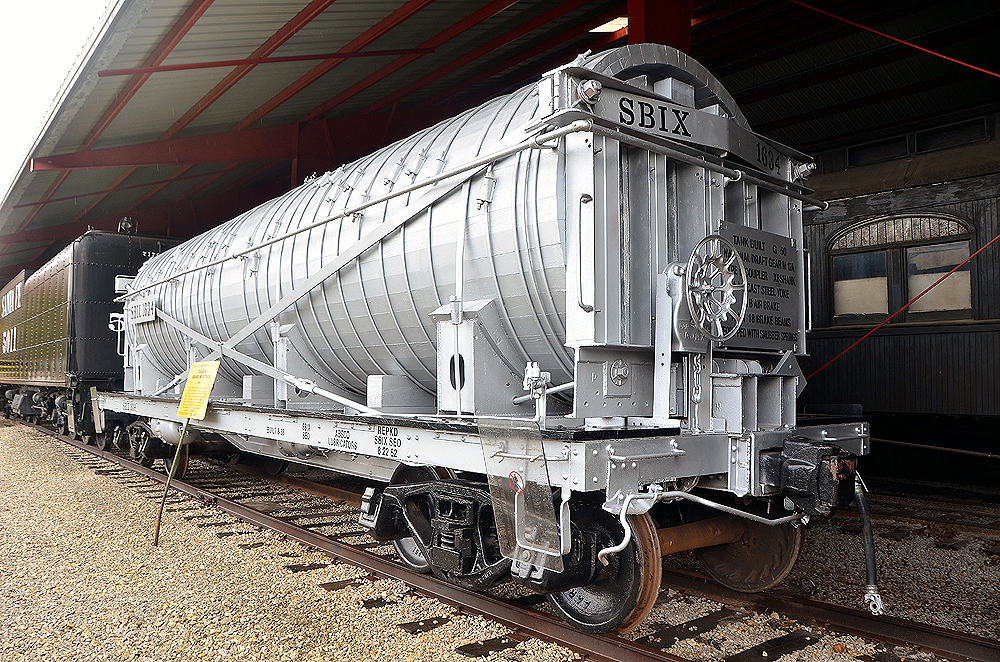 With a tank constructed of cypress and fir — metal would not work, as vinegar is too corrosive — this car was built by Standard Brands Industries in 1938. Able to haul 8,100 gallons, these tank cars were painted silver to reflect sunlight. According to the National Transportation Museum in St. Louis, where this one resides, there are fewer than six vinegar cars still in existence. – Craig Walker.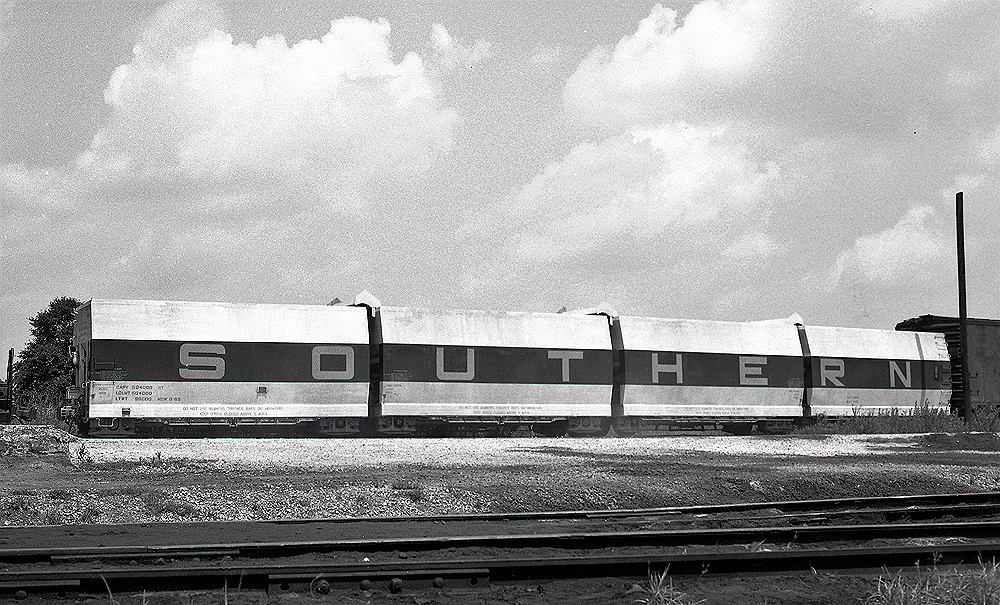 No. 100 was a unique experimental articulated hopper car, with each section riding on only two axles; a total of eight for the entire car. Primarily, the four units were constructed of aluminum. Other examples from the period included experiments with similar equipment on Chesapeake & Ohio, Santa Fe, and Canadian National. – Lloyd Transportation Library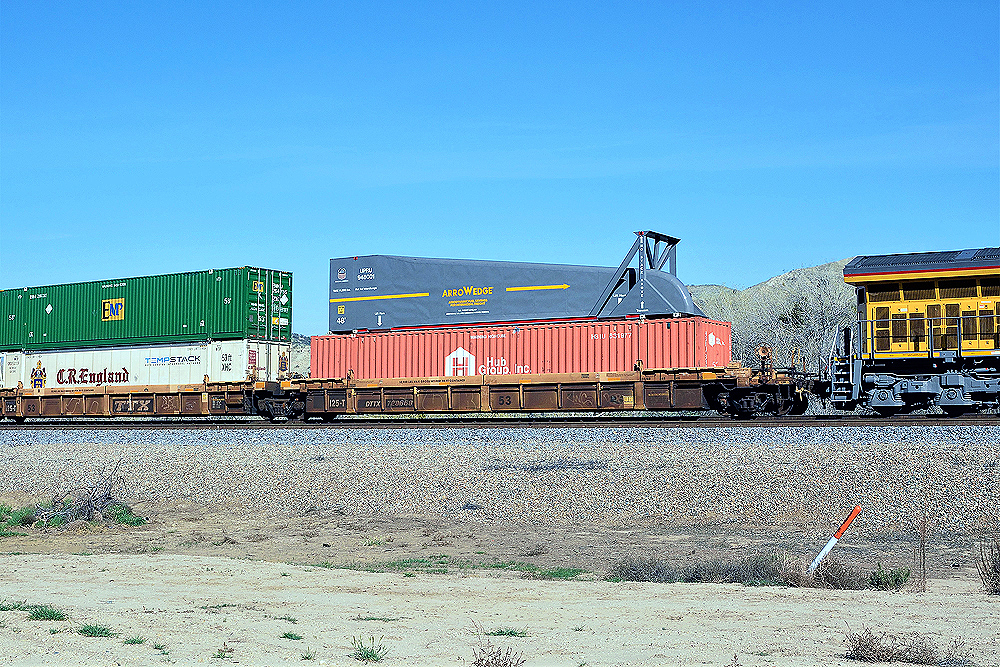 No, it's not a specially designed auto carrier for a Don "The Snake" Prudhomme funny car, but an aerodynamically sound ArroWedge. Its shape will "split" the effect of the wind buffeting a container train. The brainchild of then-Union Pacific employee Michael Iden, the concept was successful. Dozens were built and whenever possible were positioned on top of the first container of the first car behind the locomotives. Unfortunately, the idea didn't catch on. Spotted in San Timoteo Canyon, Calif., eastbound on the Sunset Route February 2016. – David Lustig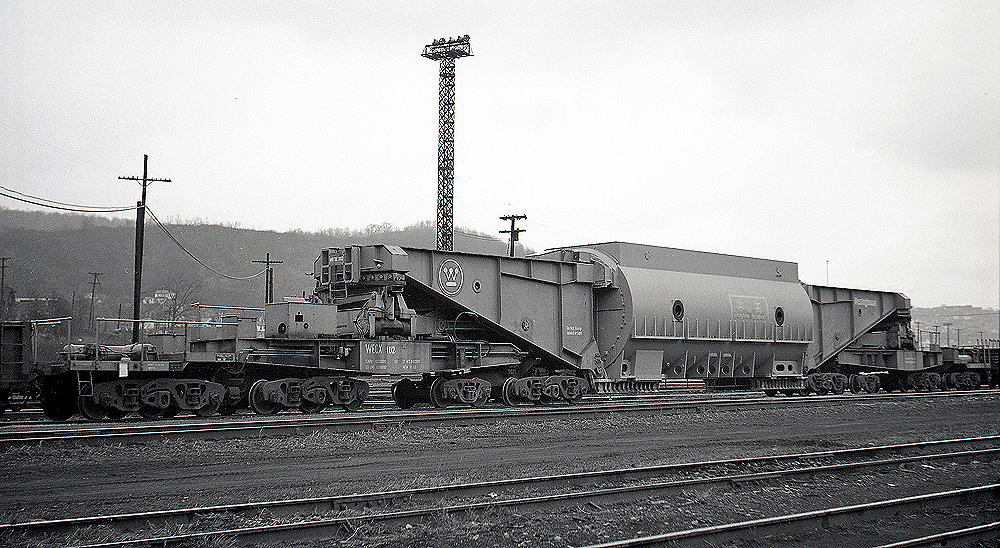 A Schnabel car is a real specialty item consisting of two separable interlocking units, which when coupled together form the car body. Between the two units can be any number of loads. Built by Westinghouse Electric Corporation, the cars are used, among other things, for transporting turbine generators to electric power plants, since clearance restrictions will not allow movement of such loads on flat cars, not even depressed-center flat cars. Most Schnabel cars are slightly different from each other. WECX 202 has 22 axles and can haul a whopping 1.2 million pounds. The cars have separate braking systems at each end, and provision for carrying the train line by the load.